Week of July 22, 2015
CSA this week contains:
CUCUMBERS
RED LEAF LETTUCE
CARROTS
CHERRY TOMATOES
STRAWBERRIES
GREEN BEANS
BABY SPINACH
YELLOW CROOKNECK SQUASH
RED ONIONS
ITALIAN PARSLEY
BIG BOX ADD: LACINATO KALE, CARROTS, STRAWBERRIES, GREEN BELL PEPPERS, SALAD MIX
*note to big boxes. strawberries will be packed in two separate bags to avoid squishing as strawberries become softer in the summer.
Fruit Expansion Includes: Strawberries and White Peaches (hopefully) This might change

Crookneck Squash: Two Ways
1st: Baked Crookneck Squash with Tomatoes & Feta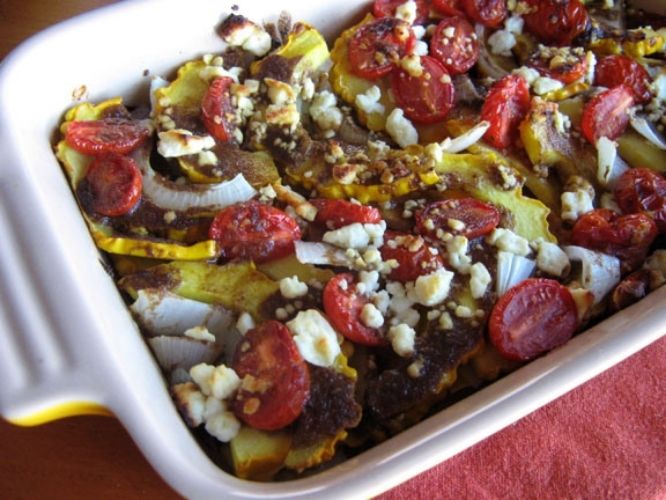 2 crookneck squash, sliced (I added an extra because ours are smaller than pictured)
about 2 dozen cherry tomatoes, halved
1 Vidalia (or other sweet variety) onion, sliced
1/4 cup olive oil
1/4 cup balsamic vinegar
2 Tbsp spicy brown mustard
salt and pepper to taste
Optional: 1/4 cup feta cheese crumbles
2nd: Crookneck Squash Chips


(This recipe is dedicated to my insatiable appetite for crunchy salty things. I'm going to divert my attention away from the corn chips and refocus for a little while! At least it sounds good on paper.)
1 crookneck squash
olive oil
kosher salt
dried herb blend of your choice
(See the full recipes and directions pn Midwestern Exposure)
Sweet and Sour Thai Carrot and Cucumber Noodle Salad


(Per Author: Tool-wise you'll need a spiralizer, mandolin or veggie peeler. anything that will noodle-ize!)
Ingredients: Serves 2
3 TBSP fresh lemon juice
3 TBSP extra virgin olive oil
2 TBSP white vinegar
1/4 tsp salt [plus extra, to taste]
1/8 tsp dill [fresh or dried]
1/8 tsp garlic powder
1/2 tsp fresh minced garlic
2 cups chickpeas [canned or cooked from dry]
1/4-1/2 cup fresh chopped cilantro, plus extra to garnish
1.5 large cucumbers
1 cup chopped green bell pepper
1/4 cup finely minced onion
2-3 extra large carrots
2 TBSP honey
2 TBSP rice vinegar
½-1 TBSP sesame seeds
½-1 TBSP chia seeds
(For full recipe and instructions please visit Peas and Crayons)
Super Vegan Bowl with Parsley Cashew Pesto


(I try and provide more meatless recipes in our blog because it's so easy to sear a chicken breast and add it on top if you want! If you use spinach instead of kale, just add turn off the heat to the mushrooms, add the spinach, and wait until it wilts.)
Ingredients: Makes 4 servings
1/2 cup raw cashews
1/4 cup water
2 cups italian parsley
2 cloves garlic
2 tablespoons lemon juice
salt and pepper to taste
1/3 cup uncooked Israeli couscous
1 pint cremini mushrooms, sliced
1 tablespoon olive oil
1 bunch of lacinto kale, stems removed
(Find full recipe and directions here at Scaling Back Blog)
A note about your green beans: They are as delicious raw as they are steamed. I like to steam a bunch at once and dunk them in ice cold water immediately after. This stops the cooking and keeps a vibrant green color. They you can start throwing them on your salads or divert your snacking attention when the time presents itself.
Juice Feast Contains:
CUCUMBERS
ROMAINE LETTUCE
CARROTS x2
RED TOMATOES
STRAWBERRIES
BABY SPINACH
GREEN BELL PEPPERS
ITALIAN PARSLEY
FUJI APPLES from HAAS FARMS
LACINATO KALE