CSA and Juice Feast for July 2nd
Your grapefruits this week come from The Brown Date farm in Coachella Valley, nestled between snow-capped mountains overlooking the Salton Sea, about an hour east of Palm Springs. Their hot days make this grapefruit very sweet and juicy. I eat grapefruit because of the many health benefits, but love this specific fruit because it's naturally sweet.
Cindy Dollar, a local chef is cooking up so amazing organic granola for us. The flavor of July is Walnut Spice Granola. Each month she's creating a different taste to bring home. Sweet and nutty and oh so delicious! Check it out here in our CSA store and don't forget to add a dozen eggs laid this week!
CSA for July 2nd contains:
ACORN SQUASH
CARROTS
RUBY RED GRAPEFRUIT
STRAWBERRIES
YELLOW/FRENCH BEAN MIX*
RED CHERRY TOMATOES
CUCUMBERS
RED LEAF LETTUCE
LACINATO KALE
SWEET SPRING ONIONS
BIG BOX: RED TOMATOES**, GREEN ZUCCHINI, STRAWBERRIES, CARROTS, APRICOTS from VINCENT FARMS
* you may have received all French beans. If you received yellow beans, they taste best when cooked. See our recipe below.
** if you received a large share you have have received an extra basket of yellow cherry tomatoes instead of red tomatoes.
Yellow Bean Chopped Salad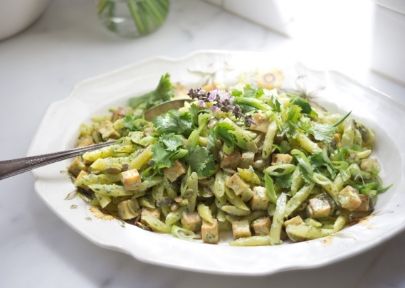 (Per author, if you tend to like a bit more heat, leave (all or some of) the veins and seeds in the chile pepper.)
Ingredients: Seves 4-6
1 pound yellow beans (and/or green beans)
1 serrano chile, stemmed and seeded
5 green onions, green parts trimmed & reserved
a big handful of cilantro
1 clove garlic, peeled and smashed
3/4 teaspoon fine grain sea salt
1 tablespoon sunflower oil
1 cup coconut milk, well mixed
1- 2 tablespoons freshly squeezed lemon juice, or to taste
2 big handfuls / 1/2 cup toasted pepitas
1 1/2 cups tiny pan-fried tofu cubes, optional
basil flower garnish, optional
Directions:
Cut the beans into 1-inch segments on a deep bias. Cook in a pot of well-salted water for just 30 seconds, drain, and run under cold water to stop cooking. Drain, and aggressively shake off as much water as possible. Set aside.
To make the dressing, pulse the chile, onions, cilantro, garlic, salt, and sunflower oil into a paste with a food processor. Pulse in the coconut milk in two additions, before adding the lemon juice to taste, a half tablespoon at a time.
Place the beans in a large bowl with most of the pepitas and tofu cubes (if you're using them). Toss well with a generous amount of the dressing (you'll have plenty of leftover), even so, as I mention up above, this is one of those salads that benefits from over-dressing versus under. Serve in a bowl or platter topped with the remaining pepitas and tofu, and basil flowers if you happen to have them.
(Recipe from 101 Cookbooks)
Wild-Rice Stuffed Squash


(The acorn squash is one of my favorite winter squashes. Winter squash is actually grown in the summer, but gets its name because it can last a lot of the winter in your cupboard. The acorn squash is a popular one and doesn't usually last through the winter in our stock.
Ingredients:
2 acorn squashes (1 1/2 pounds each), halved lengthwise, seeds removed
2 tablespoons butter
1 shallot, minced
2 garlic cloves, minced
1/2 teaspoon dried rubbed sage
Coarse salt and ground pepper
3/4 cup wild-rice blend
1/2 cup dried cherries
1/2 cup pecans, chopped (I used walnuts)
Directions:
Preheat oven to 450 degrees. On a rimmed baking sheet, arrange squash cut side down; cover sheet tightly with aluminum foil. Roast until tender when pierced with the tip of a paring knife, about 40 minutes.
Meanwhile, in a large saucepan, heat butter over medium. Add shallot, garlic, and sage; season with salt and pepper. Cook, stirring occasionally, until tender, 3 to 5 minutes. Add rice and 1 3/4 cups water; bring to a boil, cover, and reduce heat to low. Cook until tender, without stirring, about 25 minutes.
Remove rice from heat, and stir in cherries and pecans; season stuffing with salt and pepper. Season the inside of each squash half with salt and pepper. Dividing evenly, mound stuffing into halves, and serve.
(Recipe from Martha Stewart)
Spaghetti with Garliky Greens


(This tangle of noodles and garlic-laden ribbons of kale and chard is a delicious way to eat your greens. Dinosaur kale, also known as lacinato or Tuscan kale, has dark bluish-green leaves and a more delicate flavor than curly kale per the author. I found some quinoa or other noodles at Whole Foods/IV Co op that would be a good gluten free substitution and just as delicious.)
Ingredients:
Sea salt, to taste, plus 1/4 tsp.
12 oz. whole-wheat spaghetti or linguini
1 bunch (about 1/2 lb.) red or green chard
1 bunch (about 1/2 lb.) dinosaur (lacinato) kale
4 Tbs. olive oil
4 garlic cloves, pressed or minced
1/4 tsp. red pepper flakes
1/4 cup grated Parmigiano-Reggiano cheese
Lemon wedges for serving
Directions:
Bring a large pot of lightly salted water to a boil over high heat. Add the pasta and cook until just tender, about 9 minutes, or according to the package instructions.
Meanwhile, prepare the chard and kale: Tear the leaves from their tough ribs and stems, discarding the ribs and stems. Stack the leaves and fold or roll up and slice them thinly. Transfer the greens to a colander and rinse under cold running water, then drain well.
In a large fry pan over medium-high heat, warm 2 Tbs. of the olive oil. Add the garlic and red pepper flakes and cook, stirring constantly, until the garlic is fragrant but not browned, about 1 minute. Add the greens and stir to coat evenly with the oil. (If they don't all fit at once, add in handfuls after allowing the first batch to wilt.) Cook, stirring occasionally, until the greens are tender, about 5 minutes, adding a few tablespoons of the pasta cooking water to the pan if needed to prevent sticking.
Drain the pasta and return it to the warm pot. Add the cooked greens, cheese, the 1/4 tsp. salt and the remaining 2 Tbs. olive oil and stir to mix well. Divide evenly among pasta plates or bowls and serve immediately. Pass lemon wedges at the table.
Mediterranean Quinoa Salad


(A Mediterranean inspired quinoa salad with juicy tomatoes and cucumbers along with tangy red onions and salty kalamata olives and feta.)
Ingredients:
1 cup quinoa, rinsed
1 1/2 cups water
1 cup tomato, sliced
1 cup cucumber, sliced
1/4 cup red onion, diced
1/4 cup kalamata olives
1/4 cup feta, crumbled
1 (15 ounce) can chickpeas, drained and rinsed
3 tablespoons lemon juice (~1 lemon) or red wine vinegar
3 tablespoons extra virgin olive oil
1/2 teaspoon oregano
1 clove garlic, grated
salt and pepper to taste
Directions:
1.Bring the quinoa and water to a boil, reduce the temperature to medium-low and simmer, covered, until the liquid has been absorbed, about 15 minutes, and let sit covered for 5 minutes before letting it cool.
2.Meanwhile, prepare the remaining ingredients.
3.Mix the quinoa, tomatoes, cucumber, red onion, olives, feta and chickpeas and toss in the mixture of the lemon juice, oil, oregano, garlic, salt and pepper
(Recipe from Closet Cooking)
JUICE FEAST
CARROTS
RUBY RED GRAPEFRUIT
STRAWBERRIES
APRICOTS from VINCENT FARMS
CUCUMBERS
GREEN KALE
LACINATO KALE
ZUCCHINI
RAINBOW CHARD
RED BEETS
Ok, so maybe apricots aren't a hot juicing item. But they are dang good so you are getting them!!
Here's a few recipes to try out:
Summer Blend
6 strawberries
1 apple
8 leaves kale
2 celery stalks
Kale Ensemble
1 bunch kale
1 pear
7 carrots
1x16oz container strawberries
1 knuckle ginger