CSA and Juice Feast for June 4th
We are selling local Goleta granola and the flavor of June is Gluten Free Seed and Coconut. Check out the CSA store for a list of ingredients. When you buy this granola you are supporting a local family, not to mention its some of the tastiest granola around.
I had a chance to visit Vincent farms this week to get a glimpse of their ripening apricots. While their apricots are still a few weeks out, I stumbled on some ripe peach and orange trees. Keep an eye out for Vincent's fruit picked ripe only for our CSA boxes. They only have a few trees so we only could put them in the LARGE shares. The difference between the fruit you find in your boxes and the fruit in the grocery store, which is picked unripe so it can sit on the shelf, is that the fruit in your box was picked ripe for maximum flavor and nutrients.
CSA for June 2nd contains:
CARROTS
BASIL
YUKON GOLD POTATOES
STRAWBERRIES
CUCUMBERS
ROMAINE LETTUCE
CROOKNECK SQUASH
GREEN CURLY KALE
RED TOMATOES
SUGAR SNAP PEAS
BIG BOX ADD: EVA'S PRIDE PEACHES, WASHINGTON NAVAL ORANGES, CARROTS, STRAWBERRIES, SALAD MIX
Kale and Potato Hash


Ingredients:
8 cups torn kale leaves, (about 1/2 large bunch; see Tip)
2 tablespoons horseradish
1 medium shallot, minced
1/2 teaspoon freshly ground pepper
1/4 teaspoon salt
2 cups cooked shredded potatoes, (see Ingredient note)
3 tablespoons extra-virgin olive oil
Directions:
1.Steam kale until slightly wilted. Drain, cool slightly, and finely chop.
2.Meanwhile, mix horseradish, shallot, pepper and salt in a large bowl. Add the chopped kale and potatoes; stir to combine.
3.Heat oil in a large nonstick skillet over medium heat. Add the kale mixture, spread into an even layer and cook, stirring every 3 to 4 minutes and returning the mixture to an even layer, until the potatoes begin to turn golden brown and crisp, 12 to 15 minutes total.
Tips & Notes Tip: A 1- to 1 1/2-pound bunch of kale yields 16 to 24 cups of chopped leaves. When preparing kale for these recipes, remove the tough ribs, chop or tear the kale as directed, then wash it–allowing some water to cling to the leaves. The moisture helps steam the kale during the first stages of cooking.
Ingredient Note: Boil potatoes until they can just be pierced with a fork but are not completely tender. Let cool slightly, then shred.
(Recipe from Eating Well)
Kale and Basil Pesto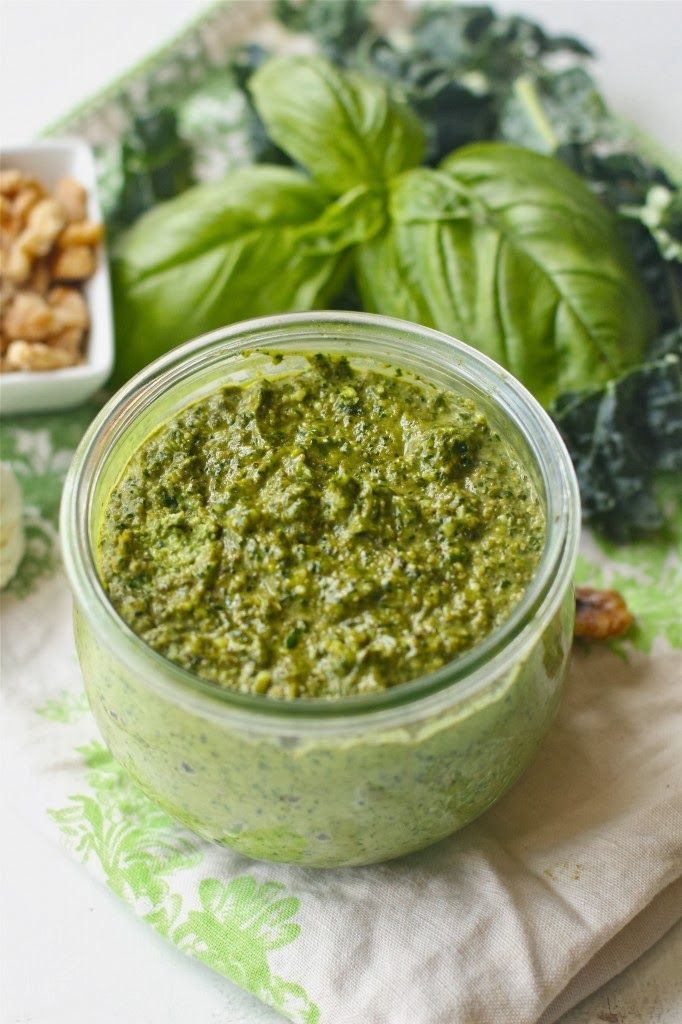 (Use this pesto on top of steamed veggies, pasta or just put it on top of your favorite cracker. Sub a cucumber slice in for a cracker. It's addicting!)
Ingredients: Makes about 2 cups
4 cups chopped kale leaves
1 cup basil leaves
1 cup {good} olive oil
1/2 cup pine nuts (any nut will do, almond, walnut, cashew…)
4 cloves garlic
1/4 teaspoon kosher salt
Directions:
Chop the basil and garlic. In a blender, add in the basil, garlic and 2 cups of kale in a blender. Turn the blender on and then slowly pour in half a cup of the olive oil. If you see it's not blending, turn off the blender and scrap the sides down making sure the oil makes it's way to the bottom and then begin blending again.
Once there are no more solid pieces left, add in the rest of the kale along with the pine nuts. Turn on the blender and slowly pour in the rest of the olive oil, scrapping down the sides and bottom, as needed. Add in the salt and blend.
Let the pesto sit for about 20 minutes and then either put over pasta, use on a sandwich or put in a container and refrigerate for later use.
(Recipe from The Adirondack Chick)
Summer Squash Bowtie Pasta


(Delish both warm and chilled.)
Ingredients: Serves 8
1 pound bowtie pasta
1 tablespoon olive oil
2 cloves garlic, minced
4 yellow crookneck squash, thinly sliced
2 medium tomatoes, chopped
1/2 cup basil, chopped
1/2 cup crumbled feta cheese
1/4 cup shredded parmesan cheese
1 lemon, juiced
1/2 teaspoon Kosher salt
Freshly ground black pepper
Directions:
Bring a large pot of salted water to a boil and cook pasta according to package directions. Drain well and set aside. Heat oil in a large sauté pan over medium-high heat. Add garlic and squash and sauté 3 to 5 minutes or until just tender. Remove from heat and stir in tomatoes.
In a large bowl, combine cooked squash and tomatoes with pasta, basil, cheese, salt and pepper and toss well to combine. Serve warm or refrigerate until cool and serve chilled.
(Recipe from The Joy of Kosher)
Cucumber Salad with Onions and Cilantro


Ingredients:
1 small red onion, sliced
2 cucumbers, peeled or not – based on your preference, sliced
2-3 medium sized limes, juiced
2 tablespoons of finely chopped cilantro (can also use parsley if you prefer)
2 tablespoons of olive oil
Salt to taste
Directions:
1.To remove some of the bitterness/spiciness from the onions, place the onion slices in a bowl, sprinkle about ½ tablespoon of salt over the onions. Rub the salt in and then cover with water for a few minutes. Then drain and rinse the onions well.
2.Place the sliced cucumbers, sliced onions, lime juice, chopped cilantro, and olive oil in a bowl.
3.Mix well, taste and add salt as needed.
4.Serve immediately or let rest refrigerated for at least 30 minutes before serving.
(Recipe from Laylita)
JUICE FEAST contains:
GREEN ZUCCHINI
CARROTS
CUCUMBERS
ROMAINE LETTUCE
GREEN CURLY KALE
RED TOMATOES
STRAWBERRIES
DANDELION GREENS
ITALIAN PARSLEY/MINT
VALENCIA ORANGES