CSA and Juice Feast for May 7th
Tomatoes, yellow zucchini, green bell peppers and cucumbers on the horizon just to name a few!
Cindy Dollar, a local chef is making homemade granola for the CSA. Each month is a different flavor and May is cranberry cashew! Add a bag onto your order here in our store.
CSA contents for May 7th
CARROTS
STRAWBERRIES
ROMAINE LETTUCE
CAULIFLOWER
RED BEETS
BUNCHED SPINACH
ITALIAN PARSLEY
COLLARD GREENS
SUGAR SNAP PEAS
GREEN ZUCCHINI
BIG BOX ADD: BASIL, CARROTS, STRAWBERRIES, HASS AVOCADOS, RED LEAF LETTUCE

Chicken and Snap Peas


(When time is tight, nothing beats a 30-minute meal made in a single skillet.)
Ingredients: Serves 4
1 tablespoon vegetable oil
3 1/2 to 4 pounds chicken pieces, patted dry
Salt and pepper
3 cloves garlic, thinly sliced
1/3 cup cider vinegar
4 teaspoons sugar
1/2 teaspoon red-pepper flakes
1/2 pound snap peas
1 cup fresh basil leaves, torn, divided
Directions:
Preheat oven to 425 degrees. In a large skillet, heat oil over high. Season chicken with salt and pepper and cook, skin side down, until deep golden, 8 to 10 minutes. Flip chicken and remove pan from heat. Tilt pan slightly and carefully remove fat with a spoon. Return pan to heat and add garlic, vinegar, sugar, and red-pepper flakes. Bring to a boil, then transfer pan to oven. Bake 17 minutes. Add snap peas and half the basil and bake 5 minutes more. Remove from oven, sprinkle with remaining basil, and serve.
(Recipe from Martha Stewart)
Raw Zucchini Lasagna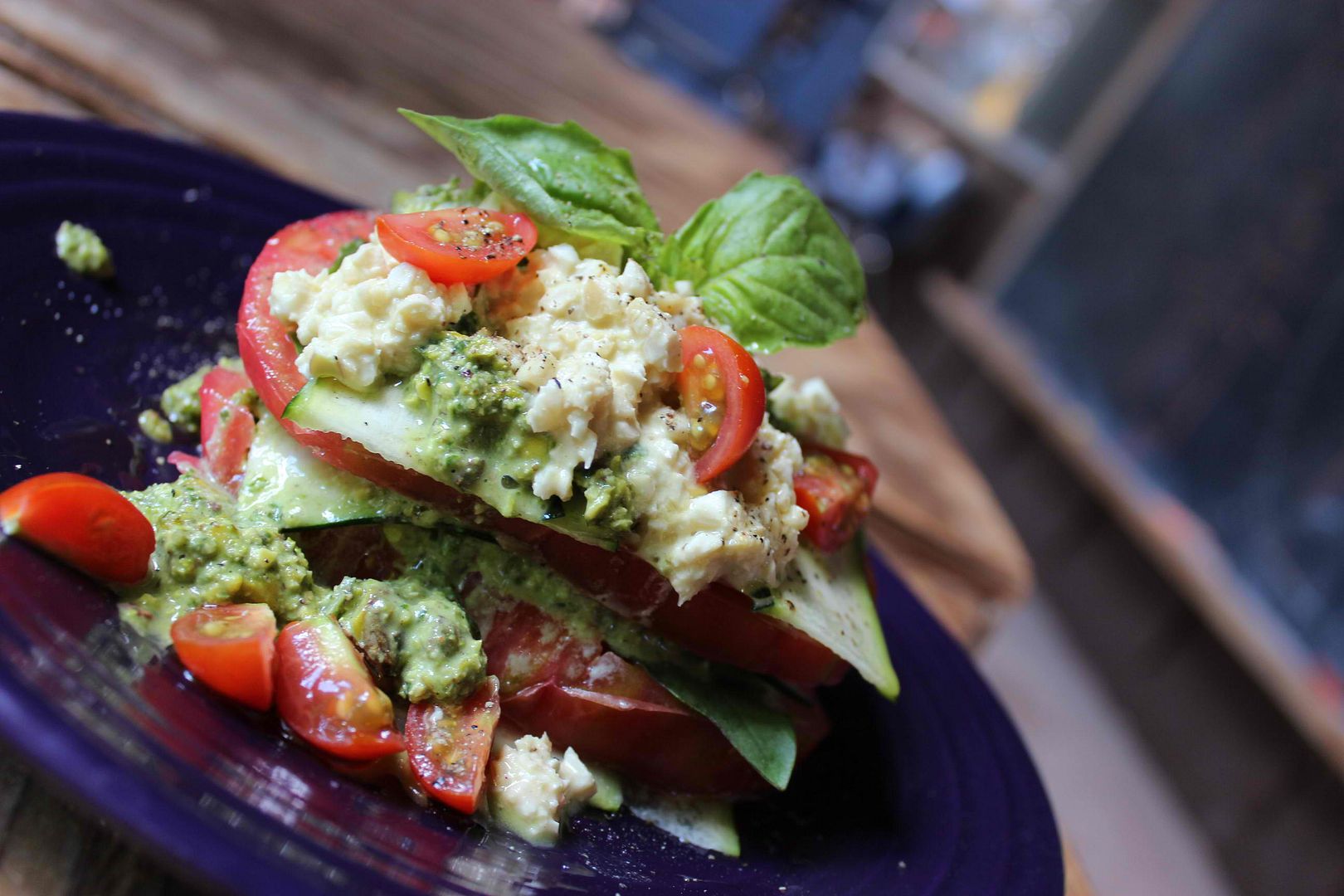 (This was inspired by a recent Whole Foods visit. The directions look a little daunting, but the outcome is so tasty I felt like it's worth it. You can make all the ingredients ahead of time and slap everything together when you are ready to eat it. Try this recipe or find another similar one.)
Ingredients:
1-2 zucchinis
1 large tomato
6 basil leaves
1 tablespoon olive oil
Pinch sea salt

For the Pesto:
1 cup pistachios
3/4 cup fresh basil, tightly packed
1/4 cup spinach, tightly packed
1/4 to 1/3 cup olive oil
1/2 teaspoon sea salt
Pinch ground pepper
Small garlic clove (optional)
For the Ricotta:
1 cup soaked cashews or macadamia nuts
2 tablespoons nutritional yeast
1 tablespoon olive oil
1/4 shallot, minced
1 tablespoon parsley, minced
Methods/steps
1) Cut the zucchini in half and cut of the ends. Slice thin on the mandolin, but not so thin that it can hold up. It needs to be somewhat sturdy.
2) Lay on parchment paper and drizzle with olive oil and sift on sea salt. Let marinate.
3) Slice your tomato into at leas 6 slices. Dust with a bit of salt and set aside.
4) For the pesto, combine all ingredients in your food processor. Once the mixture is well combined place into a glass bowl and set aside.
5) For the ricotta, combine all ingredients in your food processor. If you need a bit more moisture, use water. Blend well until fairly smooth. Set aside.

Assembly:
1) Start with three of your zucchini noodles lay them flat on a plate, overlapping just a bit.
2) Then put on a slice of tomato, top with a basil leaf, a dab of pesto and a dab of ricotta, follow the same pattern again starting anew with the zucchini noodles.
3) Do this three times and then top with sauces and a nice sprig of basil.
(Recipe from Raw Food Recipes)
Collard Green Pesto Linguine
(You can just make the pesto and spread it over a stir fried veggie plate. You could also try using the collard greens as a sandwich wrap.)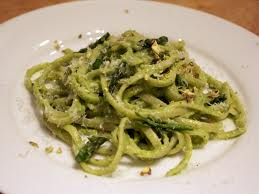 Ingredients:
1 pound bunch collards, ribs discarded, leaves roughly chopped
1 (13-ounce) box whole-wheat linguine
1/4 cup pecans
1 1/4 cups grated Parmesan, plus extra for garnish
1/2 cup pitted kalamata olives
2 cloves garlic
1 cup extra-virgin olive oil
Kosher salt and freshly ground black pepper
Directions:
Bring a large pot of salted water to a boil over medium heat. Blanch collards until bright green, about 1 minute. Transfer immediately to an ice bath to shock, saving the boiling water for cooking the pasta. Remove the collards from the ice water and pat dry with paper towels before transferring them to a food processor.
Add the linguine to the pot of salted boiling water and cook according to package instructions.
Meanwhile, in a dry skillet, over low heat, toast the pecans until fragrant. Transfer to the food processor with Parmesan, olives and garlic. With food processor running, slowly drizzle in olive oil until pesto comes together. Taste for seasoning, and add salt and freshly ground black pepper, to taste.
To serve, put enough pesto to coat the pasta into a large serving bowl. Drain the pasta and quickly add it to the bowl. The water still clinging to the pasta will loosen up the pesto. Toss to coat. Add more pesto, if needed. Transfer the pasta to a serving bowl and garnish with Parmesan sprinkled over the top.
(Recipe from The Food Network)
Bistro Beet Burger


(Stop pawning all your beets off on your friends and neighbors. It's time to take your beets back and put them to good use. Check out this yummy dinner idea!)
Ingredients:
1 1/4 cups cooked and cooled brown rice
1 cup brown or green lentils, cooked
1 cup shredded beets
1/2 cup very fine dry breadcrumbs
3 tablespoons onion, very finely chopped
2 cloves garlic, minced
2 tablespoons smooth almond butter
1 teaspoon dried thyme, rubbed between your fingers
1/2 teaspoon ground fennel, or finely crushed fennel seeds
1 teaspoon dry mustard
1/2 teaspoon salt
freshly ground black pepper
olive oil, for the pan
6 burger buns
Shredded lettuce, sliced dill pickles, finely diced onion, and/or ketchup, for topping
Directions:
1.Put the brown rice, lentils, and shredded beets in the work bowl of a food processor fitted with a metal blade and pulse 15 to 20 times, until the mixture comes together but still has texture. It should look a lot like ground meat.
2.Now transfer to a large bowl and add the bread crumbs, onion, garlic, almond butter, thyme, fennel, mustard, salt, and pepper. Use your hands to mix very well. Everything should be well incorporated, so get in there and take your time; it could take a minute or two.
3.Place the mixture in the fridge for 30 minutes to chill.
4.Preheat a cast-iron pan over medium-high heat. Now form the patties. Use 1⁄3 cup of the mixture for each patty and form into 3⁄4-inch-thick disks.
5.Pour a very thin layer of oil into the pan and cook the patties for about 12 minutes, flipping occasionally. Drizzle in a little more oil as needed. The burgers should be charred at the edges and heated through.
6.Serve warm on buns with toppings! They taste pretty great reheated as well, so if you want, cook them in advance, refrigerate, then gently heat in the pan later.
(Recipe from Food Republic)
JUICE FEAST Contains:
CARROTS
STRAWBERRIES
ROMAINE LETTUCE
SPINACH
COLLARD GREENS
ITALIAN PARSLEY/MINT
RED BEETS
GREEN KALE
CELERY from RANCHO DE LA FAMILIA
CUCUMBERS