CSA and Juice Feast for October 22nd
Organic farming isn't what it used to be. With government regulations, huge factory farms with special interests and insurance agencies to top it off, it's amazing we can even find time to farm anymore. The Food Safety Modernization Act covers many recent regulations that the government has put into place. Seems like politicians created these laws in their office, instead of collaborating with real farmers. They force farms into clean houses, restricting farm animals/compost from interacting with the farm, pushing chemicals instead of hand workers, completing tons of paperwork for regulation and paying huge regulation fees. Not to mention that if you don't comply to these standard you can not be insured and/or sell to your local stores.
I think the future of our food is really going to have to be in our hands, our gardens, local farms and our back yards. I'm so happy to have a community dedicated to eating organic and local, and if you ever have questions about growing food in your back yard please let me know. While I'm a newbie at farming, it's a life long pursuit! Sorry for the rant. I just feel a lot of these regulations happen behind the scenes leaving consumers unaware of the struggles their food has been through.
We are back with granola of the week and it's Pumpkin Pecan. This delicious granola can be made in Certified Organic OR Certified Gluten Free. If you do not specify you will receive certified organic. Please see our store for the full list of ingredients. This granola is locally made right here in Goleta.
Our carrot tops are still suffering from mildew. We just started digging a new crop and the carrots are still too small to use. For the first time since I can remember we will not have carrots this week. Hopefully they will be back in action next week. If you purchase carrots in the store they will be bagged and we have a very limited quantity.
CSA for October 22nd Contains:
BUNCHED SPINACH
GREEN BEANS
ROMAINE LETTUCE
GREEN BELL PEPPERS
HEIRLOOM TOMATOES
DELICATA SQUASH
LEEKS
CILANTRO
CUCUMBERS
ASIAN PEARS from GARCIA FAMILY FARMS
BIG BOX ADD: CHERRY TOMATOES, SALAD MIX, ZUCCHINI, CARROTS, GREEN KALE
Chipotle-Glazed Delicata Squash with Cilantro-Lime Rice and Black Beans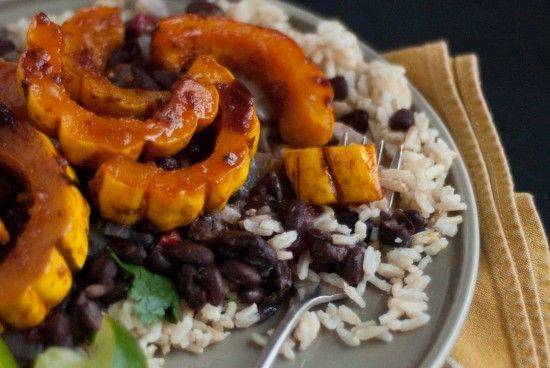 (I was at Whole Foods over the weekend and they had roasted delicata slices you could buy in the hot food section sprinkled with pepper. Another idea if making a whole meal might take too much time! These lil squashes are fantastic!!)
Ingredients: Serves: 2 to 4
Chipotle-Glazed Squash
•3 delicata squash, sliced in half lengthwise, seeds scooped out, then sliced into ½ inch arcs
•¼ cup olive oil, plus some greasing for the pan
•1 or 2 canned chipotle chiles, chopped, with 2 tablespoons adobo sauce
•1 tablespoon pressed or minced garlic
•1 tablespoon honey
•Sea salt and black pepper
Cilantro-Lime Rice:
•1½ cups brown basmati rice, rinsed in a fine mesh strainer
•1 small lime, zest removed and juiced
•1 small lemon, juiced
•loose ½ cup fresh cilantro, chopped
•1 tablespoon butter (optional but highly recommended)
•salt, to taste
Refried Black Beans
•Drizzle of olive oil
•1/2 white onion, chopped
•2 cloves garlic, pressed or minced
•1/2 teaspoon cumin
•2 cans cooked black beans, drained
•1/3 cup roasted red pepper, chopped (or maybe roast some green peppers?)
•Sea salt and pepper, to taste
Garnish
•Lime wedges
Directions:
1.Prep work: Heat the oven to 300 degrees Fahrenheit for the squash. Bring a large pot of water to boil on the stove for the rice.
2.Cook the squash: Grease a large rimmed baking sheet or roasting pan. Whisk together the olive oil, 1 chipotle chile, adobo sauce, garlic, honey, and some salt and pepper in a small bowl. Taste and add another chile if you like.
3.Brush the glaze evenly over the squash skewers and roast for 45 to 60 minutes, turning once or twice and basting with any pan juices. When the squash is tender and deeply colored, remove the skewers from the oven and set aside.
4.To cook the rice: Once your pot of water is boiling, pour in the rice and give it a stir. Boil the rice for 30 minutes, then turn off the heat and drain the rice. Return the rice to the pot and cover the pot. Let the rice steam for 10 minutes. Remove the lid, fluff the rice with a fork, then mix in the lime zest and juice, lemon juice, cilantro, butter and salt to taste.
5.Cook the beans: In a 10-inch skillet over medium heat, sauté the onion and garlic in olive oil until fragrant. Add the cumin and stir until fragrant, about 30 seconds.
6.Pour in the beans and ½ cup water. Stir, cover and reduce heat to a simmer. Cook for 5 minutes, then remove the lid and use the back of a fork to mash up about ½ of the beans. Add the roasted red peppers, stir, and season with salt and pepper to taste. Cover until you're ready to serve.
7.Serve the beans on a bed of cilantro lime rice. Top with chipotle-glazed squash. Garnish with a couple of lime wedges.
(Recipe from Cookie and Kate)
Stuffed Green Bell Peppers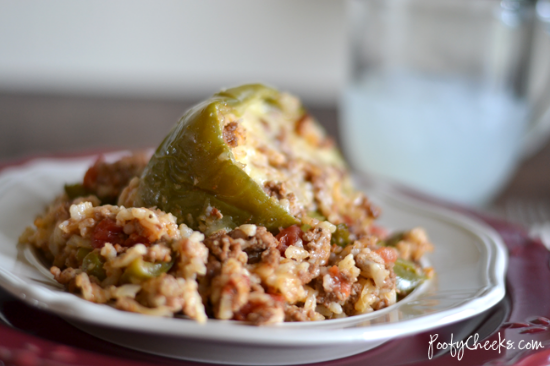 (A green bell pepper makes a very handy to go cup for some morning scrambled eggs too! No need to find a trash can for the cup – eat it!)
Ingredients:
4 green peppers
1 pound ground beef (ground bison, chicken or tempeh would work too)
1/2 cup chopped leek, white part only
16oz. diced tomatoes
1 cup instant long grain white rice
1 cup water
1 tsp. salt
1 tablespoon Worcestershire
1 cup shredded cheese (I like parmesan cheese because it has lots of flavor and you might not need to use as much)
Directions:
Cut the tops off of the peppers and clean seeds out. Put a pot of water on to boil. Take one of the peppers and chop half of it for the filling.
Put the 3 & 1/2 peppers into a pot of boiling water and let them boil for 5 minutes. Then remove them, drain any water, and salt the insides.
Cook the 1/2 chopped pepper, leek, and ground beef in a large skillet until beef is browned. Then drain the grease. Return the pan of peppers, leek, and beef back to the burner and add the rice, salt, Worcestershire sauce, tomatoes, and water. Bring the mixture to a boil and then simmer for 15 minutes.
Place the 3 & 1/2 boiled peppers into a casserole dish and fill with stuffing mixture. Generously sprinkle cheese over the top and bake covered for 30 minutes at 350 degrees. You may need to uncover and cook for a few minutes to make sure the cheese is good and melted (and bubbly!)
(Recipe from Poofy Cheeks)
Cucumber Avocado Salad with Tuna, Cilantro, and Lime


Ingredients:
1 avocado
1 T fresh-squeezed lime juice
1 large cucumber (or 2 smaller cucumbers)
1/2 cup chopped cilantro (more or less to taste)
1/4 cup thinly sliced green onion (any onion would really work here)
1 can (5 oz.) tuna packed in olive oil
salt and fresh-ground black pepper to taste
Dressing Ingredients:
2 T mayo
1 T fresh-squeezed lime juice
Directions:
1.Dice the avocado into 1/2 inch pieces, put in a bowl large enough to hold the whole salad, and toss with one tablespoon of lime juice.
2.Peel strips from the cucumber if desired, then cut into fourths lengthwise and slice into bite-sized pieces. Chop the cilantro and thinly slice the green onion. Whisk together the mayo and lime juice to make the dressing.
3.Add the chopped cucumbers, chopped cilantro, and sliced green onions to the avocado and gently combine. Add the dressing and stir just enough to combine. Drain the oil from the tuna and use a fork to partly break apart the tuna into chunks. Stir tuna into the salad and GENTLY combine (don't over-stir; you want the tuna to remain chunky.) Season to taste with salt and fresh-ground black pepper and serve.
4.This will last okay in the fridge for a day, but it's far better freshly made.
(Recipe from Choose DIY)
JUICE FEAST Contains:
LOOSE CARROTS N'BEETS
ROMAINE LETTUCE
BUNCHED SPINACH
ASIAN PEARS from GARCIA FAMILY FARMS
FUJI APPLES from GARCIA FAMILY FARMS
GREEN KALE
CUCUMBERS
CILANTRO/MINT
CELERY
LACINATO KALE