Week of August 22nd
I used to suffer from migraine headaches and different kinds of sickness throughout the year. I literally ended up in the hospital multiple times with crippling headaches in my 20s. So it's been particularly interesting to me to learn about plant heavy diets and how they have effected my health in such a positive manner. I no longer suffer from headaches (EVER!!) and rarely get sick.
With so many colors of the rainbow represented in our box this week, I thought it would be fun to look at a brief overview of what these colors actually mean. Did you know we just discovered phytochemicals in the last 40 years? Imagine what else veggies have in store that we have not yet discovered.
Red/Purple/Blue
Pigments called anthocyanins give red and purple fruits and vegetables their color and serve as powerful antioxidants in the body.
Orange/Yellow
Fruits and veggies contain beta-carotene, an antioxidant that is converted to vitamin A in the body and maintains eye health (preventing macular degeneration and improving night vision), fights cancer, and is necessary for healthy skin.
Greens
We should eat things that are as dark green as possible. Aside from being high in vitamin A, leafy greens are also a good source of calcium. If you don't eat dairy, be sure to load up on deeply colored greens to get enough of the essential mineral.
Try sneaking veggies into meals you already love. Mix pureed cauliflower into mashed potatoes. Top homemade pizza with zucchini, onions, peppers, eggplant, and mushrooms. Add onions, garlic, peppers, and diced carrots in your pasta sauce. Replace boring salads with multihued entrée-sized ones. Cover leafy greens (try romaine, arugula, or spinach) with a abundance of vegetables, like broccoli, peas, peppers, onions, green beans, fennel, celery, and corn. Taking care of your body will give you the quality of life you deserve!!! It will enhance your day to day activities, reduce stress on your body and help fight sickness.
CSA Contains:
BROCCOLI
CARROTS
ROMAINE LETTUCE
CANARY MELON
RASPBERRIES
HEIRLOOM TOMATOES
RED TOMATOES
RED ONIONS
STRAWBERRIES from SUNRISE ORGANICS
GREEN ZUCCHINI
BIG BOX ADD: CARROTS, GREEN LEAF LETTUCE, HASS AVOCADOS, BLACKBERRIES, FENNEL
FRUIT EXPANSION: BLACKBERRIES and RASPBERRIES
JUICE FEAST:
CARROTS
ROMAINE LETTUCE
CUCUMBERS
CELERY
STRAWBERRIES
RED TOMATOES
LEMONS
LACINATO KALE
FENNEL
RASPBERRIES

Simple White Bean Tomato Salad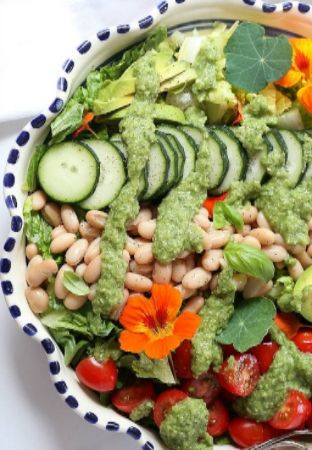 Ingredients:
SALAD:
4 cups chopped romaine lettuce
1 (15-ounce) can cannellini beans, drained and rinsed
1½ cups grape tomatoes, sliced in half
1 large cucumber, cut into slices
1 avocado
edible flowers for garnish
DRESSING:
1 avocado
½ cup sweet yellow onion
1 cup fresh basil leaves, packed
1 cup broccoli
1 garlic clove
1 teaspoon Himalayan salt
1 lemon, juice of
¾ cup water
2 Tablespoons olive oil
1 teaspoon apple cider vinegar
(Find the full recipe and details here at Delightful Mom Food)
Lemony Grated Zucchini Salad with Tomatoes, Olives & Feta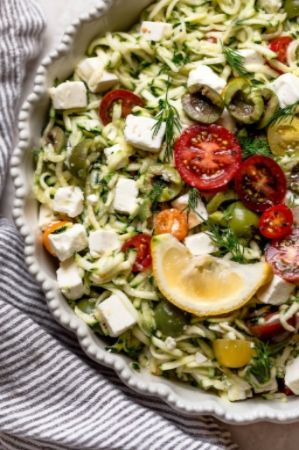 Ingredients:
2 medium zucchini, grated or shredded (see Recipe Notes)
1 pint cherry tomatoes, halved (sub heirlooms here)
1 6-ounce jar castelvetrano olives, drained & halved
6 ounces feta, crumbled
2 tablespoons fresh dill, torn or roughly chopped
1 lemon, juiced
1 tablespoon extra virgin olive oil
Kosher salt & ground black pepper
(Find the full recipe and details here at Plays Well with Butter)
Strawberry Oat Smoothie Bowl


Ingredients:
1/4 cup rolled oats
1/4 cup water
1 large frozen banana, sliced into chunks
1/2 cup Pacific Food's Organic Oat Vanilla plant-based beverage (sub any non dairy milk here)
1 tablespoon peanut butter
2 dates, pitted
1 heaping cup frozen strawberries
1/2 teaspoon vanilla extract
Toppings:
Granola
Fresh berries
Drizzle of honey/maple syrup
(Find the full recipe and directions here at Delish Knowledge)
30- Minute Quinoa "Fried Rice"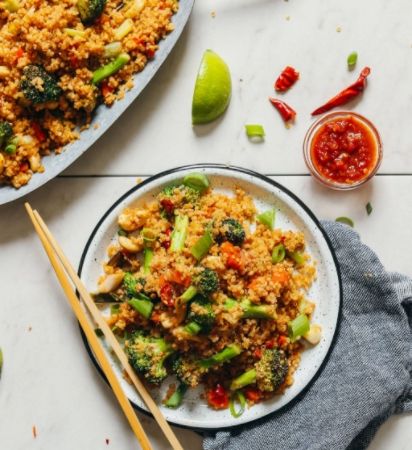 Ingredients:
QUINOA
3 cups cooked and cooled white quinoa*
SAUCE
4 Tbsp coconut aminos
1 Tbsp maple syrup
1 Tbsp almond butter (or sub peanut butter)
2 Tbsp lime juice
2 tsp chili garlic sauce* (plus more to taste)
1/4 cup diced green onion
THE REST
1 Tbsp sesame oil (or sub water)
1 cup finely chopped carrots
3 Tbsp coconut aminos (DIVIDED)
1 cup chopped green onion (save green tops for garnish)
1 1/2 cups chopped broccoli
1/2 cup roasted cashews (optional // or sub raw cashews)
(Find the full recipe and directions here at Minimalist Baker)