Week of February 17th
As the days get longer and the weather maintains a warmer temperature, our chickens are picking up production. We almost have all egg subscriptions filled, so make sure to get on our waiting list if you'd like a dozen or two of free range, organic eggs added to your share.
We had to discontinue our delicious granola provided by Cindy Dollar. As her business ramps up it's only necessary to simplify where possible. You can still buy her products online at www.cindyshealthycreations.com. We've since added delicious cookies from Deux Bakery into our CSA store. Mix and match with multiple flavors including Salted Chocolate chip, Snickerdoodles, Peanut Butter, Oatmeal Raisin, and Sugar.
CSA Contains:
CARROTS
RAINBOW CHARD
ITALIAN PARSLEY
LACINATO KALE
RED LEAF LETTUCE
BRUSSELS SPROUTS from ELLWOOD CANYON FARM
EASTER EGG RADISHES from FRECKER FARMS
SPAGHETTI SQUASH
SUGAR SNAP PEAS
FUJI APPLES from CUYAMA ORCHARDS
BIG BOX ADD: ROMAINE LETTUCE, CARROTS, EXTRA BRUSSELS, BUNCHED SPINACH, LEEKS
FRUIT EXPANSION INCLUDES: FUJI APPLES from CUYUAMA ORCHARDS and STRAWBERRIES from SUNRISE ORGANIC FARMS
Chicken and Brussel Sprouts with Mustard Sauce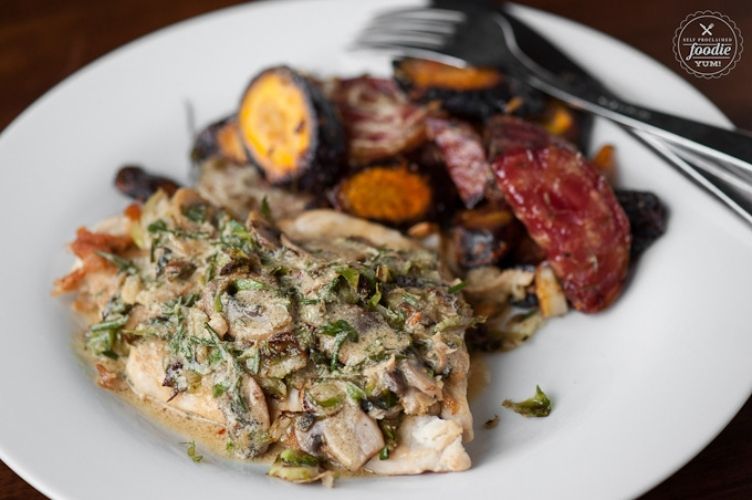 (This is a healthy and low carb meal option that tastes amazing and is easy to prepare for your next family dinner. Roast some veggies on the side for some extra deliciousness. Roasted carrots and radishes!!)
Ingredients: Serves 4
1 tablespoon olive or avocado oil
4 (6 ounce) skinless, boneless chicken breast halves
salt and pepper, as desired
3/4 cup chicken broth, divided
1/4 cup unfiltered apple cider
2 tablespoons Dijon mustard
2 tablespoons organic butter, divided
2 tablespoons fresh rosemary, minced
12 ounces Brussels sprouts, trimmed and sliced
6 ounces mushrooms, sliced
(Find the full recipe and directions here at Self Proclaimed Foodie)
Spaghetti Squash and Kale Gratin


Ingredients:
1 medium spaghetti squash
1 onion
4 cloves garlic
5 cups chopped kale
1 T olive oil
1/2 tsp dried thyme
1/8 tsp black pepper
3/4 cup lowfat (1%) cottage cheese
1/2 cup grated Parmesan, divided
1 egg
1/2 cup light sour cream
(Find the full recipe and directions here at Ask Georgie)
Roasted Sausage Chard and Cannelli Beans


Ingredients: Serves 4
1 bunch Swiss chard, stems and ribs removed and leaves roughly torn into 2-inch pieces
1 can cannellini beans (16 or 19 ounces, or about 2 cups), drained and rinsed
Finely grated zest and 1 tablespoon juice from one lemon (reserving extra juice for finishing dish)
1 teaspoon Dijon mustard
1 teaspoon smoked Spanish paprika
3 tablespoons olive oil
16 ounces (about 3 or 4 links) good-quality chicken or pork sausage, removed from casings and cut into 3/4-inch pieces (can also use pre-cooked sausage, sliced into small pieces)
Finely grated Parmesan or pecorino, to serve
(Find the full recipe and directions here at Food52)
Garlic Spaghetti Squash with Herbs


Ingredients: Serves 2 as a main, 4 as a side
1 medium spaghetti squash, halved and seeded
olive oil
kosher salt
2 cloves garlic, minced
2 teaspoons white wine vinegar
1/4 cup minced fresh parsley
2 tablespoons minced fresh basil (sage is also yummy)
3/4 cup shredded Gruyère cheese
1/2 cup pine nuts, toasted
black pepper
(Find the full recipe and directions here at A Pinch of Yum)
JUICE FEAST CONTAINS:
CARROTS x2
RAINBOW CHARD
ITALIAN PARSLEY
LACINATO KALE
ROMAINE LETTUCE
RED BEETS
BUNCHED SPINACH
FUJI APPLES from CUYAMA ORCHARDS
STRAWBERRIES from SUNRISE ORGANIC FARMS
(more to come)