Week of January 17th
If you didn't have a chance to pick up your share last week at the farm you can be sure it was donated to Veggie Rescue and given to those who need it most. I've raided our hard squash stores and given as much as possible to the Food Shelter. Helping our community in times like these is extremely important to me.
I'm very happy to be stuffing these CSA boxes with tomatoes in January. A little ray of sunshine in the share. While we don't have access to any of our usual produce south of Santa Barbara, we are snacking on the local tangerines like crazy.
We are planning on delivering to all of our drop off spots this week. Enjoy! With the 101 closed, our local produce is more important than ever. And supporting our local farms will ensure that we can continue making it available for our community.
CSA Contains:
CARROTS
RED TOMATOES
ROMAINE LETTUCE
RED CHERRY TOMATOES
BUNCHED SPINACH
LEEKS
SPAGHETTI SQUASH
LACINATO KALE
SATSUMA TANGERINES from GLEN ANNIE ORGANICS
BRUSSELS SPROUTS
BIG BOX: CARROTS, RED LEAF LETTUCE, GREEN CABBAGE, TANGERINES, HEIRLOOM TOMATOES
FRUIT EXPANSION: SATSUMA TANGERINES from GLEN ANNIE ORGANICS
Tuscan Kale and White Bean Spaghetti Squash Bake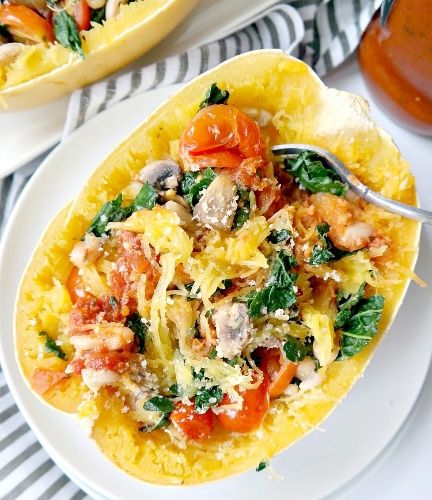 Ingredients:
one large spaghetti squash, halved
1/3 cup water
1/3 cup veggie broth or water (plus more as needed)
1 cup cherry tomatoes, halved
1 cup mushrooms, chopped
1 teaspoon oregano
1 15 oz. can white cannelinni beans, drained and rinsed
3 cups kale (any kind) chopped/ripped
pasta sauce of your choice
gluten-free breadcrumbs (optional)
(Find the full recipe and directions here at The Glowing Fridge)
Chickpeas with Leeks, Spinach, and Smoked Paprika


Ingredients:
1 tablespoon olive oil
1 leek, white and light-green parts only, thinly sliced
1/2 teaspoon kosher salt plus more for seasoning
1 garlic clove, finely chopped
1 15-oz. can chickpeas, rinsed
1/2 teaspoon smoked paprika
1 bunch spinach, trimmed, thoroughly washed
(Find the full recipe and directions here at Bon Appetit)
Roasted Brussels Sprout and Couscous Salad


Ingredients:
For the Roasted Brussels Sprouts
1 pound brussels sprouts
2 tbsp olive oil
½ tsp salt
¼ tsp pepper
For the Couscous
1 cup dry couscous
½ cup water
¼ tsp salt
For the Salad
1 head romaine lettuce, chopped
1 avocado, peeled and sliced
¼ cup tahini or hummus
Up to ¼ cup apple cider vinegar
¼ tsp salt
¼ tsp pepper
(Find the full recipe and details here at Another Root)
JUICE FEAST:
CARROTS
LACINATO KALE
RED TOMATOES
CELERY
PARSLEY
GREEN CABBAGE
RED BEETS
ROMAINE LETTUCE
BUNCHED SPINACH
LEMONS