Week of May 9th
Tip of the week: If you are stacking up on onions, simply cut off the tops and store them on your counter. Or check out our recipe below to make some delicious onion snacks.
Share a meal that you made with us on instagram. Tag us @somethinggoodorganics and you can enter to win a free CSA share. We will give one box away at the end of the month. The more you share the more chances you have to win.
CSA Contains:
STRAWBERRIES
CARROTS
RED LEAF LETTUCE
ITALIAN PARSLEY
GREEN ZUCCHINI
BROCCOLI
LACINATO KALE
BUNCHED SPINACH
SWEET SPRING ONIONS
SUGAR SNAP PEAS
BIG BOX ADD: BLUEBERRIES from GOLETA GROWN, ROMAINE LETTUCE, CARROTS, STRAWBERRIES, RED BEETS
Fruit Expansion: Blueberries and Strawberries
JUICE FEAST:
STRAWBERRIES
CARROTS
ROMAINE LETTUCE
ITALIAN PARSLEY
PINK LADY APPLES from CUYAMA ORCHARDS
GREEN CURLY KALE
LACINATO KALE
BUNCHED SPINACH
EUREKA LEMONS from VINCENT FARMS
RED BEETS

Crispy Baked Onion Rings


Ingredients:
1 large sweet onion
2/3 cup flour of choice
2/3 cup + 1 tbsp vegetable broth
2 tbsp cornstarch (or arrowroot flour)
1/2 cup cornmeal
1 cup breadcrumbs
1/4 cup nutritional yeast (optional, but recommended)
3/4 tsp kosher salt
1-2 tbsp black sesame seeds (optional)
1 tsp garlic powder
2 tsp dried herbs (I used 1tsp each basil & oregano)
(Find the full recipe and directions here at Oh She Glows)
Kale Chip Nachos in 30 Minutes!


Ingredients:
KALE CHIPS
1 large or 2 small bundles (~500 g) curly kale
2-3 Tbsp (30-45 ml) avocado oil or melted coconut oil
Healthy pinch each sea salt + black pepper
1 tsp chili powder
1 tsp cumin
optional: 1 Tbsp (3 g) nutritional yeast
BLACK BEANS
1 15-ounce (425 g) can black beans (if unsalted, add 1/4 tsp sea salt), slightly drained
1 tsp ground cumin
1 tsp chili powder
SWEET POTATOES
1 Tbsp (15 ml) coconut or avocado oil
1 large sweet potato (~150 g), sliced into 1/4-inch rounds (organic when possible)
TOPPINGS optional
Ripe avocado
Favorite salsa (or make your own!)
Fresh chopped cilantro
Sliced red onion
(Find the full recipe and directions here at Minimalist Baker)
Asian Quinoa Salad in 30 Minutes!


(I love the Minimalist baker, so I doubled up on her recipe ideas this week.)
Ingredients:
QUINOA
1 tsp sesame oil (toasted or untoasted)
1/3 cup (61 g) dry white quinoa, well rinsed and drained
scant 2/3 cup (150 ml) water
VEGETABLES
1 cup (118 g) frozen edamame
1 large head (~500 g) broccoli, cut into bite size pieces
3-4 Carrots, thinly sliced (subbed for red pepper in the recipe)
1 1/2 cups (110 g) shredded/very thinly sliced purple cabbage (or sub green cabbage or kale)
optional: 1 cup (70 g) shredded kale or chopped cilantro
DRESSING
1 Tbsp (16 g) almond, peanut, or cashew butter
2 Tbsp (30 g) chili garlic sauce, plus more to taste
3 Tbsp (45 ml) maple syrup, plus more to taste
3 Tbsp (45 ml) tamari (or soy sauce if not gluten free // or coconut aminos), plus more to taste
3 Tbsp (45 ml) lime juice
2 1/2 Tbsp (38 ml) sesame oil (toasted or untoasted)
optional: 1 Tbsp (8 g) crushed peanuts for topping
optional: 1 tsp fresh minced ginger
(Find the full recipe and directions here at The Minimalist Baker)
Spring Green Broth w/ Soba Noodles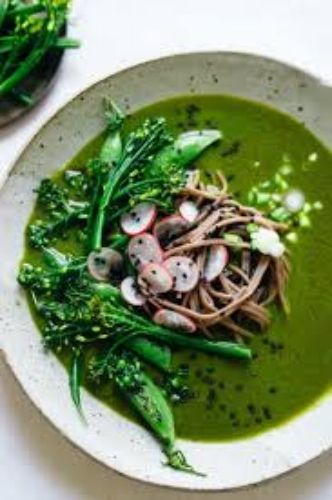 Ingredients:
3 cups bone broth, or vegetable broth
2 tablespoons olive oil
2 leeks, white and light green parts sliced thin
2 garlic cloves, minced
3 cups greens, (i used swiss chard)
1/2 cup cilantro
1 1/2 tablespoons gluten-free miso, like chickpea or brown rice miso
1-2 teaspoons gluten-free tamari
1/2 small lemon, juiced
salt & fresh ground pepper
1 package 100% buckwheat soba noodles
to serve (optional):
steamed broccoli
sauteed snap peas
thinly sliced radish
sliced green onion
toasted sesame seeds
(Find the full recipe and directions here at Dolly and Oatmeal)