Week of November 1st
Let our vegetables detox you from the candy you took from the children 🙂 Enjoy the last weeks of summer produce. The temperatures are dropping quick up here in Buellton and we are heading right into winter. Luckily we still have tomatoes growing in Goleta and can still look forward to heirloom tomatoes in the coming weeks!!
Keep us in mind when shopping for Christmas gifts! A two week CSA subscription is the perfect gift of health. And if your giftee ends up signing up for a subscription we will give you a free box of veggies. woohoo!
And just as the weather turns for the cooler the red peppers decided to drop off the radar. We were origionally going to put them in our boxes this week (now replaced with cucumbers), but when we went to pick them the peppers werent there like days before. Thats how things work here on the farm. Enjoy those cucumbers. They are nestled under a greenhouse to keep the temperatures warm enough to produce fruit for us.
CSA Contains:
CARROTS
ROMAINE LETTUCE from FRECKER FARMS
CUCUMBERS
GREEN ZUCCHINI
YELLOW ONIONS
BASIL
RED TOMATOES
LACINATO KALE
GREEN CABBAGE
FUJI APPLES from CUYAMA ORCHARDS
BIG BOX ADD: CARROTS, RED LEAF LETTUCE, YELLOW CHERRY TOMATOES, WATERMELON RADISHES, BLUEBERRIES from GOLETA GROWN
FRUIT EXPANSION: FUYU PERSIMMONS & FUJI APPLES
Enchilada Zucchini Boats


Ingredients:
1 tablespoon of oil
1/2 of a sweet onion
1/2 red bell pepper
3 cloves of garlic, minced
1/4 teaspoon of cumin
1/4 teaspoon of dried oregano
1/4 teaspoon of paprika
1/4 teaspoon of salt
1 15 ounce can of black beans, drained and rinsed
3 medium zucchinis
1 1/2 cups of enchilada sauce
optional for topping: 1/2-1 cup of vegan cheese
(Find the full recipe and directions here at B.Britenell)
Black Bean, Rice and Vegetable Tacos


Ingredients:
1 tablespoon olive oil
1 small onion, finely diced
1 green bell pepper, finely chopped
1 red bell pepper, finely chopped
1 can (15 oz) black beans, drained and rinsed
1 bag (10 oz) shredded cabbage, or 3 cups shredded
1 cup frozen corn
1 cup ready-to-serve brown rice (do not follow directions to cook)
juice of 1 lime
1 packet taco seasoning
1 garlic clove, minced or pressed
corn tortillas
diced tomato, shredded cheese, sour cream for garnish
(Find the full recipe and directions here at Together as Family)
Easy 30-Minute Kale, White Bean, and Chicken Soup


Ingredients:
3 tablespoons olive oil
2 cups sweet Vidalia or yellow onion, peeled and diced small (about 2 medium/large onions)
1 cup celery, sliced thin (about 2 stalks)
2 to 3 cups green cabbage, sliced into thin ribbons (about 1/2 small head of cabbage)
4 garlic cloves, peeled and finely minced
64 ounces (8 cups) low-sodium chicken broth
3 to 4 cups shredded cooked chicken
two 15-ounce cans cannellini beans, drained and rinsed
1 tablespoon dried parsley
1 teaspoon dried oregano
1 teaspoons salt, or to taste
1 teaspoon black pepper, or to taste
leaves from 4 large stalks of kale, torn into bite-sized pieces (discard the center thick rib)
1 cup zucchini, diced small (from about 1 medium zucchini)
1 tablespoon lemon juice, optional (brightens up the flavor)
(Find the full recipe and ingredients here at Averie Cooks)
Tomato Basil Chicken with Zucchini Noodles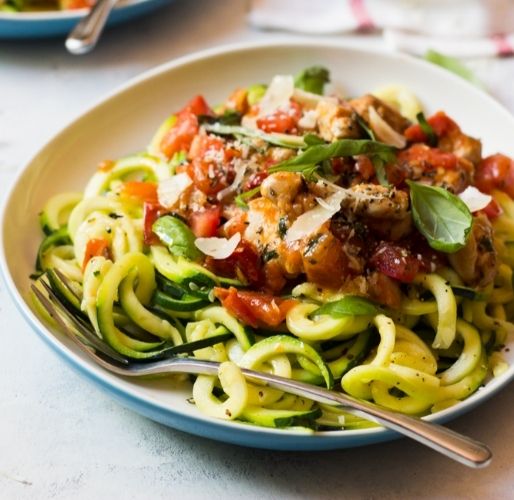 Ingredients:
3 Tbsp. extra-virgin olive oil, divided
⅓ cup chopped sun-dried tomatoes in oil (drained first then chopped)
1 pound boneless, skinless, chicken thighs, cut into bite size pieces
¼ tsp. red pepper flakes
1 pound plum tomatoes, chopped
⅓ cup chopped fresh basil
1 Tbsp. garlic, minced
2 pounds zucchini, spiralized using the larger blade
kosher salt and fresh ground black pepper
optional: Parmesan cheese, to serve
(Find the full recipe and ingredients here at Little Broken)
Juice Box:
CARROTS
ROMAINE LETTUCE from FRECKER FARMS
RED BELL PEPPERS
CUCUMBERS
BLUEBERRIES from GOLETA GROWN
ITALIAN PARSLEY
RED TOMATOES
LACINATO KALE
GREEN CABBAGE
FUJI APPLES from CUYAMA ORCHARDS