Week of October 17th
We are sneaking one more week of melons into the CSA box. Enjoy these super fresh, vine ripened, unlike anything you can buy in the store – cantaloupes. I tend to cringe when I see those slices of melon in the store. The ones that are pre-cut and tucked away into plastic containers. They look like melon, might even smell like melon, but they are far from tasting like the real thing. Enjoy these final bites of summer.
A heads up about the basil. We will be picking it Wednesday morning, but basil is very fickle and will wilt in an instant. To keep basil fresh, trim the stems and place them in a glass or jar of water, just like cut flowers. It does best at room temperature, so no need to put it in the fridge.
CSA Contains:
CARROTS
ARUGULA
STRAWBERRIES
GREEN LEAF LETTUCE
YELLOW ONIONS
CUCUMBERS
LACINATO KALE
RED CHERRY TOMATOES
BASIL
CANTALOUPE
BIG BOX ADD: CARROTS, RED LEAF LETTUCE, MINI SWEET BELL PEPPERS, ZUCCHINI, RED TOMATOES
FRUIT EXPANSION: FUJI APPLES and STRAWBERRIES
JUICE FEAST:
CARROTS
STRAWBERRIES
FUJI APPLES
CUCUMBERS
LACINATO KALE
ITALIAN PARSLEY
CANTALOUPE
RED BELL PEPPERS
CELERY
GREEN LEAF LETTUCE
Strawberry Coconut Kale Slaw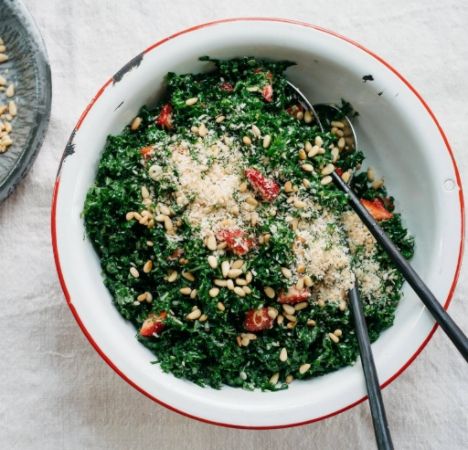 Ingredients:
3/4 cup toasted coconut shreds
1/3 cup toasted pine nuts
2 bunches kale, stemmed and shredded
1 tablespoon liquid extra virgin coconut oil (or extra virgin olive oil)
1 tablespoon lemon juice
fine sea salt & fresh ground pepper
1 pound strawberries, halved or quartered
5 green onions, white and light green parts sliced thin
honey-lime vinaigrette:
juice from 2 limes
6 tablespoons extra virgin olive oil
2 teaspoons raw honey
fine sea salt & fresh ground pepper
(Find the full recipe and inspiration here at Dolly and Oatmeal)
Roasted Garlic Basil Pesto Potatoes with Arugula


Ingredients:
FOR THE POTATOES
2 pounds Yukon Gold or red potatoes, unpeeled, chopped into 1-inch cubes
1 tablespoon plus 1 1/2 teaspoons extra-virgin olive oil
Fine sea salt and freshly ground black pepper
FOR THE ROASTED GARLIC
1 large garlic head
1/2 teaspoon extra-virgin olive oil
FOR THE PESTO
1 cup lightly packed fresh basil leaves
3 to 4 tablespoons hemp hearts
1/4 cup extra-virgin olive oil
2 tablespoons fresh lemon juice, or to taste
1/4 teaspoon fine sea salt
Freshly ground black pepper
FOR THE SALAD
3 cups baby arugula, chopped
Fresh lemon juice, for serving(optional)
1 tablespoon hemp hearts, for garnish
(Find the full recipe and details here at the Ambitious Kitchen)
Farro Salad with Tomato, Cucumber & Basil
Ingredients:
4 tablespoons olive oil, divided
2 large shallots (or 1 sweet onion), finely chopped
2 cups farro
4 cups low-sodium chicken or vegetable broth
1/4 cup red wine vinegar
1 pint cherry or grape tomatoes, halved or quartered if large
1/2 large English (hothouse) cucumber, diced
1/4 cup finely chopped fresh basil leaves
Kosher salt
Freshly ground black pepper
(Find the full recipe and details here at The Kitchn)