This note is for everyone who picks up at John Givens Farm. If you have a special addition (fruit, bread…ect.) please make sure you come pick up your produce on Wednesday. We've been having a lot of problems with raccoons coming in and helping themselves to your goodies.
CSA Contains:
RASPBERRIES
BROCCOLI
LACINATO KALE
CARROTS
RED ROMAINE LETTUCE
RED TOMATOES
YELLOW CHERRY TOMATOES
GREEN ZUCCHINI
CUCUMBERS
BLUE LAKE GREEN BEANS from FRECKER FARMS
BIG BOX: CARROTS, BUTTER LETTUCE, ACORN SQUASH, LEEKS, BLACKBERRIES
FRUIT EXPANSION: BLACKBERRIES AND RASPBERRIES
Broccoli Tahini Pasta Salad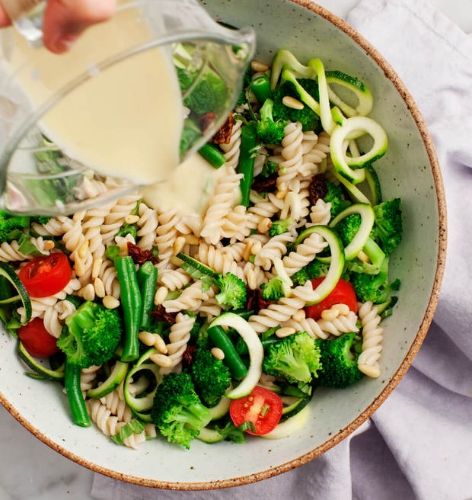 Ingredients:
3 cups small broccoli florets
1 cup cut green beans
2 cups uncooked gluten free fusilli pasta
1 small zucchini, thinly sliced and cut into half moons (or spiralized)
1 cup sliced cherry tomatoes
4 sun-dried tomatoes, chopped
8 fresh basil leaves, thinly sliced
1/4 cup pine nuts
sea salt and freshly ground black pepper
Lemon Tahini dressing: (can be made ahead)
3 tablespoons extra-virgin olive oil
3 tablespoons tahini
3 tablespoons fresh lemon juice
2 tablespoon white wine vinegar
1 garlic clove, minced
1/2 teaspoon Dijon mustard
1/2 teaspoon maple syrup
1/4 teaspoon sea salt
3 tablespoons water
(Find the full recipe here at Love and Lemons)
Summer Squash Salad with Lemon Citronette


(Raw, ribboned yellow and green squash tossed with an herbed lemon vinaigrette, pine nuts and feta cheese. Buy the freshest, smallest squash you can find (local/organic will have the best flavor). Salting the squash helps draw out excess moisture, so allow 20 minutes for that step).
Ingredients:
Salad
1/4 cup pine nuts (or slivered almonds or sunflower seeds)
2 pounds zucchini and yellow squash
Salt
1/2 to 1 cup quality feta cheese, crumbled
Citronette
1/2 teaspoon finely grated lemon zest
1 tablespoon fresh lemon juice
1 large garlic clove, pressed or minced
1 teaspoon chopped fresh thyme
1 teaspoon chopped fresh mint (or tarragon)
1 teaspoon chopped fresh flat-leaf (Italian) parsley
3 tablespoons olive oil
(Find the full recipe and directions here at Cookie and Kate)
My mom gave me this recipe, so she's the only one I can give credit to here.
Salad
4 cups broccoli (cut into bite size pieces)
8 cups kale (torn into bite size pieces and massaged until tender)
6 oz crasins (i used regular raisins)
1/3 sunflower kernals (toasted)
Dressing:
1/3 cup cider vinegar
1 tsp mustard
1/2 olive oil
1 green onion (which I omitted because I dont have)
Blend all the dressing ingredients together and pour over salad. I used a little less maple syrup and it was still really good.
JUICE FEAST CONTAINS:
RASPBERRIES
ITALIAN PARSLEY
LACINATO KALE
CARROTS x2
RED ROMAINE LETTUCE
RED TOMATOES
CELERY
GREEN ZUCCHINI
CUCUMBERS
BLACKBERRIES