Week of November 16th – Something Good! for our Community
WE WILL NOT BE DELIVERING TO WHOLE FOODS THE WEDNESDAY BEFORE THANKSGIVING. UNLESS YOU HAVE CONTACTED ME TO SET UP ANOTHER METHOD OF DELIVERY, YOUR ACCOUNT HAS BEEN PLACED ON HOLD THAT WEEK.
WE ARE STARTING A NEW TRADITION HERE AT THE CSA. IN LIGHT OF RECENT POLITICAL EVENTS WE FIND IT NECESSARY MORE THAN EVER TO REACH OUT AND DO SOMETHING GOOD! FOR OUR COMMUNITY. WE ARE TAKING A BOX OF EVERYTHING ON OUR CSA LIST OVER TO THE FOOD BANK NEXT WEEK AS PART OF OUR ANNUAL THANKS GIVENS. IF YOU WANT TO DONATE A BOX TO A LOCAL FAMILY WE WILL MATCH THAT BOX. JUST SHOOT ME AN EMAIL AND LET ME KNOW. WE ARE COMPILING A LIST FROM A LOCAL CHURCH TO HELP US REACH SOME FAMILIES IN NEED.
CSA Contains:
ARUGULA
RED BEETS
CARROTS
GREEN LEAF LETTUCE
GREEN KALE
RED TOMATOES
GREEN CABBAGE
RED BELL PEPPERS
YELLOW ONIONS
BUNCHED SPINACH
BIG BOX ADD: SALAD MIX, RED CHERRY TOMATOES, RAINBOW CARROTS, KOHLRABI, CELERY
FRUIT EXPANSION INCLUDES: KIWI from WILD RIVER and APPLES from CUYAMA ORCHARDS
Cabbage Sauteed with Chicken


Ingredients:
3 tbsp olive oil
1/2 lb boneless chicken thighs, cut into small pieces
1 small cabbage
2 medium carrots (shredded)
1 tbsp paprika
2 tomatoes
3 bay leaves
1 cup chicken stock
salt, pepper
chopped fresh parsley to garnish
(Find the full recipe and details here at Cooktoria)
Parmesan Quinoa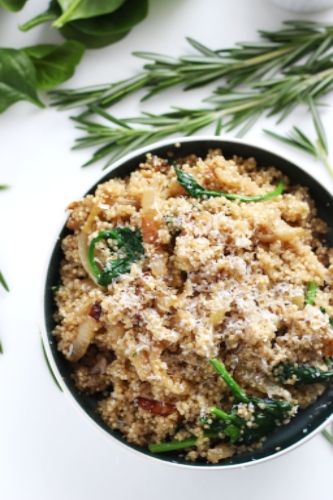 Ingredients:
1 cup Village Harvest quinoa
1½ cup water
2 yellow onions, sliced
2 tbsp butter
2 tbsp olive oil
1 cup spinach, packed
Parmesan cheese for topping
Optional: ¼ tsp fresh rosemary
(Find the full recipe and ingredients here at The Almond Eater)
Kale, Butternut Squash and Apple Salad


Ingredients:
8 cups de-stemmed + chopped kale leaves
½ large apple (such as Granny Smith or Pink Lady), cut into matchsticks
1 cup cubed + roasted butternut squash*, cooled
¼ cup thinly sliced red onion
⅓ cup crumbled feta cheese
¼ cup chopped pecans, roasted
Maple Vinaigrette
2 Tbsp. extra-virgin olive oil
1 Tbsp. apple cider vinegar
2 tsp. pure maple syrup
1 Tbsp. Dijon mustard
salt and fresh ground black pepper
(Find the full recipe and directions here at Little Broken)
JUICE FEAST INCLUDES:
FUJI APPLES
RED BEETS
CARROTS
GREEN LEAF LETTUCE
GREEN KALE
RED TOMATOES
GREEN CABBAGE
RED BELL PEPPERS
CELERY
BUNCHED SPINACH