Happiest Halloween to all. Hope these vegetables balance out any sugar intake that may occur 😀 We will be going to sleep early Wednesday night so eat an extra butterfinger for me. I'm not a huge fan of candy, but I can definitely get down with a butterfinger or peanut butter cup on occasion.
The farm has been having a lot of trouble storing onions. We usually grow onions during the summer and then store them in our barn for the year. The weather doesn't want to cooperate and we've up throwing a lot into our compost piles. The heavy fog and damp air cause the onions tend to go moldy or sprout. So I'm loading the CSA boxes with the good onions that remain for as long as I can. Pretty soon they will be gone until next year. So if you find yourself with more onions than you can use, just put them in a dry, dark space until you need them.
We are also quickly going to run out of things like zucchini (our last crop got a bad case of mildew), tomatoes and red bell peppers. This is why we are having a repeat this week of some familiar things.
CSA Contains:
CELERY
RED TOMATOES
BROCCOLI
CARROTS
GREEN ZUCCHINI
RED BELL PEPPERS
RED LEAF LETTUCE
STRAWBERRIES from SUNRISE ORGANICS
GARNET YAMS from QUAIL H. FARMS
YELLOW ONIONS
BIG BOX ADD: ROMAINE LETTUCE, CARROTS, LACINATO KALE, RED CHERRY TOMATOES, FUJI APPLES from CUYAMA ORCHARDS
FRUIT EXPANSION: POMEGRANATES from OLSON FAMILY FARMS and STRAWBERRIES
JUICE FEAST:
CELERY
RED TOMATOES
CUCUMBERS
CARROTS
FUJI APPLES from CUYAMA ORCHARDS
RED BELL PEPPERS
ROMAINE LETTUCE
STRAWBERRIES from SUNRISE ORGANICS
CILANTRO
LACINATO KALE

Vegan Curried Broccoli Chickpea Salad


Ingredients:
For the salad:
1 head of broccoli, very finely chopped
1 cup shredded carrots
1 (15 ounce) can chickpeas, rinsed and drained
1/2 cup toasted sliced almonds (can also use chopped roasted almonds)
1/2 cup dried cranberries
1 bunch green onions, chopped
¾ cup chopped fresh cilantro
For the dressing:
1/4 cup tahini
1/2 large lemon, juiced
3-5 tablespoons warm water, to thin dressing
1 clove garlic, finely minced
1-2 teaspoons pure maple syrup, to sweeten
1 teaspoon yellow curry powder
½ tablespoon freshly grated ginger
½ teaspoon ground turmeric
½ teaspoon salt
Freshly ground black pepper
(Find the full recipe and inspiration here at The Ambitious Kitchen)
Barbecue Lentil Stuffed Sweet Potatoes


Ingredients:
4-5 medium sweet potatoes
1 cup dry lentils
2 teaspoons olive oil
1 medium yellow onion, chopped
1/2 cup carrots, chopped
2 cloves garlic, minced (about 1 teaspoon)
1 batch Healthy Barbecue Sauce (see below), or 1 cup store-bought barbecue sauce
Avocado sauce (optional):
1/2 avocado
1/3 cup unsweetened almond milk
1/2 teaspoon hot sauce
1/2 teaspoon salt
1/4 teaspoon onion powder
1/4 teaspoon garlic powder
1/4 teaspoon black pepper
(Find the full recipe and details here at Emilie Eats)
Orange-Marinated Chicken Bowls with Zucchini "Rice" and Roasted Carrots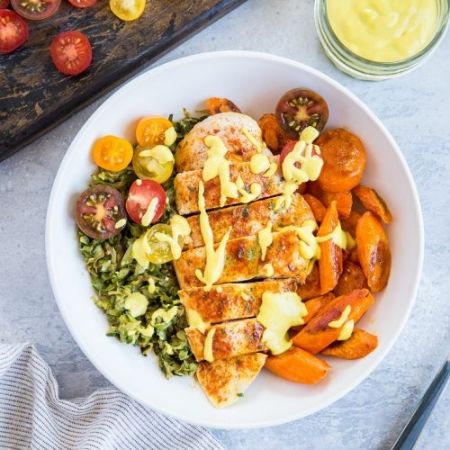 Ingredients:
FOR THE CHICKEN:
1 pound boneless skinless chicken breasts
3 Tbsp avocado oil or olive oil
3 Tbsp orange juice
1 Tbsp cider vinegar
1/2 tsp sea salt
FOR THE BOWLS:
1 batch Orange-Turmeric Tahini Sauce
3 Tbsp avocado oil or olive oil, divided
4 medium zucchini grated
4 large carrots peeled and chopped
sea salt to taste
1 cup cherry tomatoes halved
(Find the full recipe and details here at The Roasted Root)
Golden Bell Pepper Soup


Ingredients:
¼ cup extra-virgin olive oil
½ small onion, diced
2 medium carrots, peeled and diced
1 celery stalk, diced
Sea salt and freshly ground black pepper, to taste
8 yellow, red and/or orange bell peppers, chopped
1 large sweet potato, peeled and chopped
4 cups low-sodium vegetable broth
3 teaspoons finely chopped fresh marjoram
1 recipe Gluten-Free Herbed Croutons, for garnish
Sliced avocado, for garnish; optional
Finely chopped fresh cilantro, for garnish; optional
(Find the full recipe and inspiration for more here at Mind Body Green)