We started a worm farm for our chickens. Turns out that meal worms actually turn into cool black beetles and both make a very good source of protein. Even though I see all sorts of bugs on the farm (and in my house on the farm), and these ones are especially harmless and can not fly, I still have problems touching them. I'm getting used to it!
It's been a busy week on the farm. New plantings are being made for fall/winter while beautiful new items like red peppers and watermelon are on the horizon. The summer time bring out all the bugs and in turn causes a lot of problems with the food we grow. I'm trying to figure out a way to harvest the bugs and get them to my chickens!
We have an abundance of lemons and fresh rosemary, so all CSA boxes will be receiving this as an extra.
CSA for August 13th Contains:
CARROTS
GREEN BEANS
HEIRLOOM TOMATOES
AMBROSIA MELON
ROMAINE LETTUCE
BASIL
ONIONS
BROCCOLI
GALA APPLES from REGENERATIVE EARTH FARMS
CUCUMBERS
BIG BOX ADD: CARROTS, RED TOMATOES, YELLOW PEPPERS, PLUOTS & WHITE PEACHES from Garcia Family Farms
Garlic Avocado Toast with Heirloom Tomato and Basil
(A light and healthy lunch featuring seasonal heirloom tomatoes.)
Ingredients: Serves 2
1 ripe avocado
1 large heirloom tomato, sliced into 1/2 inch rounds
1 small bunch basil, thick stems removed thinly sliced
1-2 garlic cloves, minced
a few slices of your favorite bread
balsamic vinegar for drizzling
salt and pepper to taste
Directions:
1.Toast bread in the oven or toaster.
2.In a large bowl combine the avocado, garlic, salt and pepper. Mash until well combined yet still a little lumpy.
3.Spread avocado mixture onto each slice of toast. Top with tomato, sliced basil, a drizzle of balsamic vinegar, salt and pepper. Enjoy!
Use this recipe as a guide and adjust measurements and ingredients as necessary.
(Recipe from Dishing Up the Dirt)
Green Bean, Tomato, and Chickpea Salad


(This may become your go-to vegetarian main course for the rest of the summer, per Martha Stewart.)
Ingredients:
Coarse salt and ground pepper
1 1/2 pounds green beans, trimmed
3 wide strips lemon zest, cut into thin matchsticks, plus 3 tablespoons lemon juice (from 1 large lemon)
2 tablespoons extra-virgin olive oil
1 pint cherry tomatoes, halved, or 3 medium tomatoes, cut into 1/2-inch wedges
1/4 small red onion, diced small
1 can (15.5 ounces) chickpeas, rinsed and drained
2 1/2 ounces feta, crumbled (1/2 cup)
2/3 cup roughly chopped fresh parsley leaves
Directions:
In a large pot of boiling salted water, cook green beans until crisp-tender, about 4 minutes. Drain and rinse under cool water to stop the cooking. Meanwhile, in a large bowl, whisk together lemon juice and oil. Stir in tomatoes, onion, chickpeas, and lemon zest. Add feta and parsley and stir to combine. Season with salt and pepper. Arrange green beans on a serving platter and top with tomato mixture.
(Recipe from Martha Stewart)
Cucumber Roll Ups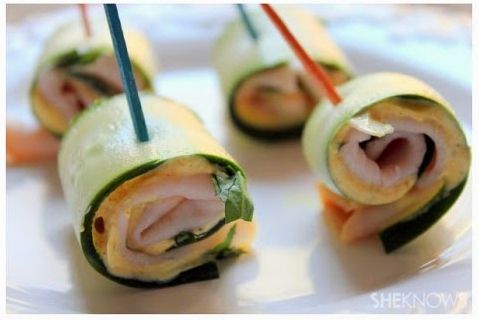 (I've been out to sushi where they use cucumber as the casing. That inspired me to find this recipe. Use the recipe for your own inspiration and substitute ingredients as necessary.)
Ingredients:
cucumbers
1-1/2 cups Greek yogurt
1 tablespoon curry powder
1 tablespoon lime juice
salt and pepper
1 tablespoons herbs, such as cilantro or basil
ham, turkey or some other alternative
Directions:
Slice the cucumbers using a mandoline at a 2 mm thickness setting or using a vegetable peeler. Lay the cucumbers aside on a paper towel plate to allow excess moisture to drain.
Mix together the yogurt, curry powder and lime juice. Add salt and pepper to taste.
Spread the yogurt mixture across the cucumber slices and sprinkle with fresh herbs if desired.
Spread thinly sliced ham or turkey across the cucumber slices if desired.
Roll up carefully, using a toothpick to close if needed.
(Recipe from Eat Views)
JUICE FEAST Contains
CARROTS X2
RED TOMATOES
ROMAINE LETTUCE
ITALIAN PARSLEY
CUCUMBERS
GALA APPLES from REGENERATIVE EARTH FARMS
YELLOW PEPPERS
LACINATO KALE
CELERY
AMBROSIA MELON