A few important things happening in our CSA store. This is our last week selling granola from our local chef. She has a lot going on this year and unfortunately can not provide granola for us anymore. After this week please visit her website at http://cindyshealthycreations.com/ to support her delicious granola. We will be entertaining the idea of selling granola from another local distributor if there is any interest.
Casitas Valley Creamery has been in transition lately with their cheeses. They are in the midst of clearing out their creamery in preparation for a new round of cheese making. They have partnered with two local artisan craftsmen to bring a variety of expertise on board. They are also going to be trying a new cheese rind casing in order to improve appearance, but also keep more moisture in their aged cheeses, while also allowing them to breath and ripen.They are hoping to make more cheese, more often and have consistently better results. This will in turn, will allow them to be more creative in their ability to experiment with new recipes and flavors. The fresh cheeses will be available in our store as early as next week and the ripened cheeses will be available 2 months after that. We look forward to their new line of cheese and will keep you updated on the progression.
CSA for August 27th Contains:
RED BELL PEPPERS
CARROTS
RED LEAF LETTUCE
ORANGE KABOCHA SQUASH
RED TOMATOES
CUCUMBERS
BLUE LAKE GREEN BEANS
YELLOW ONIONS
AMBROSIA MELON
CONCORD GRAPES from VINCENT FARMS
BIG BOX ADD: SUNGOLD CHERRY TOMATOES, CILANTRO, CARROTS, GALIA MELON, +1 MORE THING TO BE DETERMINED

Thai Red Curry Coconut Kabocha Squash Soup


(Kabocha squash is my all time favorite squash. Super sweet and flavorful, this squash boasts an excellent source for beta-carotene and vitamin A. Can we say versatile? Kabocha can be roasted in the oven simply (perhaps with a dusting of cinnamon) or can create a creamy base for any soup. The world of desserts can also be explored with this 'pumpkin'.)
Ingredients:
2 pounds cubed Kabocha squash
1 tablespoon olive or coconut oil
1 medium onion, finely diced
2 cloves of garlic, minced
1 1/2 to 2 tablespoons Thai red curry paste, more or less as desired
1 cup coconut milk
2 cups vegetable or chicken stock
1 tablespoon fish sauce (I substituted soy sauce here for saltiness)
juice of 1/2 of lime, plus extra lime wedges for serving
1/2 cup loosely packed chopped cilantro leaves
sea salt to taste
Optional Toppings: microgreens, toasted pumpkin seeds
Directions:
Peel the tough outer skin of the squash. (This is their recommendation. Mine is to eat the whole thing. The peel can definitely be eaten.) Carefully slice in half. Scoop out the seeds. Chop into cubes.
Heat the oil a soup pot over medium-high heat. Add the onion and saute about 5 minutes until translucent. Add the garlic and saute another minute. Add the curry paste and saute another minute. Add the coconut milk, stock, cubed squash and fish sauce and bring to a boil. Cover and simmer until the squash is tender, about 10-15 minutes. Add the lime juice and cilantro.
Blend in a high speed blender until very smooth. Taste and season for salt.
Serve immediately with lime wedges, microgreens and/or toasted pumpkin seeds.
*The amount of red curry paste will depend on desired heat level and the brand you are using (if not homemade). I used 2 tablespoons and the heat level was mild to none — maybe it's because there was more than 2 lbs of squash, but I recommend added a chili at the beginning with the onions if you are looking for some heat.
(Recipe from Wild Greens and Sardines)
Green Beans with Spiced Breadcrumbs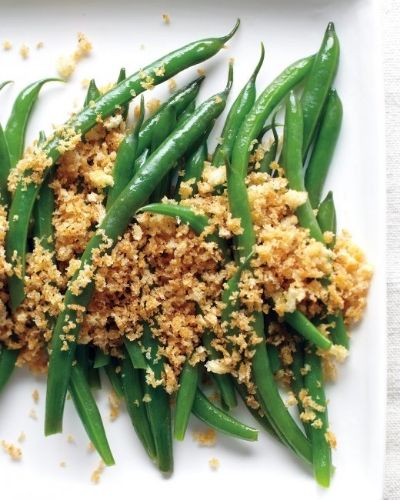 (Quick and easy. This recipe sounds great piled on top of a piece of fish or piled on top of more vegetables! Consider roasting other veggies along side the bread crumbs.)
Ingredients:
1 cup fresh breadcrumbs (from 2 slices bread)
3 tablespoons extra-virgin olive oil
1/4 teaspoon paprika
Pinch of cayenne pepper
Coarse salt and ground pepper
1 pound green beans, trimmed
Directions:
Preheat oven to 350 degrees. On a small rimmed baking sheet, toss together breadcrumbs, 2 tablespoons olive oil, paprika, and cayenne pepper. Season with salt and pepper. Bake until golden and crisp, 5 to 7 minutes. Meanwhile, set a steamer basket in a saucepan with 2 inches simmering water. Add green beans, cover, and steam until crisp-tender, 3 minutes. In a medium bowl, toss beans with 1 tablespoon oil. Season with salt and pepper and top with breadcrumbs.
(Recipe from Martha Stewart)
Red Pepper and Feta Turkey Burger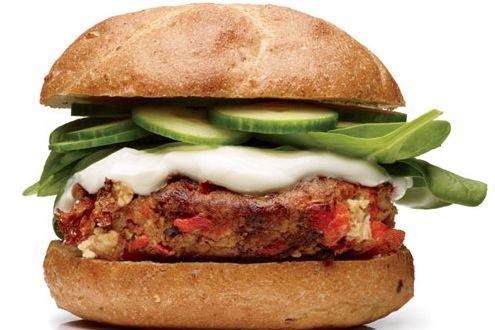 (I believe in healthy fats and although this recipe kept calling for low fat and fat free I made some changes to the recipe. This will improve the taste considerably too. If you are looking to save calories, consider switching out the bun for a red leaf lettuce wrap.)
Ingredients:
1 lb organic, free range ground turkey
4 oz feta cheese
2 roasted red peppers, chopped
1 egg
1/2 tsp ground black pepper
1 tsp lemon juice
1/4 cup plain Greek yogurt
4 whole-wheat hamburger rolls
1 cup baby spinach
1/2 cup cucumber slices
Directions:
Warm a pan over medium heat and coat with coconut oil.
In a bowl, combine first 5 ingredients and shape mixture into 4 patties. Place in pan, cover, and cook for 7 minutes. Uncover, flip, and cook for 5 more minutes.
In another bowl, combine lemon juice with yogurt. Set aside.
Serve burgers on rolls, topped with yogurt sauce, spinach, and cucumber.
(Recipe from Women's Health Magazine)
JUICE FEAST CONTAINS:
RED BELL PEPPERS
CARROTS X2
ROMAINE LETTUCE
RED TOMATOES
CUCUMBERS
CONCORD GRAPES from VINCENT FARMS
LACINATO KALE
BABY SPINACH from FRECKER FARMS
CILANTRO
CELERY
*SORRY WE DIDN'T HAVE LEMONS LAST WEEK. THEY WILL DEFINITELY BE INCLUDED THIS WEEK!!