When we see lettuce and carrots at the farmers market, in the store and in our CSA boxes every week it may not occur to you how much work actually goes into the planting to make that happen. We harvest our own lettuce seed, hand plant (and transplant) each head, or sow it directly into the ground (depending on the time of year) to keep it on your table all year long. This week we had a failure with our lettuce crop and barely any of the lettuce came up. When these types of things happen it makes me feel extra grateful for all the beautiful lettuce we have had and will have. Unlike most of the country, which experience more extreme temperatures, we are able to grow it all year round. Please enjoy our lettuce free salad recipes below as we anticipate lettuce back in our boxes in a week or two.
Your white nectarines come from Garcia Family Farms up in Fresno County. They attend a lot of our local farmers markets and are in transition to become certified organic. I spoke with one of the Garcias this weekend and she mentioned how difficult it can be to make the transition when it comes to filling out paperwork! They have been working on this project for 4 years now and will need 3 more years to receive their certification. We are so happy to share this fruit with you. It's truly summertime at it's best. The nectarines will probably need 1-2 days on your countertop before consuming.
It's with great pleasure and pride to announce the newest additions to our flock are laying eggs. I started out all of our chickens specifically for our CSA. So please feel free to add as many as you and your family need. You can also add a reoccurring weekly order of as many dozen as you need to your CSA share. This will guarantee your eggs for the week. We've purchased some new packaging, but the eggs remain the same.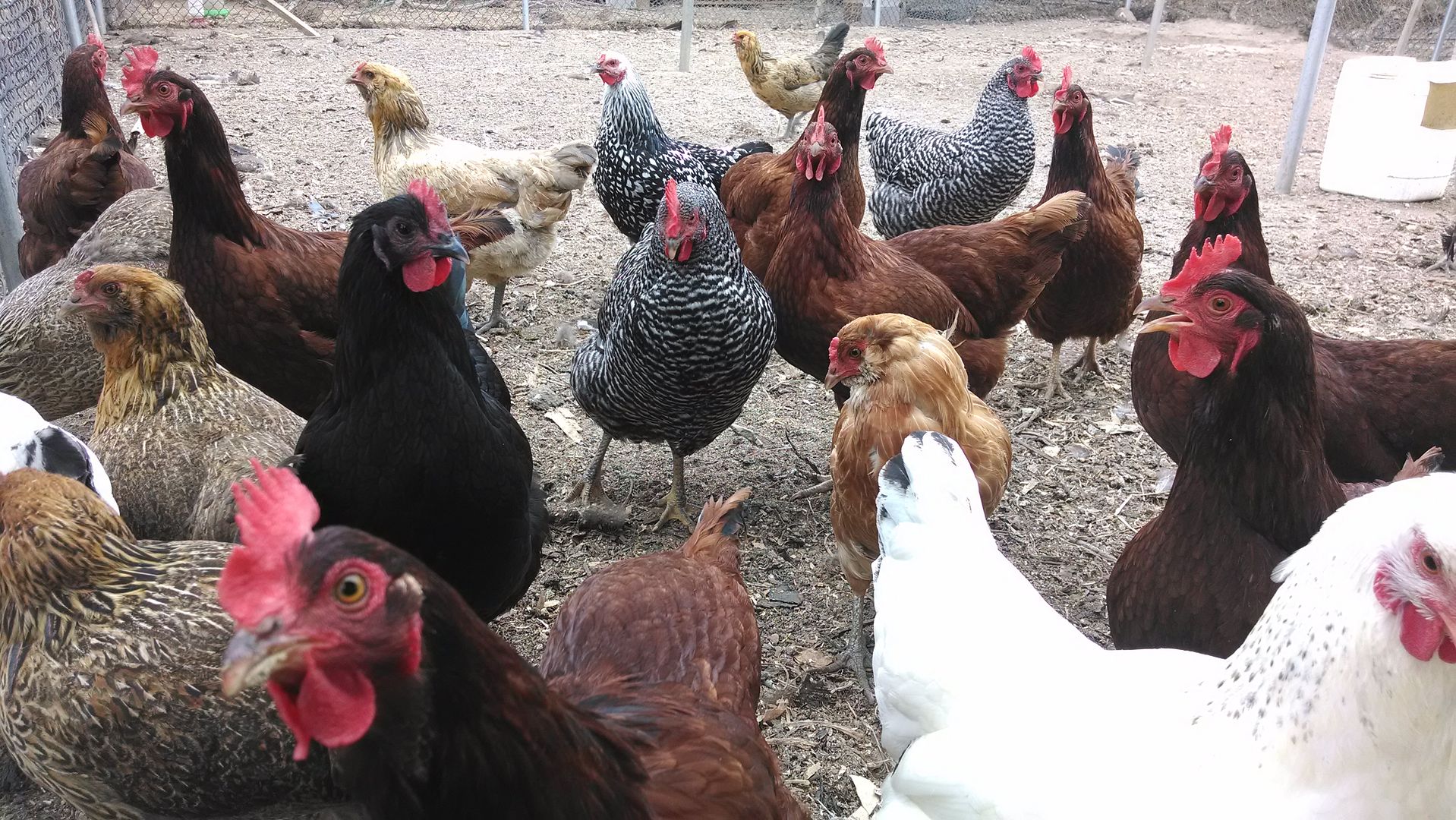 The black and white birds are the newbies and the rest we've had since the beginning. I took this picture when I was hanging out with the flock today.
CSA for July 16th contains:
COLLARD GREENS
GREEN BEANS
GREEN ZUCCHINI
HEIRLOOM TOMATOES
BASIL
CARROTS
BROCCOLI
CUCUMBERS
HASS AVOCADOS from VINCENT FARMS
WHITE NECTARINES from GARCIA FAMILY FARMS
BIG BOX ADD: RED TOMATOES, CARROTS, GRAPEFRUIT from BROWN DATE GARDEN, RED BUTTER LETTUCE from FRECKER FARMS, GREEN BELL PEPPERS
Heirloom Tomato & Cucumber Salad with Feta


(The author of this recipe suggests: Juicy sweet tomatoes mix well with the crunchy cucumbers, red onion and creamy feta cheese. If leftovers happen, try salad wrapped in a wholegrain tortilla or pita with a spread of hummus and some mixed greens for lunch the next day. Add sliced turkey, chicken or beans if more protein is desired.)
Ingredients:
2 lbs heirloom tomatoes, chopped
1/2 small red onion, thinly sliced
1 large cucumber, chopped (seeds removed if desired)
2 tbsp olive oil, extra virgin
1 tbsp red wine vinegar
1/4 tsp dried oregano
Salt and Pepper to taste
2 cloves garlic, grated
6 oz feta cheese with Mediterranean herbs, crumbled
Directions:
Toss together chopped tomatoes, cucumber and red onion. Drizzle with 2 T. olive oil, 1 T. red wine vinegar, 1/4 tsp oregano, 2 grated garlic cloves, sea salt, pepper and feta cheese. Toss to coat and chill until serving. Serve as is or over fresh arugula or baby spinach. Serves 8, serving size about 3/4 cup. Garnish with fresh chopped parsley or basil, if desired.
(Recipe from Repurposed Life)
Collard Slaw


(This recipe doesn't really have exact quantities, but the anticipated measurements are below. It prepared enough for 3-4 small side salads.)
Ingredients:
1 bunch collards – I received about 20-25 medium-sized leaves from my CSA share
2 carrots
rice vinegar (~2T)
toasted sesame oil (~1 T)
hot pepper sesame oil (~ 1-2 t)
salt or soy sauce (a pinch or 1/2 t to taste, I used pink salt)
sugar (a pinch or two to cut the bitterness)
sesame seeds
Directions:
Soak and gently agitate collards in a big bowl of cold water several times until the water runs clear.
Pat collards dry and chiffonade: roll up 5-6 leaves at a time lengthwise. Because the leaves are pretty wide, I made a cut on each side of the stem. I kept the stem intact because the collards I had were pretty young, but if yours are really fibrous feel free to discard. Then slice widthwise into thin (~1/4 in) strips.
Peel the carrots and julienne them. I used my julienne peeler which made this pretty easy. You could use a food processor, but what a pain to clean (plus, I don't have one).
Mix the greens and carrots and add the the vinegar, oils, and a little bit of salt and sugar to taste. Start with just a little bit of salt and sugar (and spicy) because you can always add more later. The sugar is important to cut the bitterness of the greens. The salt draws out some of the flavor. Add a few pinches of sesame seeds for taste, texture, and looks.
Let marinate for at least 30 minutes for a crunchier salad, or overnight for a softer slaw. The spiciness does intensify with time.
Variations: if you don't have hot pepper sesame oil, leave it out, or add some red pepper flakes. Try peanut oil instead sesame oil.
(Recipe from Kosher Camembert A CSA box full of collard greens helped inspire this authors recipe. Read her article for more fun information.)
Hello Summer Salad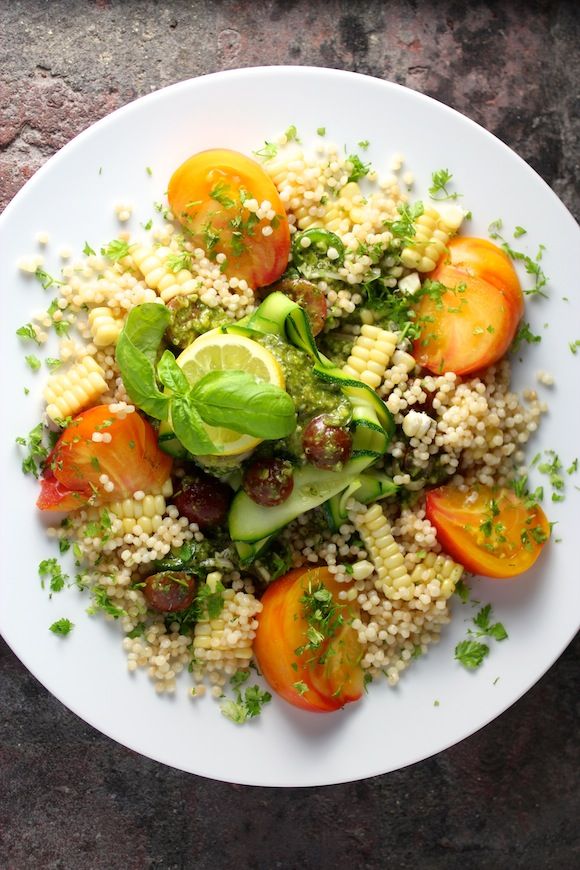 Ingredients:
1 package Israeli Couscous
2 ears Corn,
2-3 Heirloom Tomatoes,
2 Zucchini
1 Jalapeño
Chunky Lemon Basil Dressing
•5 lemon slices – 1/4″ thick, seeds removed
•1 c. basil leaves, loosely packed
•olive oil
•salt and pepper
For the Dressing
Chop lemon and basil in a food processor. Stream in oil until it reaches a chunky dressing consistency. Season to taste with salt and pepper. Serve at room temperature.
Directions:
Cook Israeli couscous according to package instructions.
Boil an ear of corn for 5 minutes, let cool to room temperature, then shuck the kernels keeping them somewhat intact.
Peel zucchini into ribbons with a vegetable peeler. Blanch in boiling water for 15 seconds, drain, bring to room temp.
Toss thinly sliced shallot, sliced jalapeño, and halved cherry tomatoes with the chunky lemon basil dressing.
Assembly: Spoon couscous over a platter. Arrange wedges of heirloom tomato and corn around the couscous. Mound the zucchini ribbons in the center. Generously ladle the chunky dressing over the zucchini. Garnish with lemon wheel, basil sprig, and fresh chopped chervil*. Hello!
*Parsley would be a good substitute here if you don't have chervil.
(Recipe from Taste with the Eyes)
Green Bean & Zucchini Salad


Ingredients: Serves: 4
1/4 cup hazelnuts
3/4 lb green beans, ends removed
1 large zucchini, peeled into ribbons
1 tbsp olive oil
1/4 tsp chili flakes
2 garlic cloves, minced
salt/pepper
Ginger & Soy Tahini Dressing
1/4 cup tahini
1/4 cup cold water
1 teaspoon ginger
1 1/2 tablespoon soy sauce
1/2 teaspoon sesame oil
2 tablespoon apple cider vinegar
salt/pepper
Directions:
Preheat the grill onto a medium heat in your oven. Place the hazelnuts onto a small baking tray and place under the grill.
Cook for 3 minutes and give the tray a shake to move the hazelnuts around and cook for a further 4-5 minutes or until golden.
Remove the nuts from the baking tray and tip onto a clean tea towel. Rub the nuts vigorously in the towel to remove the skins. Place onto a cutting board and roughly chop.
Place a large fry pan over a high heat and place in the olive oil bring the oil up to a high heat and place in the green beans. Sauté the beans for 5-6 minutes. Add the garlic and chili and sauté for a for further 2-3 minutes.
Add in the zucchini ribbons and toss for about 30-40 seconds. No longer. The heat form the beans will continue to cook the zucchini. Place the zucchini and beans onto a serving platter and sprinkle over the chopped hazelnuts.
Drizzle about 2 -4 tablespoons of the dressing over the salad and serve immediately.
Ginger & Soy Tahini Dressing
In a small lidded jar place all of the dressing ingredients. Place the lid on and shake vigorously to combine the ingredients. Remove the lid and taste. Balance if necessary i.e. more soy, vinegar etc
(Recipe from The Whimsical Wife)
JUICE FEAST contains:
COLLARD GREENS
RED TOMATOES
PARSLEY
CARROTS
CUCUMBERS
RED TOMATOES
GREEN KALE
FENNEL from FRECKER FARMS
WHITE NECTARINES from VINCENT FARMS
GRAPEFRUIT from BROWN DATE GARDEN