I've been traveling, and while I was away, 18 of our chickens and 1 momma turkey were killed. We think a family of raccoons broke into the coop, but it's hard to tell at this point. Until I return home I won't know for sure. We should be able to fulfill egg orders that are secured through your subscriptions, but I need to assess the damage before we put any up in the CSA store for sale. I am so very sad, but we will try to re-secure our coop and be purchasing new chicks try to get back into gear.
The lettuce drought continues on the farm. Your lettuce comes from Ellwood Canyon Farms this week.
CSA for July 23rd contains:
WHITE PEACHES from GARCIA FAMILY FARMS
CARROTS
CUCUMBERS
LACINATO KALE
RED CHERRY TOMATOES
GREEN BELL PEPPERS
SPAGHETTI SQUASH
YELLOW ONIONS
GREEN ZUCCHINI
GREEN LEAF LETTUCE from ELLWOOD CANYON FARMS
BIG BOX ADD: CARROTS, CELERY, ITALIAN PARSLEY, HEIRLOOM TOMATOES, RED LEAF LETTUCE

Zucchini and Kale Bites
(Serve these elegant canapés as your sweetie walks through the door after work and you're sure to set the mood for the evening to come. You'll also be giving your honey some serious brain food. Walnuts are right in mood-boosting and nerve calming omega-3s.)
Ingredients:
2 cups roughly chopped kale
1/2 cup toasted chopped walnuts
2 medium zucchinis, tops removed and cut in half lengthwise
4 tablespoons Kale-onaise (recipe below)
1 cup grated parmesan cheese
2 tablespoons minced fresh parsley
olive oil for drizzling
Directions:
Preheat the oven to 400 degrees. Combine kale and walnuts in a food processor and process until smooth. In a large saucepan, steam the zucchini for 8 to 10 minutes until it begins to soften but is still firm to the touch. Remove and place the zucchini cut side up on a cookie sheet lined with parchment paper or aluminum foil. In a medium bowl, mix the Kale-onaise, half of the kale mixture, half of the cheese, and 1 tablespoon of the parsley. Cover each half of zucchini with a thin layer of the mixture and top with the remaining cheese. Drizzle lightly with olive oil, if using, and bake for 20 to 25 minutes, until the cheese bubbles and starts to brown. Allow the zucchini boats to cool for a few minutes, then slice into 2-inch chunks and sprinkle with remaining kale mixture and parsley. Serve warm or at room temp.
Kale-onaise: (Original recipe calls for mayonnaise instead of yogurt)
2 cups packed chopped kale
1/2 teaspoon sea salt
2 garlic cloves, chopped
1 cup greek yogurt
Zest and juice of 1 lemon
In a food processor, combine the kale leaves, salt and garlic. Process until finely chopped. Add the mayonnaise and lemon zest and juice and process until smooth.
(Recipe from the book Fifty Shades of Kale by: Drew Ramsey, MD & Jennifer Iserloh)
Cilantro-Lime Marinated Veggie Kabobs with Barley Kale Salad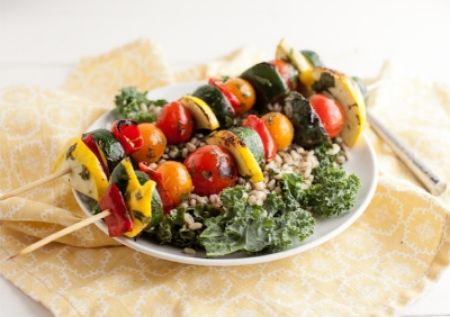 (This is a rough recipe because giving an exact amount for the veggies seemed arbitrary. Simply use what you have on hand! Also, the addition of cheese would be delicious- try feta, goat, or a little queso fresco. Kabobs are a great summer staple and so easy to make with any veggies on hand on top of the stove or bbq.)
Assorted Summer Produce*:
Zucchini
Yellow Squash
Cherry Tomatoes
Onions
Jalapeño Peppers
Bell Peppers
Marinade:
Juice from 2-3 limes, depending on size
2 tablespoons honey
2 tablespoons olive oil
1/2 teaspoon salt
1/3 cup cilantro, minced
Salad:
a couple handfuls of kale
1/2 cup barley
Directions:
1.Anywhere from an hour up to a day** before, cut up veggies in to rough 1″ pieces. Whisk together marinade. In a large dish, like a 9×13 pan, toss together veggies and marinade. Since I don't give you exact measurements on the veggies- you may have to make adjustments to the marinade, just whip up a little more if need be. Cover and refrigerate until ready to use.
2.One hour before, soak up to 6 wood skewers in water.
3.In a pot, cover barley with two inches of water. Bring to a boil, reduce to heat slightly, and let cook until barley is tender (but will still be slightly chewy.) Set aside.
4.When ready to cook, light the grill. Carefully thread veggies on to skewers in the order you choose. Grill until veggies are your desired doneness (ie- I like mine charred whereas some just barely like them brown.)
5.While kabobs are on the grill. Roughly chop kale. Toss kale and cooked barley with the left over marinade. Place on a plate and serve with 1-2 veggie kabobs.
Notes:
*You want enough veggies to cover 4-5 skewers. I used one small zucchini, one small summer squash, ½ onion, 1 jalapeño, 1 red pepper, 10 cherry tomatoes **I usually prep the veggies the night before and let it sit until the next day.
(Recipe from Naturally Ella)
Spicy Spaghetti Squash with Black Beans


(Serve these stuffed squash halves immediately or fill with the stuffing and refrigerate them, covered, one day in advance. Simply reheat them before serving.)
Ingredients:
1 medium spaghetti squash, halved lengthwise and seeded
2 teaspoons extra-virgin olive oil
1/2 cup chopped red onion
1 jalapeño pepper, seeded and minced
1/2 cup bell pepper, chopped
1 cup cooked black beans
1/2 cup sweet corn, frozen or fresh
1 teaspoon chili powder
1/3 cup fresh cilantro, finely chopped
1 tablespoon lime juice
1 teaspoon fine sea salt
Directions:
Preheat the oven to 375°F. Arrange squash in a large baking dish, cut-sides down. Pour 1/2 cup water into the dish and bake until just tender, 30 to 35 minutes. Rake with a fork to remove flesh in strands, leaving the shell intact for stuffing.
For the filling, heat oil in a large skillet over medium heat. Add onion, jalapeño and bell pepper and cook for 2 minutes or until soft. Add beans, corn and chili powder; cook, stirring frequently, 1 minute longer. Add cooked squash, cilantro, lime juice and salt, cook 1 minute until heated through.
Fill squash halves with filling, mounding mixture in the center.
(Recipe from Naturally Ella)
Bulgur-Stuffed Summer Vegetables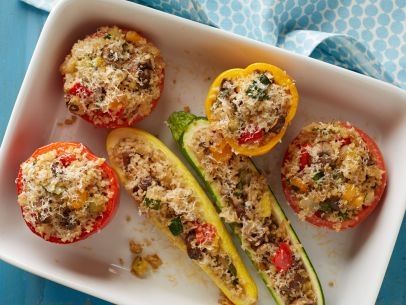 Ingredients:
1 cup bulgur wheat
1 1/4 cups chicken broth
2 bell peppers (1 red, 1 yellow)
2 zucchini and/or yellow summer squash
2 tomatoes
2 tablespoons extra-virgin olive oil
1 small onion, chopped
1/4 pound crimini mushrooms, chopped
3 cloves garlic, minced
Kosher salt and freshly ground black pepper
2 teaspoons chopped fresh tarragon
1/4 cup grated Parmesan cheese
Directions:
Preheat the oven to 350 degrees F. Place the bulgur in a heatproof bowl. In a sauce pan, bring the chicken broth and 1 1/2 cups water to a boil. When the liquid has come to a boil, pour over the bulgur. Let sit until the bulgur absorbs the liquid, about 20 minutes.
Meanwhile, prep the vegetables: Cut off the top third of the bell peppers. Remove the seeds and ribs leaving a 'cup' for the stuffing. Dice the flesh from the top 1/3 and reserve. Cut a 1/3 of the zucchini lengthwise to reveal the seeds. Scoop out the seeds to create a boat. Dice the remaining 1/3 pieces. Slice the tomatoes in half and scoop out the seeds to create a cup.
In a large saute pan, heat the oil over medium heat. Add the chopped onion and sweat until translucent. Add the reserved chopped peppers, squash, mushrooms, and garlic to the pan. Season the vegetables with salt and pepper. Cook until the vegetables are tender, about 10 minutes. Drain the cooked vegetables, if necessary, and add to the cooked bulgur.
Cook's Note: You may need to drain the excess liquid from the bowl of bulgur, too.
Stir in the chopped tarragon. Sprinkle salt and pepper on the inside of the vegetable 'cups.' Stuff the vegetables with the bulgur mixture, place in a shallow baking dish, cover with foil, and bake for 45 minutes. Uncover and sprinkle with grated Parmesan cheese, then bake for an additional 10 minutes, or until the cheese is brown and melted.
(Recipe from Food Network)
JUICE FEAST INCLUDES:
LACINATO KALE
CUCUMBERS
RED BEETS
GREEN BELL PEPPERS
GREEN LEAF LETTUCE from ELLWOOD CANYON FARMS
WHITE PEACHES from GARCIA FAMILY FARMS
CELERY
ITALIAN PARSLEY
DANDELION GREENS
RED TOMATOES
Kale, Peach & Coconut Smoothie


Ingredients: *makes 2 smoothies
•1 cup frozen peach slices
•1 cup packed kale, torn into pieces and stems discarded
•1/2 frozen banana
•3/4 cup coconut water (may need a little more or less, depending)
•1/2 teaspoon freshly grated ginger
•1 teaspoon raw honey
•(you could also add a big scoop of greek yogurt or a glug of almond milk for added creaminess)
Directions:
1.Combine all ingredients in a blender.
2.Blend on high until very smooth. Pour into 2 glasses; serve with straws.
Mojito Green Juice
Ingredients:
1 small bunch mint
1 small bunch parsley
1 lime
½ inch fresh ginger
2 cucumbers
1 green apple