Strawberries took an unexpected dive this last week. We picked for the farmers market this past weekend and the berries were few and far between. Unfortunately they are not fond of this hot weather and produce less as the temperature increases. This week we included Lane Late Naval oranges from Vincent Farms. They are super sweet, but have a tough peel and are better sliced with a knife. These oranges were grown right here in Goleta and required no labeling and very little gasoline to get them to you.
We are testing out some peaches from Garcia farms this week. They have been in transition into an organic farm for about a year now. I've been sampling them at the farmers market and they are beyond delicious. If everything works out well this week you will see them in all the boxes next week.
Cindy dollar, a local chef is cooking up some delicious granola for us this month. July's flavor is Walnut Spice Granola. It's great to sprinkle on top of all your summer fruit! Check it out here in our CSA store.
CSA for July 7th contains:
GREEN BEANS
RED BEETS
CUCUMBERS
RED CHERRY TOMATOES
LANE LATE NAVAL ORANGES from VINCENT FARMS
GREEN BELL PEPPERS
CARROTS
BASIL
CELERY
RED LEAF LETTUCE
BIG BOX ADD: RED TOMATOES, CARROTS, GREEN KALE, WHITE AND YELLOW PEACHES from GARCIA FARMS , RUBY RED GRAPEFRUIT from THE BROWN DATE GARDEN

Smoky Vegetarian Beet Reubens


(Here, in place of the pastrami, Ginsberg sprinkles roasted beet slices with smoked salt, then serves them on buttered rye toast with all the traditional condiments, like sauerkraut, melted Swiss cheese and homemade Russian dressing.)
Ingredients:
1 large beet (about 14 ounces)
1 tablespoon extra-virgin olive oil, plus more for brushing
Kosher salt
Freshly ground pepper
1/2 teaspoon coriander seeds, finely crushed
Smoked salt, for sprinkling
1/4 cup mayonnaise
1 tablespoon ketchup
1 tablespoon sweet pickle relish
1 tablespoon fresh lemon juice
8 slices of rye bread
Softened unsalted butter, for brushing
1/2 cup sauerkraut, drained and warmed
6 slices of Swiss cheese
Directions:
1. Preheat the oven to 350°. Brush the beet with olive oil and season with kosher salt and pepper. Wrap the beet in foil and roast for about 1 hour and 15 minutes, until tender; let cool slightly. Peel the beet and slice crosswise 1/4 inch thick. Transfer the slices to a plate and drizzle with the 1 tablespoon of olive oil, then sprinkle with the coriander and smoked salt.
2. In a bowl, whisk the mayonnaise with the ketchup, relish and lemon juice. Season the Russian dressing with salt and pepper.
3. Preheat the broiler. Arrange the bread on a large baking sheet and brush with butter. Broil 6 inches from the heat until lightly toasted, 1 to 2 minutes. Transfer 4 slices of the bread to a work surface. Flip the remaining 4 slices on the baking sheet and top with the beet slices, sauerkraut and cheese. Broil 6 inches from the heat until the cheese is melted. Close the sandwiches, cut in half and serve.
Make Ahead: The sliced roasted beet and the Russian dressing can be refrigerated separately overnight.
(Recipe from Food and Wine)
Green Bean and Celery Salad


Whisk 2 tablespoons lemon juice, 1 tablespoon dijon mustard, a pinch of salt and 3 tablespoons olive oil in a bowl. Add 1 minced shallot, 2 tablespoons capers, a handful each of chopped parsley and celery leaves, and a pinch of pepper. Boil 3/4 pound halved green beans until crisp-tender, 4 minutes; drain and add to the dressing along with a few thinly sliced celery ribs.
(Recipe from Food Network)
Arugula, Orange and Beet Salad


(If you are wondering where the arugula is in your CSA box right now, hang tight. The bugs are exploding right now and arugula is a prime target for them. We have to wait until things cool down a bit to make growing leafy greens like spinach and arugula worth it. I tear up red leaf lettuce and top the salad with a bit of fresh ground pepper to replicate the taste.)
Ingredients: Serves 4
•1 bag of baby arugula
•2 roasted beets *, rough chopped
•2 oranges, sectioned, juice reserved (you could also use pears)
•1/4 cup crumbled goat cheese (optional)
•Dressing:
•3 T. white wine vinegar
•1 tsp mustard
•3 T. water
•Salt and pepper to taste
Directions:
1.Put all of the salad ingredients except the goat cheese in a large salad bowl.
2.Mix dressing ingredients in bowl with reserved orange juice
3.Pour over salad and add crumbled goat cheese.
*Roasting beets: Preheat oven to 375 degrees. Trim tops to about 1/2 of beets and save for another meal. Rinse any dirt or debris from the beets – some may need to be scrubbed clean. Put beets on a large piece of aluminum foil. (Optional: drizzle with olive oil, salt and pepper.) Fold foil over the beets and place in an oven-proof container. Roast for 30 minutes or until beets are tender. Cool and remove skins.
(Recipe from Plant Based Cooking)
Roasted Green Bell Pepper and Roasted Tomato Breakfast Casserole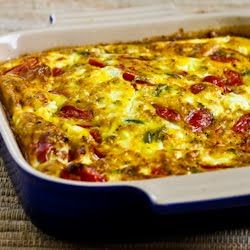 (I've realized that summer vacation isn't necessarily a break. Things are a little crazier for most families as the normal schedule is thrown off, not to mention those free 6 hours that were usually occupied by school. This breakfast can be prepared in advance and eaten all week long.)
Ingredients: Makes 4-6 servings
1 green bell pepper, seeds removed and cut into thin strips
olive oil, for brushing baking pan (or use nonstick spray)
1/2 tsp. dried oregano (optional, but good)
1 cup cherry tomatoes, sliced in half
3/4 cup crumbled Feta cheese
10 eggs
1 tsp. Spike Seasoning
salt and fresh ground black pepper for seasoning eggs
Instructions:
Preheat oven or toaster oven to 375F/190C. (I was making this in the summer, so I used a toaster oven.) Brush 9″ x 9″ (or similar size) baking dish with olive oil, including the sides, or spray with nonstick spray.
Cut out seeds from green pepper, then cut into short thin slices. Put green pepper into baking dish, sprinkle dried oregano over, and roast for 10 minutes.
While green pepper roasts, cut cherry tomatoes in half. Break eggs into a bowl and beat until egg yolks and whites are well combined. Season eggs with Spike Seasoning, salt, and fresh ground black pepper.
After peppers roast for 10 minutes, add cut cherry tomatoes and stir to combine. Put dish back in oven and roast 15 minutes more, or until tomatoes start to look slightly shriveled.
Sprinkle Feta cheese over roasted peppers and tomatoes, then pour beaten eggs over. (I used a fork to stir slightly so the roasted peppers and tomatoes were evenly distributed in the eggs.) Return pan to oven and cook for 25-28 minutes, or until the top is lightly browned and eggs are set. (It will puff up a bit when it cooks, but after it cools for a few minutes the casserole will settle.) Serve hot. (Can be reheated for a quick breakfast)
This is good served with a dollop of low-fat sour cream or plain yogurt.
(Recipe from Kalyns Kitchen)
The Stripped Smoothie


(In honor of all this heat, try this super smoothie instead of a huge meal at lunch to keep you going without bogging you down! Can be made ahead. Thanks to Nutrition Stripped for this recipe and more.)
Ingredients:
1 cup of filtered water
1 cup of coconut water (or double the filtered water)
1 large bunch (5 heaping handfuls) of organic lacinato kale/regular kale
1 large head of organic romaine
5-7 large stalks of organic celery, chopped
1 organic apple, cored and chopped
1-2 bananas, chopped
½ cup organic cucumber, chopped
½ cup of cilantro
½ cup of parsley
Juice of 1 lemon/meyer lemon
4 brazil nuts
dash of cayenne (optional)
dash of cinnamon (optional)
dash of turmeric (optional)
Directions:
1.Using the Vitamix// high speed blender, pour filtered water into the blender
2.Add chopped celery stalks and romaine lettuce first, and turn on low speed to puree.
3.Gradually increase the speed and add chopped kale.
4.Add all remaining ingredients and blend until creamy!
5.*At this point you may add more water to achieve your desired consistency!
6.Pour into individual air tight mason jars or another air tight liquid container.
(Recipe from Nutrition Stripped)
JUICE FEAST contains:
RED BEETS
CUCUMBERS
RED TOMATOES
ORANGE/GRAPEFRUIT MIX
GREEN BELL PEPPERS
CARROTS
CELERY
GREEN KALE
YELLOW AND WHITE PEACHES from GARCIA FARMS
PARSLEY/CILANTRO
My Latest Summer LOVE
1 Beet
1 Cucumber
1/2 bunch celery
1/4 bunch cilantro
1 lemon
5-6 carrots
1 zucchini
Celery Cilantro Smoothie
1 Golden Delicious apple
3 stalks of celery
1/4 c. cilantro
juice of 1/2 lemon
4 oz. water
For Easy Digestion
2 stalks kale
1 handful spinach
1 bunch parsley
2 leaves of romaine
2 stalks of celery
1 medium apple
1 cucumber
1/2 lemon whole
Tastes Like Watermelon
2 oranges
1 apple
1 pear
1 cucumber
1 zucchini