Cindy Dollar is cooking up some local granola right here in Goleta. The flavor of August is Raisin Pecan. Delicious, nutritious and oh so nutty – this granola is perfect addition to all our yummy fruit in the box this week.
We purchased 15 more chicks from island seed and feed over the weekend. There are 7 different varieties total, so I'm very excited to keep you in touch with them as they grow into adults. We have a lot of mini chicken eggs at a reduced price in our store this week. The newest laying chicken eggs come out smaller for the first few weeks. We are also offering extra fruit you can add onto your share from Garcia Family farms. I hope everyone is having a great summer so far.
(Shop in our CSA store here)
CSA for June 30th contains:
GREEN BEANS
RED CHERRY TOMATOES
ROMAINE LETTUCE (yeah…it's back)
CARROTS
CUCUMBERS
YELLOW CROOKNECK SQUASH
LEEKS
CILANTRO
AMBROSIA MELON
WHITE NECTARINES from GARCIA FAMILY FARMS
BIG BOX ADD: RED/HEIRLOOM TOMATOES, WHITE PEACHES from GARCIA FAMILY FARMS, CARROTS, RAINBOW CHARD from FRECKER FARMS, GREEN LEAF LETTUCE
Scalloped Crookneck Squash


(A healthier take on the ol' potato version. This recipe originally called for 2 zucchini and 1 crookneck squash, but I adjusted for ingredients in our CSA box this week. Check out the link for the original recipe below if you still have zucchini to use up as well!)
Ingredients:
3 crookneck squash
1/4 yellow onion (or 1 leek, white part only)
4 cloves garlic
1/4 c. butter, divided
2 T. tapioca starch (or brown rice flour, if you can do grains)
2 c. raw or whole milk
1 T. cilantro
1/2 t. oregano
1/4 t. paprika
1/8 t. pepper
1/2 t. salt
1/2 c. shredded cheddar cheese
1/4 c. grated Parmesan
Directions:
Preheat oven to 400 and place 2 tablespoons of the butter in a 9×13 inch baking dish. Place the dish in the oven to melt the butter. Meanwhile, thinly slice squash, dice onion, and smash and mince garlic. When butter is melted, swirl to coat pan, then dump in sliced squash. In small saucepan, melt remaining butter over medium-low heat. When melted, add onion and garlic and sauté a few minutes until fragrant. Add in starch/flour, stirring vigorously with a fork to prevent clumping. When thick, slowly pour in milk. Add herbs and salt. Turn heat up to medium and stir until thickened. Pour sauce over squash, sprinkle with cheese, and bake for 35 minutes, or until bubbly and squash are fork-tender.
(Recipe from Raias Recipes)
Green Beans with Leeks and Feta


Ingredients:
1 pound Green Beans, washed and trimmed
1 cup – or- 2 Leeks, sliced small use the light green & white parts
4 Garlic cloves, diced small
1 tablespoon unsalted Butter
1/2 teaspoon fresh Lemon juice – from 1/4 Lemon
pinch of Cracked Black Pepper
pinch of Smoked Paprika
pinch of Sea Salt
1-2 ounces of crumbled Feta Cheese (see note above)
Lemon Zest for garnish
Directions:
◦Prepare a large bowl with ice water and set aside. Have a colander or large strainer ready in the sink. Bring a large pot of lightly salted water to a rolling boil. Add green beans to pot and blanch (cook) for 1-2 minutes until bright green. Immediately dump beans into colander and then plunge them into the ice water bath. This will set the beans, keep them bright and stop them from cooking further.
◦In a large sauté pan melt butter over medium high heat on the stove top. Add leeks & garlic with pinches of the black pepper, salt and smoked paprika. Stir and sautée a few minutes until softened and fragrant. Reduce heat to medium. Add beans and lemon juice to pan and toss to coat. Cook for about 2 more minutes until flavors combine and beans cook a little bit more. Top with feta cheese crumbles and some lemon zest.
(Recipe from Fresh Family Cooking)
Chilled Cucumber and Mint Soup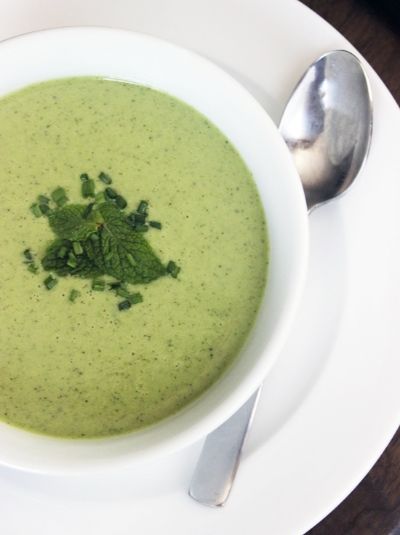 (Take care of your belly with this debloating and low-calorie soup recipe from Canyon Ranch Spa. Cooling cucumbers, mint, and yogurt serve as the base, while garlic, chives, and a touch of lemon add bright flavor. This recipe is almost as good as being at the luxurious spa itself!)
Ingredients:
1 1/2 pound English cucumbers, peeled and chopped (if you have a powerful enough blender, consider leaving the peels on)
1 cup chopped mint
1/4 cup chopped chives
2 teaspoons chopped garlic
1 1/4 cup plain nonfat yogurt
1/2 tablespoon fresh lemon juice
1 teaspoon sea salt
Pinch freshly ground black pepper
Directions:
In a blender container combine cucumber, mint, chives and garlic. Puree until smooth. Pour cucumber mixture into a large bowl and whisk in remaining ingredients. Chill in refrigerator for 2 hours to 4 hours.
(Recipe from Fit Sugar)
How to build your best salad:
1) Go crazy with veggies: The raw and the cooked! Roasting, steaming or sautéing half the vegetables in your salad maximizes the benefits and introduces a whole new variety of flavors and textures to your plate.
2) Ditch the bottled dressing. Check out the dressing recipe below or make one yourself. You will be reusing a bottle and replacing the cheap oil that store bought dressings are usually made of with healthy olive oils.
3) Power up on protein: add seared shrimp, crisp some pancetta or bacon, toss some chicken in hot sauce or mix pesto into a can of white beans.
4) Play with your greens: try new things like endive, dandelion or watercress.
(These ideas and more at Self.com)
Cider Mustard Vinaigrette


(Easy and delicious, light and flavorful, this simple dressing is the perfect complement to protein-heavy salads.)
Ingredients:
1/2 cup plus 1 tbsp cider vinegar
1 tablespoon Dijon mustard
1 tsp minced shallot
1/2 tsp honey
6 tablespoons extra-virgin olive oil
Salt and freshly ground pepper
Directions:
In a bowl, combine vinegar, Dijon mustard, minced shallot and honey. Gradually
whisk in extra-virgin olive oil. Season with salt and freshly ground pepper.
JUICE FEAST Contains: *MOST ALWAYS WILL INCLUDE LEMONS
ROMAINE LETTUCE
RED BEETS
CARROTS X2
CUCUMBERS
CILANTRO
CELERY
RED TOMATOES
RAINBOW CHARD from FRECKER FARMS
LACINATO KALE
GREEN CURLY KALE