As we head into late spring/early summer this is when the CSA shares become lit up with color. Tasty treats like cool cucumbers, sweet red cherry tomatoes and fava beans are nestled in the box this week. We grow a lot of zucchini on the farm and I've learned it to be a very versatile vegetable so keep an eye on our recipe suggestions. A variety of colored peppers, big red tomatoes, heirlooms, green beans, fresh basil, sweet spring onions, assorted melons and more are on the horizon.
CSA for May 14th contains:
ENGLISH CUCUMBERS
RED CHERRY TOMATOES
FAVA BEANS
CARROTS
RED LEAF LETTUCE
RED RADISHES
YELLOW ZUCCHINI
STRAWBERRIES
BASIL
LACINATO KALE
BIG BOX ADD: CARROTS, 3 pak of STRAWBERRIES, RED BUTTER LETTUCE, DILL
The "Farmacy" Tip of the week on summer squash: Our delicious zucchini boasts many nutritional benefits found in their colorful phytonutrients. Recent studies have highlighted the antioxidant benefits from lutein, which protects the eyes. To obtain full benefits you should eat the skin and seeds of the squash too. Zucchinis are especially low in calories and contain no saturated fats; adding them to your diet can help support weight loss as part of a high fiber, plant-based diet.
Kale Caesar Salad with Polenta Croutons


(Another day, another kale salad. But no. The chiffonade kale is tossed with grated parmesan, pine nuts and store-bought polenta cubes that are fried in olive oil until crispy. A cool take on the boring old Caesar salad and a delicious powerhouse of nutrients.)
De-rib and slice 1 bunch of flat-leaf kale into thin strips. Toss with Greek Caesar dressing (recipe below), 1/2 cup parmesan and 1/4 cup pine nuts. For croutons: chop 8oz of store bought polenta into cubes and fry until golden in 2 T olive oil.
Dressing: In a blender, add: ¾ cup olive oil, 2 whole garlic cloves, ¼ cup plain Greek yogurt, 1 tablespoon lemon juice, 2 teaspoons Dijon mustard, [my adds: salt and pepper]. Blend well. Makes way more than needed for one salad.
Fava Feta Salad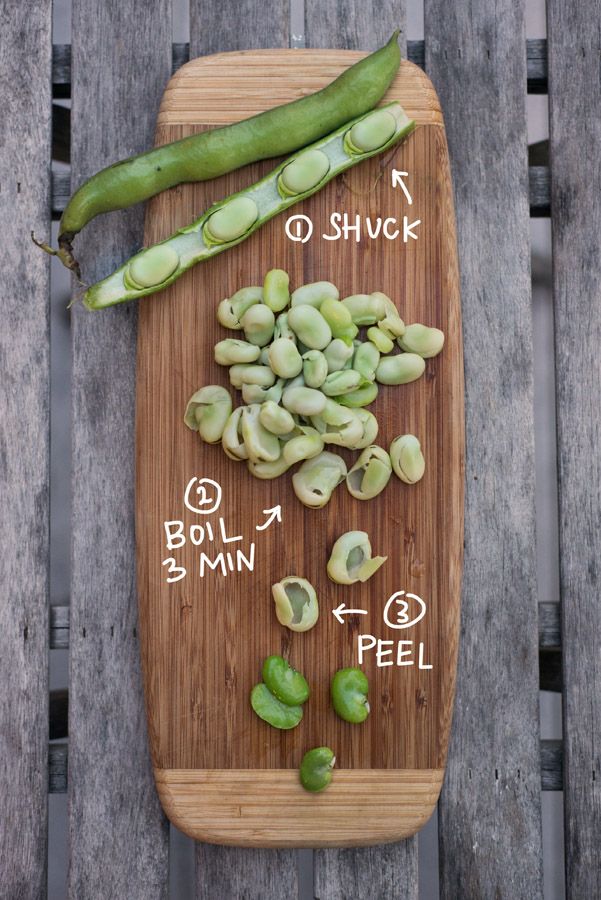 Ingredients: Serves 4
2 C. Fava Beans, shucked, boiled 3 mins + peeled
2 avocados
1/2 C. feta
1/3 C. Sunflower Seeds
1/4 C. Chopped Mint
Directions: Toss all ingredients with olive oil, vinegar, salt + pepper
Accordion Zucchini
Make little cuts all the way down a small zucchini about 3/4 of the way through. Slice a garlic clove into paper-thin circles and slip them into the slots. Drizzle each with olive oil, salt and pepper. Bake at 375 degrees for 45-50 minutes or until tender. Sprinkle with about 2 t grated parmesan 5 minutes before it comes out of the oven.
*side note from me. I purchased a vegetable spiralizer on Amazon and made zucchini and carrot noodles and covered them with pesto. So delicious and so worth it.
(The last 3 recipes are from an awesome book called The Forest Feast)
Quinoa Salad with Avocado, Radishes, Cucumbers, and Cumin-Lime Vinaigrette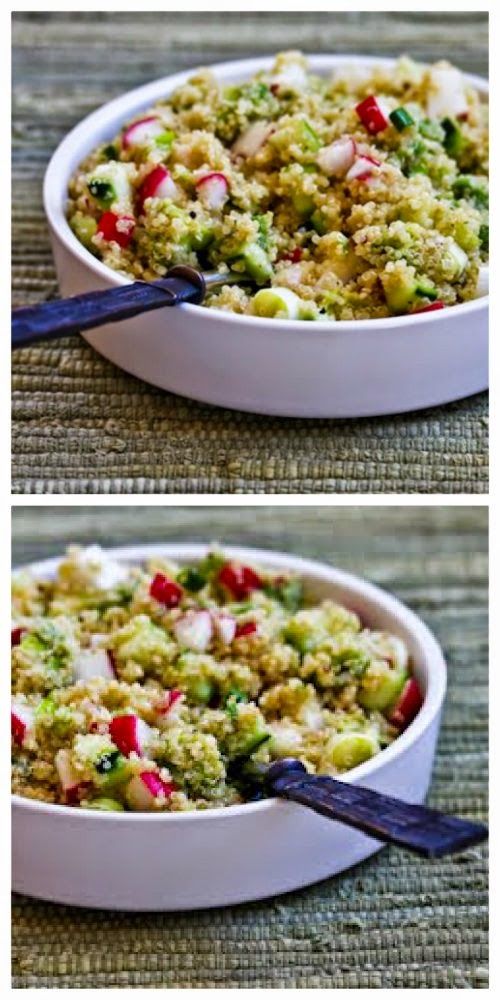 Ingredients: Serves 4-6
1 cup quinoa (rinsed well with cold water)
2 cups water
2 avocados, peeled and diced in 3/4 inch pieces
1 T fresh-squeezed lime juice (for tossing avocado)
1 cup chopped radishes (diced in 1/2 inch pieces)
1 large cucumber (the recipe suggests to peel and de-seed, but our cucumbers are sweet enough and I don't recommend it. Simply cut and chop into 1/2″ pieces)
1/4 cup thinly sliced green onions (or try chopping up a leek instead!)
Dressing Ingredients:
3 T fresh-squeezed lime juice
1/2 tsp. ground cumin
1/2 tsp. Spike Seasoning (or use other all purpose seasoning blend of your choice)
1/2 tsp. Vege-Sal (or use 1/4 tsp. sea salt)
2 T extra virgin olive oil
Directions:
Rinse quinoa well with cold water. Bring 2 cups water to boil in a small saucepan, stir in quinoa, reduce heat to a simmer and cook until all the water is absorbed, about 15 minutes. (Keep an eye on it, because it may take more or less than 15 minutes, depending on exactly how high you have the heat.) Let the cooked quinoa cool for a few minutes, then place in salad bowl, fluff with a fork and cool until quinoa is room temperature, about 15-30 minutes.
While quinoa cooks and cools, peel avocado, dice into 3/4 inch pieces, place in small bowl, and toss with 1 T fresh-squeezed lime juice. Dice cucumbers into 1/2 inch pieces. Cut off root and stem end of radishes, wash if needed, and dice into 1/2 inch pieces. Thinly slice enough green onions to make 1/4 cup.
In a small bowl, stir together the 3 T lime juice, ground cumin, Spike Seasoning, and Vege-Sal, then whisk in the olive oil.
When quinoa has cooled to room temperature in the salad bowl, stir in the diced radishes, diced cucumbers, and thinly-sliced green onions. (Don't add avocado until the end.) Stir in enough dressing to moisten salad to your liking (you may not need all the dressing.) Gently stir in diced avocado, season to taste with salt and fresh ground black pepper, and serve immediately.
This was okay when kept in the fridge overnight, but probably won't keep for longer than a day, and it was better freshly made.
(Recipe from Kaylyns Kitchen)
JUICE FEAST Contains:
RED BEETS
FENNEL
DANDELION GREENS
LACINATO KALE
CILANTRO/MINT
CUCUMBERS
CARROTS
ROMAINE LETTUCE
STRAWBERRIES
YELLOW ZUCCHINI