Having our farm so close to the beach in Goleta has a lot of great advantages. We stay cooler in the hot temperatures and mild all year round. But it also brings in a lot of moisture that makes growing things difficult at times. Our carrot tops have a bad case of mildew and so we are only harvesting the roots for the time being. We are able to put more carrots in each share this way. Same carrots, just without their tops.
Want more fruit in your share? We are trying out our new fruit expansion add on for $7. About 2-3 lbs of organic fruit, packed in a paper bag and added in with your share. As the seasons change, so will the fruit and the quantities.
We are in between a lot of vegetable crops on the farm. Tomatoes will be back soon, but we had to take a temporary break. We are also looking forward to a lot of spinach in the future. I love kale, but it will be nice to see a different green in the box. Chard is on the way too. I believe this will be the last week for the ambrosia melon, so savor that last glimpse of summer as we head into fall!
CSA for September 24th Contains:
FRENCH GREEN BEANS
LOOSE CARROTS
CUCUMBERS
RED BELL PEPPERS
GREEN LEAF LETTUCE
AMBROSIA MELON
LOOSE BEETS
SPAGHETTI SQUASH
CIPPOLINI ONIONS
WHITE NECTARINES from GARCIA FAMILY FARMS (We ran short on nectarines so you may have received strawberries instead)
BIG BOX ADD: MIXED CHERRY TOMATOES from FRECKER FARMS, HASS AVOCADOS from VINCENT FARMS, ROMAINE LETTUCE, GREEN ZUCCHINI, RED DELICIOUS APPLES from CASITAS VALLEY FARM
Spaghetti Squash Mac and Cheese


(This squash is by far my favorite. Extremely versatile, think outside the traditional marinara sauce for this one. Here's a classic comfort food with a really healthy twist and finished with a light dousing of cheese. Enjoy!)
Ingredients: Serves 4
1 spaghetti squash
Canola oil spray
2 cups broccoli florets, steamed
1 tablespoon ghee
1 tablespoon whole-wheat flour
1 cup low-fat milk
1 cup reduced-fat cheddar cheese
1/2 cup grated parmesan
Salt and pepper
1 teaspoon red pepper flakes, optional garnish
1 teaspoon grated parmesan, optional garnish
Directions:
Preheat oven to 400ºF. Cut spaghetti squash in half, and scoop out and discard seeds. Spray the center of both halves of squash with cooking spray, and place cut side up on a cookie sheet. Roast until tender when pierced with a knife, about 50 minutes.
Remove squash from oven, and let cool. Once it's safe to handle, scrape flesh into a large bowl. Add in steamed broccoli florets to bowl and set aside.
In a large saucepan, melt ghee on medium heat and whisk in whole wheat flour. Add milk and whisk quickly. Turn heat down to low, add both cheeses to saucepan, and stir until melted. Remove from heat.
Pour cheese sauce over spaghetti squash and broccoli mixture, and toss until all the squash is covered.
Dish into four portions, and top off with red pepper flakes and extra cheese if you wish!
(Recipe from FitSugar)
Also check out this Spaghetti Squash Alfredo Recipe courtesy of a fellow CSA member. YUM!
Roasted Beet, Avocado and Cucumber Salad with Yogurt and Herbs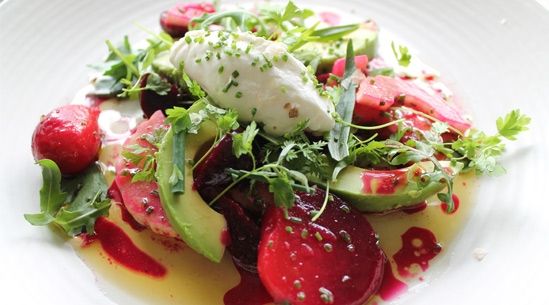 (These beets resemble candy when roasted. I'd recommend roasting them all at once and use them on your salads as needed. They are packed full of iron and antioxidants. They can help balance oxygen use and increase stamina which can lead to a more productive workout. Here's a new take on the ol' goat cheese n' beet salad.)
Ingredients: Serves 6
1 pound beets, trimmed and scrubbed
¼ cup plus 1 tablespoon extra-virgin olive oil
Sea salt and freshly ground black pepper
1 large English cucumber, peeled and thinly sliced
1 large shallot, thinly sliced
2 tablespoons freshly squeezed lemon juice
2 tablespoons finely chopped chives
1 avocado
½ cup plain Greek yogurt
¼ cup flat-leaf parsley leaves
1 tablespoon tarragon leaves
Directions:
1. Make the salad: Preheat the oven to 350˚. In a medium bowl, toss the beets with 1 tablespoon of the olive oil and season with salt and pepper. Wrap the beets in foil and roast for 45 minutes or until tender when pierced with the tip of a knife.
2. Unwrap the beets and let them cool to room temperature. Using your fingers or a paper towel, remove the skin from the beets. Thinly slice the beets and transfer them to a large bowl. Add the cucumber and shallot to the bowl and set aside.
3. In a small bowl or glass measuring cup, combine the remaining ¼ cup olive oil with the lemon juice. Whisk in the chives and season to taste with salt and pepper. Toss the beets and cucumbers with the dressing and let sit at room temperature for 20 minutes to marinate.
4. Divide the marinated beets and cucumbers among six plates. Slice the avocado in half and remove the pit and skin. Thinly slice the avocado and divide it among the plates.
5. Spoon a dollop of yogurt on top of each salad, then garnish with the parsley and tarragon. Season to taste with salt before serving.
(Recipe from Pure Wow)
Crisp Green Beans with Mushrooms and Almonds


(This sounded delicious poured over a plate of brown rice and some protein on top.)
Ingredients: Serves 4
1 pounds fresh green beans, rinsed and ends trimmed
10 small mushrooms (such as white button or cremini), wiped, stems removed and sliced
1/2 cup slivered almonds
2 tbsp extra virgin olive oil
1/2 teaspoon sea salt
1/4 teaspoon black pepper
Directions:
Bring a large pot of water to a boil.
Blanch the green beans by adding them to the boiling water for two minutes, then immediately transfer them to a large bowl of ice water to stop the cooking process. Let the beans cool completely, then strain from the ice water and reserve.
While the beans are in the boiling water, heat the olive oil on medium heat in a large skillet. Sauté the mushrooms for 2 minutes, then add the almonds and sauté until the mushrooms are soft and the almonds are fragrant. Add the green beans, salt and pepper and sauté another 10 to 15 minutes until the beans are warmed through and slightly cooked, but still crisp.
Finish the dish with a fresh drizzle of extra virgin olive oil and adjust the salt and pepper if needed. The olive olive oil and juices from the veggies will combine to make a light sauce for the dish.
Add 1/4 cup of cashew cream for a vegan twist on this traditional green bean casserole.
(Recipe from MindBodyGreen)
JUICE FEAST CONTAINS:
LOOSE CARROTS
LOOSE BEETS
CUCUMBERS
RED BELL PEPPERS
RED DELICIOUS APPLES from CASITAS VALLEY FARM
ASIAN PEARS from GARCIA FAMILY FARMS
CELERY
FENNEL
LACINATO KALE
PARSLEY/MINT MIXED BUNCH
Banana Beet Smoothie
Ingredients:
4 small beets raw, peeled and cut in bite size pieces (if your blender is not strong enough steam beets first for easier blending)
1 small banana, (for a thicker smoothie use a frozen banana)
1 small green apple, chopped
1 small sweet Meyer lemon, juice only
1/2 cup fresh squeezed orange juice