We are in the midst of planning for a lot of things right now for the CSA. The first is the holiday schedule. Please make sure to log into your account here and put your share on hold for the week of Thanksgiving (next week) if you do not need it. It really helps with the planning that is going into making these special. We will not be making boxes December 24th or 25th. No need to put your account on hold, we've done it for you.
We are also planning for our 2 acre new orchard that is going to be planted this spring (if all goes well). We've received a lot of great feedback into different varieties that could be included and we are going to start trying different varieties in our CSA shares too. This week we have some heirloom apples and red sensation pears.
Cindy Dollar is cooking up some Cranberry Cashew granola this week. MADE TO ORDER! Certified Organic or Certified Gluten Free, it's very tasty stuff. Order your bag through our CSA store here!
CSA Contains:
RED TOMATOES
CUCUMBERS
SUGAR SNAP PEAS
SPINACH
RED BEETS
GREEN LEAF LETTUCE
CIPPOLINI ONIONS
DILL
CELERY
ARKANSAS APPLES from CUYAMA ORCHARDS
BIG BOX ADD: CARROTS from FRECKER FARMS, GREEN BEANS, RED SENSATION PEARS from TODDS RANCH, SALAD MIX, GARNET YAMS from GARCIA FAMILY FARMS
FRUIT EXPANSION Contains: Arkansas and Gala apples from Cuyama Orchard and Red Sensation Pears from Todds Ranch
*Try adding chopped dill onto your salads, sandwiches, soups or into marinades for your meats. Dill adds healing properties. It's has beneficial effects on digestion, helps regulate hormones and has cancer fighting properties. I like to put it in a glass of water on my windowsill close to the kitchen to remind me to use it daily.
Healthy Chicken Salad


Ingredients 4 hefty servings
1 pound organic chicken breast
2 celery stalks, chopped
1 cup walnut pieces
1 cup dried cranberries (chopped apples would work well too for sweetness)
salt and pepper, to taste
1 cup plain Greek yogurt
Directions:
Boil the chicken breast in water for 15-20 minutes, or until cooked through (no pink).
Place cooked chicken in the bowl of you stand mixer. Mix on low for 1 minute, or until the chicken in shredded (Or shred with two forks). Add in the celery, walnuts, cranberries, salt, and pepper. Mix until just combined. Add in the yogurt, mix until just combined. Place in a air tight container and put in the fridge for up to 1 week. Enjoy on a sandwich or salad!
(Recipe from Chocolate and Carrots)
Orzo Salad with Chickpeas, Cucumbers, Lemon, Dill, & Feta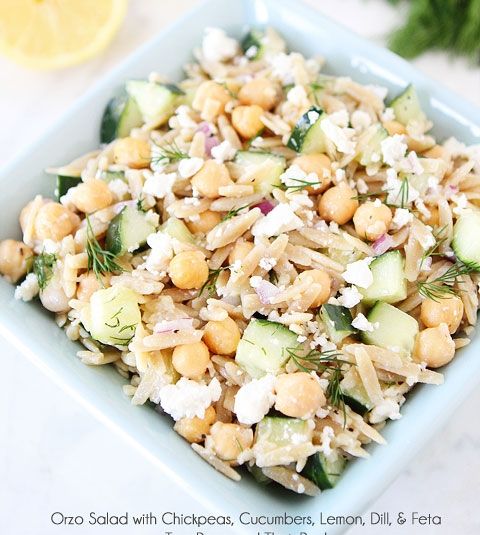 Ingredients: Serves 4
1 cup uncooked whole wheat orzo
1 (15-ounce) can chickpeas, drained and rinsed
1 cup chopped cucumber
1/2 cup crumbled feta cheese
1/4 cup chopped fresh dill
1/4 cup diced red onion
For the Dressing:
3 tablespoons olive oil
3 tablespoons fresh lemon juice
1 clove garlic, minced
1 tablespoon finely chopped fresh dill
Salt and freshly ground black pepper, to taste
Directions:
Cook orzo pasta according to package directions. Drain the orzo and rinse with cold water to stop the cooking and to wash away some of the starches. Allow the pasta to cool.
In a large bowl, combine orzo, chickpeas, cucumbers, feta, dill, and red onion.
In a small bowl, whisk together olive oil, lemon juice, garlic, dill, salt, and pepper. Drizzle over salad and stir until ingredients are well coated. Serve immediately or chilled.
(Recipe from Two Peas and their Pod)
Spinach and Mushroom Quinoa


Ingredients: 4 servings
1 pound mushrooms (white or cremini), sliced thinly
3 garlic cloves, minced
1 tablespoon unsalted butter (omit butter for vegan version)
1 tablespoon olive oil
5 green onions, chopped
5 to 10 ounces fresh spinach (to taste)
2 cups cooked quinoa
1 tablespoon olive oil (optional)
salt
Directions:
1.Heat butter and olive oil in a large skillet over medium-high heat. Add mushrooms and garlic and saute over medium-high heat for about 5 minutes until mushrooms get soft and acquire a nice, golden-brown color. Add chopped green onions and mix. Season with salt.
2.Add fresh spinach to the skillet, reduce heat to low, cover the skillet with the lid and let mushrooms and spinach cook for about 1 minute or less, just until spinach begins to wilt. Add 2 cups of cooked quinoa to the skillet and cook on low heat for another minute until spinach wilts even more and quinoa warms up. Season with salt, if needed. Add another tablespoon of olive oil, if desired.
JUICE FEAST Contains:
CUCUMBERS
SPINACH
RED BEETS
ROMAINE LETTUCE
CELERY
ARKANSAS APPLES from CUYA.MA ORCHARDS
RED SENSATION PEARS from TODD RANCH
LACINATO KALE
CARROTS from FRECKER FARMS
PARSLEY/MINT