By the time you are munching on your vegetables I hope all taxes have been filed and are somewhat behind you. It's a little mind boggling. Nothing a healthy, local and tasty dinner with loved ones (or by yourself) can't soothe!
Deux bakery makes some amazing bagels. They make a great toasted veggie sandwich with different flavors like jalapeño cheddar. onion and everything.
We are also offering delicious granola made right here in Goleta. It's being offered weekly and Raisin Pecan is the taste of April. Look for cranberry cashew next month.
Check them out here
CSA for APRIL 16th CONTAINS:
GREEN CABBAGE
STRAWBERRIES
CARROTS
RED LEAF LETTUCE
GOLDEN BEETS
SUGAR SNAP PEAS
ITALIAN PARSLEY
GREEN ZUCCHINI
LEEKS
GREEN CURLY KALE
BIG BOX ADD: CARROTS, STRAWBERRIES, RED CABBAGE*, CUCUMBERS, ROMAINE LETTUCE
*Red cabbage from Ellwood Canyon Farms.
The zucchini blossoms are bearing fruit and now this delicious squash has made it's way to our tables again. Squashes are excellent cleansing vegetables, they are light and easy on the digestive system. Great for weight loss as well as even quite a few zucchini's won't pack on the calories! They pack quite the punch when it comes to nutrients though! Zucchini is high in anti-oxidants lutein, zeaxanthin and beta-cryptoxanthin! All carotenoids with crazy names, but all you need to know is they fight cancer by protecting your cellular health! Lutein in particular is excellent for all areas of eye health. But no peeling! As we know, the deep green coloring is where these antioxidants will lie intact in the plant pigments so you must leave the skin on.
By Dani Rhoades, NC www.wholesomepractices.com
Sources: Bauman College Texts
Roasted Green Cabbage Wedges with Olive Oil and Lemon


(The simplest way to prepare cabbage is also one of the tastiest, healthiest, and most novel: roasting. Brushed with olive oil and seasoned with salt and pepper, the cabbage wedges turn crisp and black in spots on the outside and meltingly moist at the core.)
Ingredients:
1 small head green cabbage (about 2 1/2 pounds), cut into 8 wedges, core intact
1 teaspoon extra-virgin olive oil (I used a little more)
Coarse salt and freshly ground pepper
1 lemon, cut into wedges
Directions:
Preheat oven to 450 degrees. Arrange cabbage on a rimmed baking sheet. Brush both sides of wedges with oil. Season with salt and pepper. Roast, flipping halfway through, until edges are brown and crisp, 25 to 30 minutes. Squeeze lemons over cabbage.
Raw Zucchini Pasta with Basil, Walnut and Kale Pesto


(Zucchini can be cut into super fine strips using a vegetable spiral cutter, use a mandolin, or at a pinch, just slice your zucchini as fine as you can with a sharp knife). This pesto can of course be stirred through your pasta of choice, it's so versatile!)
Ingredients for the pasta
3 zucchinis, washed
For the pesto
½ cup Kale, cleaned and chopped
¼ cup basil leaves
½ cup walnuts
1 clove garlic
½ tsp salt
½ cup shredded parmesan cheese
½ – ¾ cup extra virgin olive oil
8 mini roma tomatoes, chopped
Directions for the zucchini pasta:
Slice your zucchinis using a Mandolin slicer or veggie spiral cutter, and place in a large bowl.
For the pesto:
Boil a medium sized pot of water with a pinch of salt. Prepare a bowl of cold ice water. Add kale to boiling water and cook for two minutes. Strain and immediately immerse kale into ice water to stop it cooking.
Using a food processor, chop garlic. Add walnuts, kale, basil, salt and parmesan cheese. Slowly add olive oil while the machine is running.
Pour the pesto mixture over the zucchini pasta, toss through and garnish with a few basil leaves and sliced mini roma tomatoes.
You can store the pesto in an airtight container in your refrigerator for up to three days, or freeze it for up to two months.
(Recipe from The Design Files)
Beet Hash with Eggs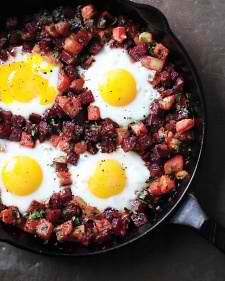 (Think beets are high maintenance? Think again. Peeled and diced, they tenderize in 10 minutes. Poached eggs also work here — simply spoon over the hash.)
Ingredients:
1 pound beets, peeled and diced
1/2 pound Yukon Gold potatoes, scrubbed and diced
Coarse salt and freshly ground black pepper
2 tablespoons extra-virgin olive oil
1 small onion, diced
2 tablespoons chopped fresh parsley
4 eggs
(Recipe from Whole Living)
Pappardelle with Leeks, Sugar Snap Peas, and Lemon


(Martha Stewart says: The delicate flavor of leeks provides the perfect flavor base for a spring vegetable pasta. A generous amount of fresh lemon zest and black pepper elevates the dish.)The delicate flavor of leeks provides the perfect flavor base for a spring vegetable pasta. A generous amount of fresh lemon zest and black pepper elevates the dish. Carolyn says – wilt down some kale with the peas for an extra booth of health.)
Ingredients:
Coarse salt and freshly ground pepper
1/2 stick unsalted butter
2 medium leeks (white and pale-green parts only), cut into thin half-moons and rinsed well
2 lemons
1/2 pound sugar snap peas, trimmed and cut in half crosswise (optional)
3/4 pound dried pappardelle or other flat egg noodles
1/2 cup fresh ricotta cheese
2 ounces Pecorino Romano cheese, grated (3/4 cup)
Directions:
While bringing a large pot of salted water to a boil, melt butter in a large skillet over medium-high heat. Add leeks and a pinch of salt; cook until leeks begin to soften and are bright in color, about 4 minutes. Reduce heat to medium, and continue to cook, stirring occasionally, until very tender, about 5 more minutes. Turn off heat. Finely grate zest of lemons directly into skillet, and season generously with pepper.
When water boils, add sugar snap peas to boiling water, and cook until bright green, about 2 minutes. Transfer peas to a plate using a strainer.
Add pasta to boiling water, and cook until just tender, about 4 minutes (do not drain water). Transfer pasta to skillet using the strainer. Add sugar snap peas. Gradually stir in 1 cup pasta water, about 1/2 cup at a time, alternating with ricotta and half the Pecorino and tossing until pasta is coated and sauce is creamy. Divide among 4 bowls, and top with remaining grated cheese.
(Recipe from Martha Stewart)
JUICE FEAST CONTAINS:
GREEN AND RED CABBAGE
STRAWBERRIES
CARROTS
RED BEETS
ITALIAN PARSLEY AND MINT
GREEN CURLY KALE
CUCUMBERS
ROMAINE LETTUCE
FENNEL
FUJI APPLES from FAIRHILL FARMS
Zucchini is not just good for eating, it's also amazing and quite delicious for juicing as well! Since this vegetable is so cleansing, you can be sure it will juice well providing and abundance of water soluble nutrients including vitamin C. We always need to be replenishing our water soluble vitamins and drinking juice is a great way to do this. The deep green skin coloring provides not only the antioxidants mentioned above but chlorophyll which makes your juice green and cleans out both your liver and digestive system. Zucchini is tender and mild in nature so it will not overpower any juice but add a wonderful array of different nutrients and a 'green' punch! Enjoy!
By Dani Rhoades, NC, www.wholesomepractices.com
Sources: Bauman College Texts