We are putting samples of homemade granola in your box this week. As you read this blog, Cindy Dollar, a local Goleta chef is making samples of Raisin Pecan granola for you to try out. The granola will be offered once a month in 13-oz bags for $12.95/ea. Each month there will be a new flavor offered and you can check out the CSA store to see what it is. The granola is organic and will be made fresh to order. I've tried this granola and it's highly addictive, a great healthy snack and your kids will LOVE it. Let me know if you have any questions. We will begin taking orders immediately for delivery next week so definitely let me know what you think! Purchasing this granola (and all items in our store) will directly support your local community.
CSA for April 2nd contains:
CARROTS
STRAWBERRIES
ROMAINE LETTUCE
BUNCHED SPINACH
BLUEBERRIES from WHITNEY RANCH (order extra in the store)
RED BEETS
RAINBOW CHARD
LEEKS
KOHLRABI
BIG BOX ADD: RED & YELLOW POTATOES, STRAWBERRIES, CARROTS, LACINATO KALE, ARTICHOKES from FRECKER FARMS

*Our sugar snap peas weren't that great looking this week so I'm waiting on the new crop to come out before they go back in your box. They were over ripe!
Any healthy diet is varied as we all have probably heard, "all things in moderation', but it's so true! There is a place for easily digestible cooked foods that have warming, nourishing properties and that actually have higher absorption rates of nutrients when they are prepared that way! You'll get more carotenes and antioxidants out of carrots when they are cooked, and more minerals out of your chard! But then of course there is a place for raw salad greens, like your romaine or including some raw shredded beets in a salad. Salad greens loose their vitamin C and other nutrients if they are heated. Fruits, like your strawberries and blueberries will contain most of there nutrients in their raw state. Some people do better with more raw foods while others do better more cooked foods. Clearly there is a place for both in any healthy diet. Enjoy this wonderful variety of fruits and vegetables in your box both cooked and raw!
By Dani Rhoades NC, www.wholesomepractices.com
Sources: Bauman College Texts
Romaine Lettuce Soup
(A twist on the ol' lettuce head)
Ingredients:
3 tablespoons olive oil
1 large leek, sliced
1 1/2 teaspoons salt
1 teaspoons freshly ground black pepper
2 garlic cloves, sliced
5 tomatillos, husked, washed and roughly chopped
1 to 3 jalapeno chiles, stemmed
2 quarts chicken stock or water
1 large or 2 small heads Romaine lettuce, cored, cleaned and roughly chopped
1 bunch cilantro, leaves and stems, chopped
1 cup plus 2 tablespoons heavy cream
2 teaspoons anchovy paste
Directions:
In a heavy stockpot, over medium heat, heat the olive oil. Saute the leek with the salt and pepper until cooked. Add the garlic, tomatillo and jalapeno(s) and cook another 5 minutes. Pour in the chicken stock or water. Bring to a boil, reduce to a simmer and cook 20 minutes. Stir in the lettuce and cook 10 minutes longer. Add the cilantro to the soup and bring to a boil. Remove from the heat, and puree in a blender or food processor. If you want a more elegant soup, pass through a strainer. Bring back to a boil before serving. Beat 1 cup of the heavy cream until soft peaks form. In a small bowl, mix the anchovy paste with the remaining 2 tablespoons cream until smooth. Fold into the whipped cream and beat a few more strokes. Serve the soup hot with dollops of the anchovy cream garnish.
(Recipe from Food Network)
Egg and Wilted Spinach Salad


(Add carrots or roasted beets to this salad too for a little more variety! We also offer great cheeses in our CSA store that would compliment this salad.)
Ingredients: Serves 4
1 big bunch of spinach
2 medium Granny Smith apples, cored and sliced
3 tablespoons olive oil
2 tablespoons balsamic vinegar
1 tablespoon honey
8 eggs
4 ounces blue cheese, crumbled (1/2 cup)
Directions:
1. In a large serving bowl place spinach; set aside.
2. In a very large skillet cook apple slices in 2 tablespoons of the olive oil for 3 to 4 minutes or until tender. Stir in balsamic vinegar and honey. Bring to just boiling. Add to spinach in serving bowl; toss to just combine and slightly wilt.
3. In the same skillet heat remaining 1 tablespoon olive oil over medium heat. Break four eggs into skillet. Sprinkle with half of the blue cheese, 1/8 teaspoon each salt and pepper. Reduce heat to low; cook 4 to 5 minutes or until whites are set. For more doneness, cover the last 2 minutes. Repeat with remaining eggs and blue cheese. Place two eggs on each serving. Makes 4 servings.
(Recipe from Better Home and Gardens)
Layered Vegetable Bake
(I think you could layer chard in here for a delicious twist. I wish I could show you this picture. It looks amazing!)
Ingredients: Serves 8
1 lb Yukon gold potatoes (sub kohlrabi here!)
2 medium carrots halved crosswise
4 roasted beets, thinly sliced
2 teaspoons olive oil
1/3 teaspoon salt
1/3 teaspoon ground black pepper
1 leek, white part only, sliced thin
Directions:
Scrub potatoes. In covered large saucepan, cook potatoes in enough boiling water to cover for about 25 minutes or until tender. If you are using kohlrabi you will not have to cook as long. Maybe 10-15 minutes, then peel. Drain; cook until easy to handle. Very thinly slice potatoes and carrots keeping the carrots separate from the potatoes.
Preheat over to 400 degrees. Line a 9×1&1/2 inch round baking pan with heavy foil. Generously coat foil with cooking spray or olive oil. Layer half of the beet slices, half of the carrot slices, half of the leek slices and potato (or kohlrabi) in pan. (This would be the time to add some chard leaves in between). Drizzle with oil and sprinkle with half of the salt and pepper. Layer remaining vegetable slices on top. Sprinkle with remaining salt and pepper. Cover with foil, press down lightly with hands.
Bake 30-35 minutes or until vegetables are tender. let stand 5 minutes. Remove top piece of foil. Invert vegetables onto serving plate; peel off foil. Cut into 8 wedges and serve.
Recipe from Low Calorie Magazine
Rainbow Chard and Fennel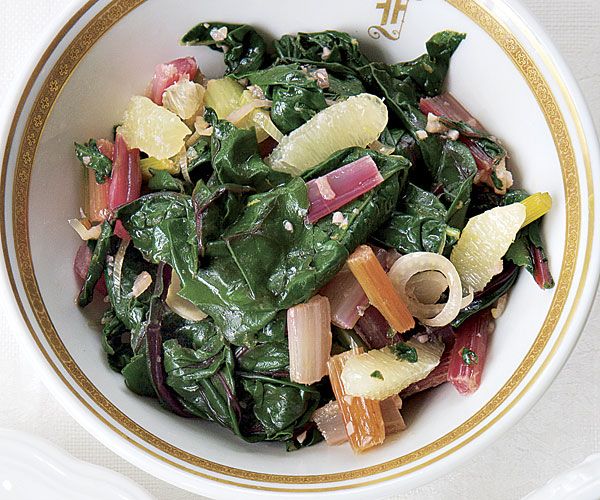 (Don't throw those chard stems away—cooking them with the chard leaves gives this recipe lots of extra flavor and texture.)
Ingredients:
1 large bunch rainbow or Swiss chard
Kosher salt
1/2 cups thinly sliced fennel bulb, plus chopped fronds (fronds optional)
1/2 medium lemons
2 Tbs. extra-virgin olive oil
2 medium cloves garlic, peeled and thinly sliced
Freshly ground black pepper
1/4 cup freshly shaved Parmigiano-Reggiano (shave with a vegetable peeler)
Directions:
Cut the chard stalks off just below each leaf and thinly slice the stalks. Chop the chard leaves into large pieces. Keep the stalks and leaves separate.
Bring a large, wide pot of salted water to a boil over high heat. Add the sliced fennel and chard stalks and cook for 3 minutes. Add the chard leaves and cook until tender, 3 to 5 minutes. Drain well in a colander. (The chard can be cooked to this point up to 3 hours ahead.) Rinse and dry the pot.
Finely grate the zest from the lemons and set aside. Cut the top and bottom ends off the lemons, then stand each on a cut end and slice off the peel to expose the flesh. (Try to remove all of the bitter white pith.) Cut the lemon segments from the membranes, letting them drop into a small bowl.
Heat the oil and garlic in the pot over medium heat. When the garlic begins to sizzle, add the fennel fronds (if using) and the lemon segments and cook, stirring often, for 1 minute. Add the chard leaves and stems and fennel and cook, stirring, until heated through. Stir in the lemon zest and season to taste with salt and pepper. Serve, sprinkled with the Parmigiano.
(Recipe from Fine Cooking)
JUICE contains:
CARROTS
STRAWBERRIES
ROMAINE LETTUCE
SPINACH
ITALIAN PARSLEY/CILANTRO/MINT
BLUEBERRIES from WHITNEY RANCH
RED BEETS
RAINBOW CHARD
FUJI APPLES from FAIRHILL FARMS
LACINATO KALE
Check out our awesome juicing tip from Dani, our local nutritionist:
Juicing romaine, spinach and chard as you will fin in your box this week will provide an abundance of a critical nutrient called chlorophyll. This nutrient is literally what makes these leafy vegetables green and therefore what makes a 'green juice'! Green juices have become quite the trend and notably so! Chlorophyll is one of the most cleansing nutrients, fueling your liver and helping your body to get rid of unwanted toxins that clog other organs and slow down your systems. chlorophyll also aids in digestion by keeping your bowels moving at a healthy pace. This is another way that your body get rids of toxins as well, but binding them within your stool then moving the stool through your digestive tract and out of your body! So make your juice green, it's worth it!
By Dani Rhoades NC, www.wholesomepractices.com
Sources: Bauman College Texts
The Rich Red Cleanse
2-3 Carrots
1 beet with tops
4-5 Stalks Celery
1 large sweet apple
A handful or parsley and/or cilantro
1 lemon
Optional: 1 clove garlic
The Ultimate Pineapple-Kale Blast
6-8 large leaves of kale with stem
1 head romaine
1/2 bunch parsley
2 and 1/2 cups pineapple
1 cup strawberries