I wanted to bring up the subject of keeping your veggies fresh. Nothing is more frustrating than purchasing produce and it going bad within a few days. Believe me – I've shopped at Trader Joes in the past! Your produce from your CSA box, on the other hand, was picked literally within 24 hours of you receiving it. There are tips and tricks to help keep your produce fresh, like removing the tops from your carrots and storing the carrots in the crisper. Please visit our website here to check out our list of tips to help keep your veggies fresh for weeks to come!!! We want you to enjoy them all and all of them have some vitamin, mineral or other nutrient that is going to help protect our bodies.
Our chickens are ready to sell some eggs. This week's allotment is spoken for, but please check into the store as early as Thursday to reserve your dozen. 100% organic eggs from very happy, well fed chickens. We do have a rooster and your eggs can be considered fertile as long as he's around. He may become rooster stew in the upcoming months, but his beauty and tame nature has helped him this far. Please let me know if you have questions about our chickens or eggs.
We had a great response with our Deux bakery addition. We are extremely happy to be supporting them. I wanted to mention that they generally slice their bread and you will receive it, baked the night prior and sliced for you.
CSA contents for February 5th
RED TOMATOES
BROCCOLI
CARROTS
GREEN CABBAGE
ROMAINE LETTUCE
BABY SPINACH
CILANTRO
GREEN MUSTARD GREENS
EASTER EGG RADISHES
CHERIMOYAS from GOODLAND ORGANICS (New to cherimoyas? Wait until they feel like a ripe avocado to eat. They are a smooth mix between pineapple, banana, strawberry and guava to me. Throw them in the freezer an hour before you eat them for a better-than-ice cream treat.)
BIG BOX ADD: SALAD MIX, CARROTS, LACINATO KALE, SUGAR SNAP PEAS, CHIOGGIA BEETS
**Extras..limes and baby tangerines for salad dressings from Givens Orchard. Recipe suggestion below.
**IT'S SLIMMER PICKENS IN THE WINTER SO PLEASE BE OPEN TO TRYING NEW THINGS.**
CHECK OUT OUR RECIPE FOR MUSTARD GREENS. They have a similar flavor to a Dijon mustard and are delicious on sandwiches and make great sandwich wraps! Here's some inspiration from Dani Rhoades, our local nutritionist:
Mustard greens supply nutrients similar to our other leafy green superstars, loaded with minerals, chlorophyll, and vitamin C. But they also fall under the category of cruciferous vegetables AND they are considered a 'bitter' food. Along with the other cruciferous vegetables mustard greens supply potent anti-cancer compounds known as glucosinolates. The three specific glucosinolates that have been isolated in mustard greens are known as sinigrin, gluconasturtiian, and glucotropaeolin. These three compounds have been studied and shown to reduce cancer risk dramatically, while aiding highly in detoxification and keeping your liver healthy and thriving! 'Bitter' foods also produce liver action by stimulating the secretion of bile. Bile is critical for the digestion, break down and absorption of fat and particularly helpful for digestion in the small intestine. You should be exited about them now!
By Dani Rhoades, NC, www.wholesomepractices.com
Sources: Bauman College Texts
Orzo with Mustard Greens


(I realize mustard greens are kind of an odd leafy green for possibly anyone, as I'm still figuring out how to cook with them myself. The high content of vitamins K, A and C among others and various minerals has helped me get more involved with this cool plant. Let me know what you do with yours!)
Ingredients:
2 tablespoons coarse sea salt or kosher salt, plus more for serving
1 1/2 cups orzo
3 tablespoons unsalted butter
1 pound red mustard greens, chopped (green mustard, baby spinach, or mild arugula may be substituted)
Grated zest of 1 lemon
Freshly ground black pepper
1 cup freshly grated Asiago cheese, for garnish
Directions:
Bring a large pot of water to a boil over high heat. Add 2 tablespoons salt. When the water returns to a boil, stir in the orzo and cook until al dente, about 6 to 7 minutes. Drain well.
Return the cooked orzo to the pot, stir in the butter, and place over high heat. Add the mustard greens and lemon zest and cook, stirring until the greens wilt, about 3 to 5 minutes. Season to taste with salt and pepper. Serve with the freshly grated cheese on top.
(Recipe from The Food Network)
Radish and Avocado Sandwich


(I piled spinach on the bread before I put the avocado on. Quick, easy and perfect with a piece of bread from Deux bakery.)
Ingredients:
Thinly sliced radishes
Extra-virgin olive oil
Fresh lemon juice
Coarse salt
Freshly ground pepper
Sliced avocado
Whole-grain bread
Finely grated lemon zest
Directions:
Toss radishes with oil, lemon juice, salt, and pepper. Repeat with avocado, and mash onto bread. Pile on radish mixture, and sprinkle with lemon zest. Drizzle with oil.
(Recipe from Martha Stewart)
Snappy Crunchy Vegan Coleslaw (With no mayo!)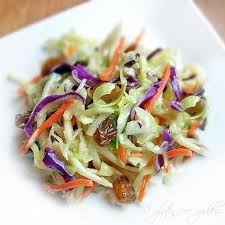 (This fresh and simple slaw is not only gluten-free, it's dairy-free and egg-free. Change out the golden raisins with dried cranberries for an unexpected twist. Purple cabbage is a lot harder to grow. It takes longer and for some reason the bugs LOVE it. The recipe mixes red and green, but green worked fine solo.)
Ingredients:
2 heaping cups chilled cabbage- shredded thin
1 tart or sweet apple, peeled, julienned
1 smallish carrot, julienned
Half a smallish red onion, sliced thin
1/4 cup golden raisins- or dried cranberries
3-4 tablespoons light and grassy extra virgin olive oil, as needed
1 tablespoon Champagne vinegar or apple cider vinegar, to taste
1-2 teaspoons organic raw agave nectar, to taste
1/2 teaspoon caraway seeds
1/2 teaspoon dill
A small pinch of cumin
Sea salt and fresh ground pepper, to taste
Directions:
Toss the shredded cabbage, apple, carrot, red onion and golden raisins into a large bowl and stir to mix. Drizzle with the olive oil- enough to coat, but don't drown it.
Sprinkle with vinegar, agave nectar, caraway, dill, cumin, sea salt and pepper, to taste. Toss to coat. Taste test- does it need more oil? More vinegar? A tad more caraway? Sea salt? Adjust the seasoning. Serve immediately. Save any extras for lunch, add a piece of chicken or cubes of tofu and you have your next meal!
(Recipe from Gluten Free Goddess)
Cilantro-Lime Vinaigrette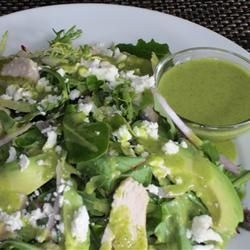 (It's so versatile, it can be used for all kinds of salads. Enjoy! Serve immediately or keep in the fridge for 4 to 5 days. I used apple cider vinegar because that's what I had in my kitchen.)
Ingredients:
1/4 cup lime juice
2 tablespoons white vinegar
1/2 bunch cilantro, chopped
1 tablespoon brown sugar
1 clove garlic, minced
1/4 teaspoon salt
3/4 teaspoon spicy brown mustard
3/4 cup light olive oil
Directions:
Blend the lime juice, vinegar, and cilantro together in a blender until smooth. Add the brown sugar, garlic, and salt; blend again until smooth. Spoon the mustard into the mixture. Turn the blender on and slowly pour the olive oil into the dressing mixture in a thin stream; blend until thoroughly combined.
(Recipe from Allrecipes)
Juice Feast for February 5th Contains:
RED BEETS
FENNEL
LACINATO KALE
ROMAINE LETTUCE
BABY SPINACH
CILANTRO
MINT from BD FARMS
CARROTS
GREEN CABBAGE
PINK LADY APPLES from CUYAMA FARMS
DANDELION GREENS
EXTRA**LIMES and LEMONS from Givens Orchard
Fennel might not be your first thought when it comes to eating veggies, but juicing it is a piece of cake and incredible for your health. It's full of Vitamin C which makes it a great choice for your juice. Vitamin C is water soluble and it is easily secreted by our bodies. We need to replenish it often! The vitamin C from juicing your fennel will be readily absorbed and used to build up and support your immune system during this cold season!
By Dani Rhoades, NC, www.wholesomepractices.com
Sources: Bauman College Texts
In addition to vitamin C, fennel actually contains a high concentration of aromatic essential oils found to have anti-fungal and anti-bacterial properties. It's a great recovery drink too as fennel has potassium, an important electrolyte. Try juicing just the bulb if you don't like the flavor as the frilly part has the most pungent taste.
A Twist of Lime and Fennel
(This is a very light and refreshing juice that's naturally low in sugar. If you like a little sweetness add an apple. Fennel is great for the stomach and aids digestion and it may reduce bloating and abdominal discomfort. Fennel is also high in vitamin C, calcium, potassium, manganese and folate. Each bulb of fennel contains about 110mg of calcium (and kale is high in calcium too!) so this juice has a surprisingly estimated 280mg of calcium per juice. ENJOY!)
Ingredients:
2 fennel bulbs
6-8 kale leaves
2 limes
1 handful spinach
1 pink lady apple (optional)
(Recipe adapted from Reboot with Joe)
Garden in a Cup
(This is my kind of V8. After a workout or mid day this juice makes me feel satisfied and full of energy. Add a tomato if you have one laying around and your juicer can handle it.)
Ingredients:
1/4-1/2 head cabbage
1 bunch carrots
1 handful parsley and cilantro
1 beet including leaves
1 lemon (peeling optional)
1 fennel bulb
1 handful spinach
1/4 bu. dandelion greens
1″ piece turmeric root
1 piece of garlic (not a bulb, just one section of it)
Created by Carolyn Givens