From our family to yours, I would like to extend a heartfelt thank you for supporting local food and farms. With more factory, mono cropping farms and huge corporations taking over food supplies, it's more important than ever to support small farms. We hope your new year is filled with health, happiness and delicious, nutritious vegetables. Wishing you the very best and more for 2014.
There are tons of studies that support the theory that plant based lifestyles are the best and most sustainable way of losing weight and improving health. There is no better study than trying it out yourself and reaping the benefits of total body improvements. I recommend watching a cool documentary called Forks Over Knifes which goes into much more details.
When you get your box this new year make a conscious effort to eat every vegetable inside. Your body will thank you. Instead of saying, "I want to lose weight this year", try adjusting that to "I want to focus on the quality of food I put in my mouth," and the rest will follow.
January 1st CSA contains:
CARROTS
SATSUMA TANGERINES from GLEN ANNIE ORGANICS
RED LEAF LETTUCE
BLUE LAKE GREEN BEANS
MIXED CHERRY TOMATOES + BASIL
BABY SPINACH
GREEN ZUCCHINI
CILANTRO
SUGAR SNAP PEAS
RED BEETS
BIG BOX ADD: CARROTS, RED TOMATOES, YELLOW PEPPERS, SALAD MIX, RED ONIONS from HUMMINGBIRD FARMS AND DILL

Our CSA store is ever changing. If you see something on the list that you would like a little more of, check our store and add it to your order. Our coffee remains buy 3 get 1 free and the cheese production is still going strong. We will be adding artisan bread and eggs to the menu soon so keep tuned. First come first served.
If anyone has been experiencing sluggishness or any diet related issues it's a great time to touch base with your local nutritionist Dani Rhoades. Just a few sessions can set you on the road to success and clear up many complicated messages sent through our media. My job is to provide the "Farmacy," but Dani can really focus in on how to make it work best for you. Check out what she has to say about ringing in the new year.
We should all be making some New Year's Resolutions around our health considering how heavy-laden our society is with disease! Food is a powerful tool for the prevention of disease and the maintenance of good health. We simply can not get enough good food into our bodies! Organic fruits and vegetables are critical components of a healthy diet, supplying the vitamin and mineral co-factors needed for every function in the body to occur! The research is in, the evidence is all there, vegetables help prevent and can also help heal many disease including heart disease, cancer, diabetes and arthritis! More than any other food class, they supply the widest range and variety of nutrients including phytochemicals, flavonoids, carotenoids, chlorophyll, fiber, amongst many others! Simply two tablespoons a day protects against stomach cancer! Just one carrot a day slashed stroke rates by 68% in women! Vow to eat more vegetables this year!
By Dani Rhoades NC, www.wholesomepractices.com
Sources: Bauman College Texts, Encyclopedia of Healing Foods by Michael Murray
White Bean Salad with Zucchini, Green Beans, and Tomatoes


(Did you know that the dietary fiber in zucchini helps lower cholesterol by attaching itself to bile acids that the liver makes from cholesterol for digesting fat? Zucchini boasts a rich nutritional profile, and it offers health benefits thanks to its phytonutrients, mineral and vitamin content.)
Ingredients:
1 can cannellini beans (white beans), drained and rinsed
Olive oil
1 zucchini, chopped
1 cup fresh green beans, remove the ends
handful cherry tomatoes, chopped
1/2 cup fresh basil leaves, chopped
Juice of one lemon
Parmesan cheese- as much or little as you prefer
Coarse salt and ground pepper
Directions:
In a small sauce pan, heat up the olive oil and sauté the zucchini and green beans. Don't overcook them. You want the vegetables to be crisp.
In a medium bowl, place cannellini beans, zucchini, green beans, tomatoes, basil, lemon juice, and Parmesan cheese; season with salt and pepper. Toss to combine.
(Recipe from Two Peas and their Pod)
Roasted Beet Salad with Cumin and Cilantro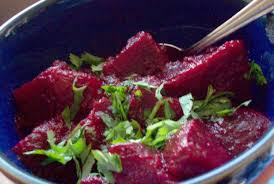 (Potassium, magnesium, fiber, phosphorus, iron; vitamins A, B & C; beta-carotene, beta-cyanine; folic acid. These are but a few of the many nutrients, vitamins and minerals that can be found in beets and beet greens. They are also great for cleansing the liver, purifying the blood and a great source of energy.)
Ingredients:
4 medium red beets (without tops, although suggestion for tops below)
2 tablespoons olive oil
juice of 1/2 a lemon
juice of 1/2 an orange
11/2 tablespoons Balsamic vinegar
1 clove garlic, peeled and minced
1/2 teaspoon ground cumin
1/2 teaspoon sweet paprika
1/4 teaspoon salt
dash freshly ground black pepper
3 tablespoons finely chopped fresh cilantro or more
Directions:
Preheat oven to 350°F and line a baking sheet with foil. Clean the beets and place on the baking sheet. Roast for an hour or until tender with a fork. Cool, peel, and cut into bite-sized pieces. To make the vinaigrette, puree one of the cooked beets with the lemon and orange juice, balsamic vinegar, the garlic, cumin, paprika, salt, pepper and olive oil. This can be done a day in advance. Before serving, toss the beets with vinaigrette. Adjust seasonings to taste and top with cilantro.
(You could stir fry the greens in a little olive oil and add as a compliment to this salad.)
Recipe from Joy of Kosher)
Spring Pasta with Snap peas, Spinach and Mushrooms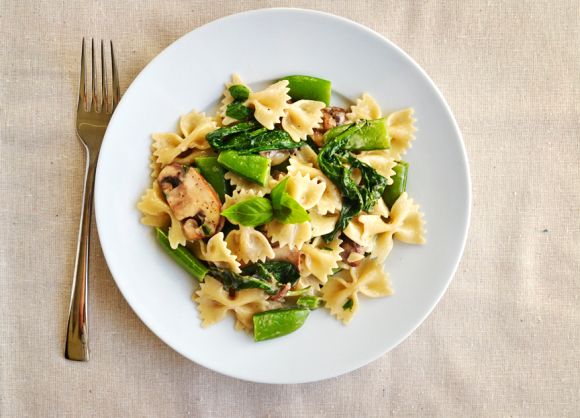 Ingredients: Serves 3 – 4
1/2 pound short pasta, such as farfalle
1/2 pound sugar snap peas, halved
1 TBSP olive oil or butter
1 lb mushrooms of any variety, cleaned, stemmed and sliced
1/3 cup heavy cream or half-and-half
1/3 cup dry white wine
a few handfuls fresh spinach or more
about 2 oz Parmesan, grated (1/2 cup)
1/2 cup fresh basil leaves, cut into a chiffonade
Directions:
Bring a large pot of salted water to a boil. Cook pasta about 1 minute less than package instructions, then add snap peas and cook 30 more seconds. Drain, reserving 1 cup pasta water.
In same pot, heat olive oil or butter over medium-high heat. Sautee mushrooms until beginning to brown. Add cream and wine and cook, stirring, for about 2 minutes. Add Parmesan and spinach, stirring, until spinach wilts, then return pasta and peas to pot. Stir until warmed through, adding 1/4 – 1/2 cup pasta water to make a light sauce, if necessary. Lastly stir in basil, and season with salt and pepper to taste.
(Recipe from Dinners For Winners)
January 1st JUICE FEAST contains:
CARROTS
RED LEAF LETTUCE
BABY SPINACH
CILANTRO
RED BEETS
CELERY
GREEN CURLY KALE
CUCUMBERS
DANDELION GREENS
FENNEL
LEMONS
Food Babe's Super Detox Juice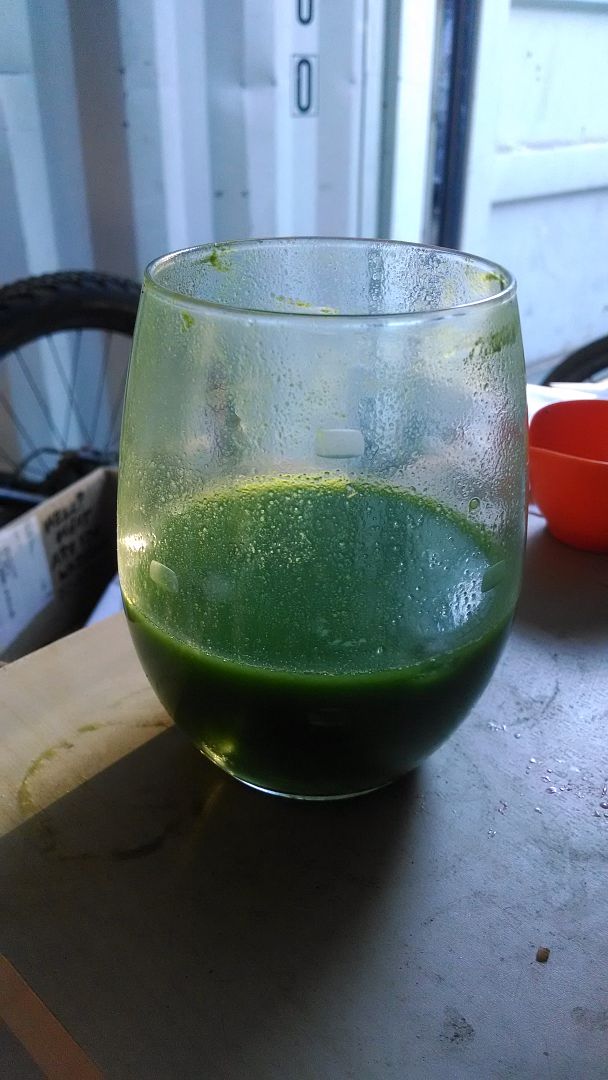 (The pic above is half gone! Delicious. I'm added an apple to this one. Unless you like it bitter! I also added a fennel bulb and turmeric root. Dandelion has more of the antioxidant, vitamin A, than carrots have. In addition, this super-weed contains a phytochemical called taraxacin, which is now believed to be largely responsible for dandelion's digestive tonic effects, and also has antiseptic, expectorant, and germicidal properties. All hail the dandelion!)
Ingredients:
1 bunch of dandelion greens
1/2 bunch celery
1/2 bunch cilantro
1 cucumber
1 lemon
2 inches of fresh ginger root
Red Recovery Juice


(Great for before or after a workout. According to Doctor Oz, beetroot juice has been shown to help the body respond better to exercise, by balancing oxygen use and increasing stamina and improve blood flow.)
1 Beet + greens
1/2 head red leaf lettuce
1 Cucumber,
1 Apple
1/2 bu. Cilantro
1 Lemon
2″ Ginger