I am really excited to introduce you to a brand new bakery named Deux. Deux is run by a local Santa Barbara mom, Wendy, with a serious passion for bread. We stopped in to visit her bakery today and we are honored to make this an addition in our CSA store as soon as next week. We were greeted by the smells of fresh baked bread, roll and even cookies and pastries. Not only is the bread beautiful to look at, but it literally melts in your mouth. Please find a complimentary Country Loaf in your box this week. We are looking for feedback and want to start supporting Deux. The bread is not completely organic, but can be offered if there is a strong enough demand. The price will go up a little bit as a result, but we feel it's worth it if enough people want organic bread.

We will be offering a limited variety of breads in our store, but you can contact Deux bakery for their full line of goodies. We will have all the details posted on our website over the weekend and please visit our CSA store here in a few days to add FRESH baked bread to your order.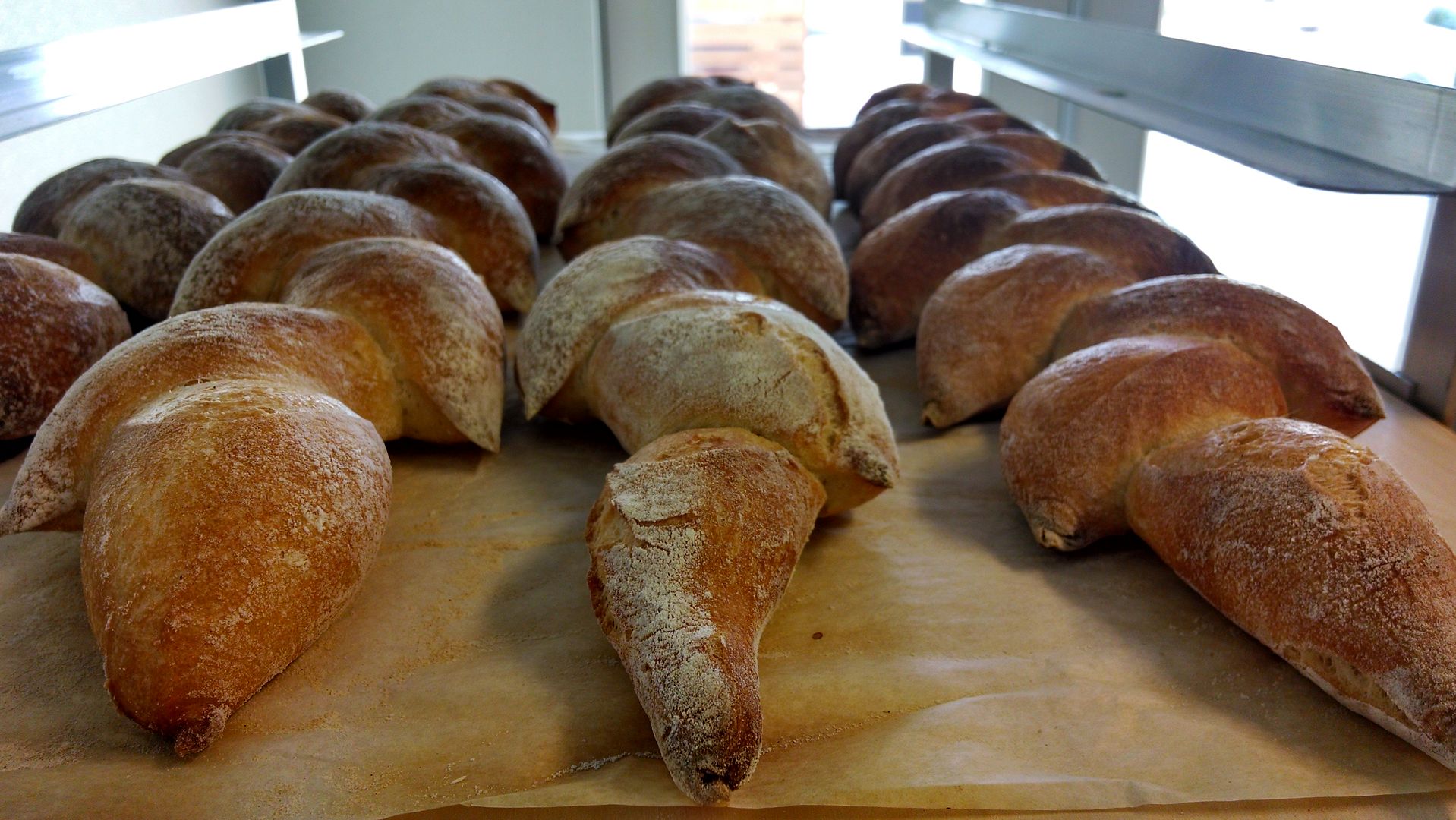 CSA for January 29th
BUNCHED ARUGULA
SALAD MIX
RED TOMATOES
BAGGED SPINACH
SUGAR SNAP PEAS
RED RUSSIAN KALE
GOLDEN BEETS
CARROTS
ITALIAN PARSLEY
LEEKS
BIG BOX ADD:PINK CHERRY TOMATOES, RED DANDELION GREENS, ROMAINE LETTUCE, COLLARD GREENS, CARROTS

*We are currently stocked up with some Aged Dry Jack cheese from Casitas Creamery. It's a delicious cheese with a pungent and nutty taste reminiscent of a Parmesan or Pecorino. Local, organic and a great addition to your meal this week.
*Did you know your produce in your CSA box was picked within 24 hours of receiving it? Most produce you find in the store has not only traveled a distance to get to you, but has been sitting on the shelf for days. Your produce should stay fresh for a week if not more. PLEASE visit our website for tips and tricks. Save money and eat more veggies!
I'm a pretty huge fan of beets in general, but the golden beet is always a nice treat. They are extremely sweet when cooked and their greens compliment the beet with a touch of bitterness. Make sure to use the greens (even the stems)! Check out what Dani, our local nutritionist has to say about the beets in your box this week:
Golden beets are a sweet and milder form of beets in comparison to dark, red beets but none the less offer the same amazing health benefits. Beets naturally help raise the level of HCI in the stomach restoring proper digestion where it needs to begin. In doing so they also aid the digestive organs like the gall bladder and the liver, triggering a release of bile from these organs into the small intestine. Bile is critical for the proper absorption of fatty acids, for movement of the bowels, extra cholesterol out flow as well as many other factors. Beets are known for their cleansing effects both for the liver but also for sluggish bowels. They are great roasted, boiled or simply shredded raw on salad! And don't forget to enjoy your greens which supply high amounts of iron!
By Dani Rhoades, NC, www.wholesomepractices.com
Sources: Bauman College Texts
Lentils with Ginger, Golden Beets, and Herbs
(Lentils are enlivened by coriander, ginger, mint, and cilantro. Sweet beets add lots of minerals.)


Ingredients:
1 pound (about 6 medium) trimmed golden or red beets
1/2 cup water
1 teaspoon coarse salt
1 tablespoon plus 1 teaspoon extra-virgin olive oil
3/4 cup (6 ounces) dried lentils
6 thin slices fresh ginger plus 1 teaspoon finely grated
1/4 medium red onion, finely diced (1/2 cup)
2 tablespoons red-wine vinegar
2 teaspoons honey
1 1/2 teaspoons whole coriander seeds, toasted and ground, or 1 teaspoon ground
Freshly ground pepper
1/4 cup coarsely chopped fresh mint, plus leaves for garnish
2 tablespoons coarsely chopped fresh cilantro, plus leaves for garnish
Directions:
1.Preheat oven to 375 degrees. Place beets, water, and 1/4 teaspoon salt in a baking dish. Cover with parchment, then foil, and bake until beets are tender when pierced with the tip of a small knife, 45 to 55 minutes. Let stand until cool enough to handle. Peel and quarter beets, and place in a small bowl. Toss with 1 teaspoon oil.
2.Combine lentils and sliced ginger in a medium saucepan, and cover with water by 2 inches. Bring to a boil. Reduce heat, and simmer gently. Cook, stirring occasionally, until lentils are tender, about 20 minutes. Drain; discard ginger. Transfer to a large bowl, and stir in 1/2 teaspoon salt.
3.Combine remaining teaspoon salt and the grated ginger, onion, vinegar, and honey, and let stand for 15 minutes. Whisk in remaining tablespoon oil and the coriander. Pour over lentils, and toss to coat. Season with pepper. Stir in chopped mint and cilantro. Arrange beet wedges on top of lentils. Garnish with herbs, and serve immediately.
(Recipe from Whole Living)
5-Step Kale Salad
(I chose a raw kale salad because our Red Russian kale is so sweet and tender. It's a perfect salad to make in a big batch and enjoy it over a few days.)
4 cups chopped raw kale
3/4 cup shredded carrots
1 small avocado, diced
1/2 cup sweet onion, diced
2-3 Tbsp seeds or nuts (I added some mineral-rich pepitas)
*you can easily change up the veggie and other add-ins as desired.
Simple Sweet Tahini Dressing
2 Tbsp tahini
2 Tbsp maple syrup
3 Tbsp fresh lemon juice + pinch of zest
1 Tbsp extra virgin olive oil (optional)
2-3 pinches cayenne
pinch of salt + a few pinches of black pepper
(Make a double batch of dressing if you like your greens more heavily dressed)
Directions:
Step 1. Wash your fresh kale greens. Run each thick leaf under warm to hot water and massage any grit away. Then refresh the leaves by running them all under ice cold water. (The hot and coldest settings on your tap will work.)
Step 2. Prep your ingredients. Remove the thick vein from your kale leaves and discard. (You could keep this on, but it is quite chewy.) Also prep your other veggies however you'd like. Chop, dice, cube, shred… Add the chopped kale and veggies to a large mixing bowl.
Step 3. Make your dressing. In a small bowl, whisk your dressing together.
Step 4. Toss! Add the dressing to your bowl of veggies and kale and start tossing! Massage, fluff and toss until the dressing is well absorbed into the greens and veggies.
Step 5. Chill it! Allow at least an hour for the dressing to really sink into the ingredients. Plus chilling everything makes it refreshing and tasty as a cold salad side. You can even make this salad the night before you serve it. Overnight chilling works! The greens should be eaten within 48 hours though.
(Recipe from The Lunch Box Bunch)
Pasta with Leeks and Parsley
(Reserve a little of the pasta cooking liquid in case the sauce is too dry. That plus a handful of parsley completes the dish. I wilted in some spinach at the end. The more veggies the better!)
Ingredients:
3 big or 4 medium leeks (at least a pound, total)
Salt and pepper
4 tablespoons extra virgin olive oil or butter
2 cloves garlic, peeled and lightly crushed
2 or 3 dried red chilies
1 tomato, minced
1 pound spaghetti, linguine or other long pasta
3/4 cup chopped fresh parsley leaves
Directions:
1. Trim root end of leeks, then cut off hard green leaves, leaving a bit of green where they meet the white part. Split leeks down the middle, then chop them, not too finely. Wash very well, and spin or shake dry. Set a large pot of water to boil, and salt it.
2. Put half the butter or oil in a large skillet, and turn heat to medium-high. A minute later add garlic and chilies, and cook, stirring occasionally, until garlic browns; remove chilies (and garlic if you prefer). Add leeks, and cook, stirring occasionally, until they wilt, about 10 minutes. Add pepper or tomato, and lower heat; continue to cook, stirring once in a while, until leeks begin to brown.
3. Cook pasta until tender but not mushy. When it\'s done, drain it, reserving about 1/2 cup cooking liquid. Toss pasta and leeks together with remaining butter or oil, a few sprinklings of black pepper and all but a little of the parsley, adding a bit of cooking liquid if mixture seems dry. Taste and adjust seasoning, garnish with remaining parsley, and serve.
(Recipe by Mark Bittman from Diners Journal)
JUICE FEAST for January 29th
BAGGED SPINACH
RED RUSSIAN KALE
GOLDEN BEETS
CARROTS
ITALIAN PARSLEY
RED DANDELION GREENS
COLLARD GREENS
ROMAINE LETTUCE
PINK LADY APPLES from CUYAMA ORCHARDS
CELERY
Can't Beet It
(All of the beet's healing and medicinal values effectively normalizes blood pressure, lowering high blood pressure or elevating low blood pressure. They are an excellent source of energy and help cleanse the blood.)
1 Beet Root and Leaves washed well
3 Carrots
4 stalks celery
1/2 Romaine Lettuce
1/2 thumb Ginger
1 Pink Lady Apple
1/4 bunch dandelion greens
Mega Green
(Consider this concoction the granddaddy of green-leaves galore with only a kiss of fruit in the for of an apple. For diehard juicers dedicated to keeping sugars low, this drink is a failsafe staple.)
2 leaves collard greens
1 cup spinach
2 leaves romaine
5 leaves kale
3 stalks celery
1 pink lady apple
1/2 medium lemon (peeling optional)
The Detoxifier
(Bitter greens are what juice is made for-the stuff that's hard to eat, but easier to drink. Dandelion leaf deserves the effort. The prolific weed boosts the gallbladder's production of bile, which tones the liver.)
2-6 dandelion greens
1/4 cu. watercress
1 cup kale
1 cup spinach
1/2 cu. parsley
1/2 apple
1/2 romaine
4 stalks celery
1 inch fresh gingerroot
1/2 lemon (peeling optional)