Have you ever had a Kenny Grapefruit grown right in your backyard? Sweet and delicious like an orange, but with the same bite as a grapefruit. These were grown right here in Goleta, at Vincent Farms. Check out the picture that they took with the grapefruits in the forefront and the actual trees in the background. They are super sweet and juicy. They can be eaten like a grapefruit for breakfast, peeled like an orange for a snack or juiced!

CSA Contents for March 12th contains:
GREEN CURLY KALE
CARROTS
GREEN CABBAGE
CAULIFLOWER
SUGAR SNAP PEAS
CILANTRO
KENNY GRAPEFRUIT from VINCENT FARMS
BUNCHED SPINACH
RED LEAF LETTUCE
BROCCOLI
BIG BOX ADD: SALAD MIX, SUGAR SNAP PEAS, CARROTS, CELERY, CHERIMOYAS from GOODLAND ORGANICS

*We are also adding limes into all the boxes. Hope you like the recipes below!
Here's words of wisdom from Dani, our local nutritionist regarding some amazing benefits of veggies in your box.
There are numerous compounds that your liver has to expel energy dispensing from your body, especially in our chemical laden society! Pesticides, cigarette smoke, toxins in the water, and heavy metals are amongst some of them. But thankfully something as simple as food can help support our liver in those processes! Grapefruits supply specific enzymes that speed up the second phase of detoxification in our liver. There is so much detoxification going on consistently that there are two phases and seven pathways of detox. Cabbage supplies the sulfur compounds that increase the sulfation pathway of detoxification. Cilantro is so powerful that it can leech mercury out of the body, even across the blood brain barrier! Mercury is one of the most damaging heavy metals in the body. Cilantro also effectively helps remove lead, aluminum and cadmium from the nervous system and from the bone. These are other heavy metals that are damaging and clogging to our bodily systems. But even something as easy as eating your cilantro can help! Love your liver by eating all these detox friendly foods in your box!
Dani Rhoades, N.C. | Nutrition Consultant | (831) 809-5099
Wholesome Practices | www.wholesomepractices.com
Raw Walnut Tacos


(I love Mexican food and I was skeptical about this recipe at first, but it turned out quite wonderful.)
Ingredients:
Walnut Taco Mix
1 cup raw walnuts
1 Tbsp. nama shoyu (raw, unpasteurized soy sauce)
1/8 tsp. ground chipotle pepper (or more if you like it spicy!)
1 tsp. ground cumin
1 tsp. extra virgin olive oil
Cashew "Sour Cream"
½ cup raw cashews
juice of ½ lemon
1 tsp. apple cider vinegar
5 Tbsp. water (approx.)
Top with:
1/2 onion or leek minced
1/4 cup chopped cilantro
1/2 clove garlic, minced
juice of 1/2 lime
1 tsp. raw honey
1 Tbsp. extra virgin olive oil
pinch of sea salt
Other Raw Taco elements:
ripe avocados (about ½ per person)
green cabbage leaves
limes for squeezing
extra cilantro for sprinkling
Directions:
Walnut mix:
Put all ingredients in a food processor and pulse just to mix. Don't over-blend, or you will end up with walnut butter!
Cashew "Sour Cream"
Put all ingredients except water in a high speed blender or food processor and blend, adding water one tablespoon at a time until the desired consistency is reached. If you want a thick cream, use less water, for a thinner sauce, use more. (You will not achieve a perfectly smooth sauce with a food processor, but it is still delicious!) This sour cream is optional, but a delicious addition.
Toppings
Whisk the garlic, lime juice, honey, olive oil and sea salt in the bottom of a bowl and set aside. Cut up the onion into rather small pieces, chop the cilantro and add everything to the dressing bowl. Fold to combine and let sit for at least 10 minutes to allow the flavors to meld.
Unwrap a few leaves from the cabbage, put the walnut mix in, top with cashew cream and toppings. Enjoy immediately.
Lime Cilantro Cauliflower "Rice"


Ingredients:
1 head cauliflower, cut into florets
1 tablespoon water
1 lime, juiced and zested
1/2 cup chopped cilantro
2 tablespoons butter or coconut oil
Directions:
Grate cauliflower florets or pulse in a food processor until it resembles rice. Cook cauliflower in pan with a little butter or coconut oil.
Stir lime zest, lime juice, cilantro, and the rest of the butter into cooked cauliflower until well blended.
Option: Start with leeks and carrots at the bottom of the pan. Fry in butter until tender. When cauliflower is done throw an egg in the middle or chunks of tofu for protein. This recipe can be whatever you want it to be.
(Recipe from Allrecipes)
Sugar Snap Peas and Cilantro Slaw


(This recipe takes a classic slaw and adds a lot of fun surprises. The cilantro mayo dressing is light, bright and happy and the snap peas add this lovely little unexpected crunch. This slaw would pair well with so many things. It would be killer on top of some quinoa burgers or along side a piece of fish, or simply right out of the bowl.)
Ingredients:
About 3 cups of snap peas, sliced thinly lengthwise
About 2 cups green cabbage, shredded
A large handful of cilantro, finely chopped
2 cloves garlic, minced
the juice of 1/2 a lemon
1/3 cup of vegan mayo (or regular if you prefer)
salt + pepper
Directions:
Place the chopped snap peas and cabbages in a large bowl and give a quick toss to combine. Then in a small bowl add the cilantro, garlic, lemon juice, mayo and salt and pepper to your liking. Stir to combine. Taste and adjust any seasoning necessary. Then add the mayo mixture to the snap peas and cabbage. Stir until everything is combined. You can make this a day or so ahead of time and keep covered in the fridge until you're ready to serve. This will keep for a couple of days in an air tight container in the refrigerator.
Healthy Potato Leek Soup (that doesn't taste healthy!)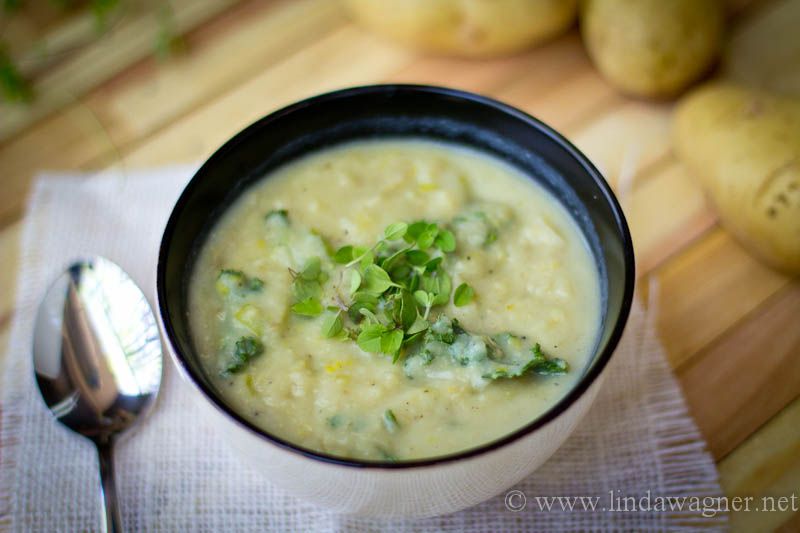 (This is a delicious soup that is great for satisfying cravings for comfort food. It tastes naughty but it's actually very clean and surprisingly low in calories! I like to make a giant batch and then freeze half to have on hand for later. I tend to always do that with my soups, it just make life a lot easier when things get hectic!)
Ingredients:
3 lbs organic yukon gold or organic red potatoes (if they are organic you can keep the skins on, otherwise peel them)
4 leeks washed & sliced
1 bunch kale
1 cup almond milk
2-3 cups veggie stock
2-3 cloves garlic, minced
organic butter
sea salt
Directions:
In a large pot of salted water, boil potatoes until soft. While potatoes are boiling, slice your leeks into small disks (excluding the dark green part) and then swirl them around in a large bowl of water to release the any grit. Leeks can be pretty dirty so this part is important!
In a skillet or saucepan over medium heat, melt a small pat of butter and saute leeks and minced garlic for several minutes until soft. Add sea salt and pepper to taste. If the pan gets dry, simply add a little water or veggie stock to add moisture instead of adding more oil or butter.
Once your potatoes are fully cooked, drain the water and add almond milk and veggie stock to the pot. Smash the potatoes and use a hand held blender to puree the mixture. The longer you blend, the smoother and creamier it will be. Similarly, the less liquid you add the thicker it will be, the more veggie stock you use the thinner your soup will be. I never actually measure my recipes, I just eyeball it until I've achieved the taste and texture that I desire. I strongly encourage you to do the same 🙂 It's a lot more fun and you will use a lot less dishes! Next add your leeks & garlic and stir into the mixture.Then grab the kale by the stem and strip the leaves from the stem with your hands. I like to save the stems and use them later in my veggie juices! Using your hands, tear the kale into small pieces and place into the soup. The temperature of the soup should still be hot enough to wilt the kale, if not simply place the pot over low heat.I garnished mine with fresh oregano from the garden which added a nice touch. You could also add a bunch of broccoli to the mix. I think that would make a lovely addition!
(Recipe from Linda Wagner)
JUICE FEAST contains:
CARROTS
GREEN CABBAGE
CILANTRO/PARSLEY AND MINT
KENNY GRAPEFRUIT
BUNCHED SPINACH
GREEN CURLY KALE
CELERY
ROMAINE
CHIOGGIA BEETS
FUJI APPLES from FAIRHILL FARMS
Grapefruit Green Juice Recipe
1 Grapefruit
1 Green apple
1 head of kale
4 celery stalks
1 romaine head
1 lime
Green Grapefruit Ginger Juice
about a 1 inch piece of ginger
1 bunch spinach
2 medium grapefruits, peel and pith removed
Grasshopper
1 bunch kale
Big handful fresh mint
2 cups fresh pineapple
2 apples
1 lemon, peeled
Beet-le Juice
1 apple
1 lemon
4 stalks celery
1 beet with the leaves
1 bunch of spinach
handful of cilantro