CSA for March 19th Contains:
STRAWBERRIES
BLUEBERRIES from WHITNEY RANCH
LEEKS
CARROTS
ROMAINE LETTUCE
CURLY PARSLEY
BUNCHED SPINACH
GOLDEN BEETS
CAULIFLOWER
RED CHARD
BIG BOX ADD: RED LEAF LETTUCE, CARROTS, STRAWBERRIES, SUGAR SNAP PEAS, GREEN ZUCCHINI

Berries are amongst the healthiest fruits on the planet. Berries are extremely high in antioxidants, just 1 cup of blueberries can provide literally all of the antioxidants you need in a day and strawberries came in just below blueberries on an antioxidant scale! It could not be more important to consume antioxidants on a daily basis. Each and every one of our cells has the potential to become damaged by toxins that we come across. There's no way we could avoid all toxins, they're in the air we breath and the water we drink, BUT we can protect our cells from any damage they might cause with antioxidants! Strawberries contain a specific antioxidant which fights the toxins we might breath in second hand smoke. This same antioxidant helps fight heart disease by preventing any damage caused by high LDL cholesterol levels, which is your 'bad' cholesterol. Blueberries are incredible for your skin and your brain. Berries are also delicious, so enjoy them often and make sure they are organic!
By: Dani Rhoades NC, www.wholesomepractices.com
Sources: Bauman College Texts
Moroccan-Inspired Swiss Chard Rolls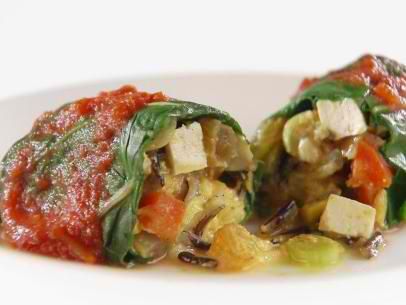 Ingredients
Rice:
2 3/4 cups vegetable broth or stock
Two 1/4-inch-thick slices fresh ginger, each about 1-inch in diameter
1/2 cup short or long-grain brown rice
1/2 cup wild rice
3 tablespoons vegetable oil or canola oil
1 cup sliced green onions (about 1 small bunch) or 1 leek
3 small carrots, peeled and chopped into 1/4-inch pieces
1 medium onion, finely chopped
1 clove garlic, minced
One 2-inch piece fresh ginger, peeled and grated
2 teaspoons mild curry powder
1 teaspoon ground cumin
1/2 teaspoon kosher salt
1/4 teaspoon freshly ground black pepper
1/2 cup golden raisins
6 ounces extra-firm tofu (1/2 of one 12-ounce package), drained, patted dry, cut into 1/2-inch cubes
1/2 cup organic coconut milk
12 large fresh Swiss chard leaves (from 2 to 3 bunches)
One 26-ounce jar arrabiata or tomato-basil sauce
Directions:
For the rice: Combine the vegetable broth and ginger slices in a medium saucepan; bring to boil. Add the brown and wild rice and bring to boil. Reduce the heat to medium-low; cover and simmer until the rice is just tender, 50 to 55 minutes. Drain if necessary. Discard the ginger slices. Set the rice aside.
Meanwhile, position the oven rack in the center of the oven and preheat to 400 degrees F. Lightly oil a 13- by 9- by 2-inch glass or ceramic baking dish with 1 tablespoon of the vegetable oil; set aside.
Heat the remaining 2 tablespoons oil in a large nonstick skillet over medium-high heat. Add the green onions, carrots, onions, garlic, ginger, curry powder, cumin, 1/4 teaspoon salt and 1/8 teaspoon pepper. Cook, stirring occasionally, until the vegetables are tender, 6 to 7 minutes. Stir in the golden raisins, tofu and cooked rice mixture. Add the coconut milk and bring to a simmer. Cook for 1 minute until the sauce coats the back of a spoon. Season with the remaining 1/4 teaspoon of salt and 1/8 teaspoon pepper.
Remove from the heat and let cool while preparing the chard leaves.
Bring a large pot of salted water to boil. Using a sharp knife, cut away the thick stems from the center of each leaf; discard the stems. Cut each leaf in half lengthwise. Trim the wide ends from the leaves to make each leaf half about 10 inches long. Using tongs and working with 1 leaf half at a time, dip the leaf half into the pot of boiling salted water for 10 seconds. Transfer to paper towels to drain.
Place about 1/3 cup of the rice filling onto the end of one Swiss chard leaf half. Roll up the leaf, enclosing the filling completely. Repeat with the remaining leaf halves and rice filling for a total of 12 rolls.
Spread 1 cup of the sauce onto the bottom of the prepared baking dish. Place the filled rolls, seam-side down, in a single layer atop the sauce in the dish. Spoon the remaining tomato sauce over the rolls. Bake until the rolls are heated through, 25 to 30 minutes.
(Recipe from The Food Network)
Cauliflower Tabouli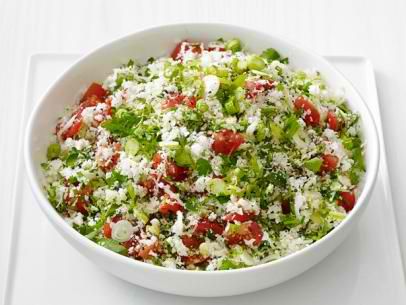 (A classic tabouli made completely with vegetables. Easy to make and it gets better as it sits. Great for a dinner side tonight and lunch tomorrow!)
Ingredients & Directions:
Grate 1 head cauliflower into grain-size pieces with a box grater. Toss with 2 diced plum tomatoes, 1/3 cup lemon juice, 3 tablespoons olive oil, 2 tablespoons soy sauce, 2 chopped scallions, 1 bunch chopped parsley and 2 tablespoons chopped mint in a large bowl. Season with salt and pepper.
(Recipe from Food Network)
Lemon Herb Roasted Beets


(I plopped these tasty beets over a bed of spinach, a little goat cheese and chopped mushrooms for a complete salad.)
Ingredients:
1 1/2 pounds golden or red beets, trimmed and cut into 1-inch pieces or wedges
4 teaspoons extra-virgin olive oil or canola oil (I used coconut)
2 tablespoons chopped fresh or 2 teaspoons dried herbs, such as marjoram, oregano and/or rosemary
1 teaspoon freshly grated lemon zest
1/2 teaspoon salt
1/4 teaspoon freshly ground pepper
1 tablespoon lemon juice, (optional)
Directions:
1.Position rack in lower third of oven; preheat to 450°F.
2.Combine oil, herbs, lemon zest, salt and pepper in a large bowl. Add beets; toss to coat with the seasoning mixture.
3.Spread the beets evenly on a rimmed baking sheet.
4.Roast, stirring once or twice, until the beets are tender and browned, 20 to 25 minutes. Toss the roasted vegetables with lemon juice, if using.
(Recipe from Eating Well)
Sunday Mornin' Baked French Toast with Blueberries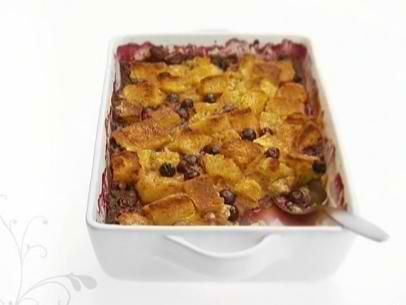 (It can't always be about the veggies…just most of the time. Indulge in a little Sunday morning happiness with the family and this French toast. Consider putting a loaf from Deux bakery in the mix here. It would be an equivalent or better than eating out!)
Ingredients:
Butter, for greasing
6 eggs
3 cups whole milk (I prefer whole to skim, but you can use goat milk, soy milk..ect.)
3/4 cup maple syrup, plus extra for serving
2 teaspoons ground cinnamon, plus 1 tablespoon
1/4 teaspoon fine sea salt
1 lemon, zested
3 (1-inch thick) slices (8 ounces) day-old challah or sourdough bread, cut into 1-inch cubes
2 cups (12 ounces) fresh or frozen, thawed, and drained blueberries
3 tablespoons granulated sugar (I'd use agave syrup)
Directions:
Place an oven rack in the middle of the oven. Preheat the oven to 350 degrees F. Butter a 9 by 13-inch baking dish. Set aside.
In a large bowl, beat the eggs until frothy. Add the milk, maple syrup, cinnamon, salt, and lemon zest. Add the bread cubes and mix until coated. Stir in the blueberries. Pour the mixture into the prepared baking dish.
In a small bowl, mix together the remaining cinnamon and sugar. Sprinkle the cinnamon sugar over the egg mixture in an even layer. Bake for 40 to 45 minutes until the top is golden and the filling is set.
Spoon onto serving plates and drizzle with maple syrup.
(Recipe from Food Network)
JUICE FEAST contains:
STRAWBERRIES
BLUEBERRIES
ROMAINE LETTUCE
PARSLEY/MINT
SPINACH
GOLDEN BEETS
CARROTS
RED CHARD
FUJI APPLES from FAIRHILL FARMS
LEMONS and LIMES from SOMMERS RANCH
FENNEL
Veggie juice is incredible for your body, we all know that, getting it down can be the difficult part. Berries add loads of potent antioxidants to your juice and they add a sweet delicious taste making it more enjoyable for you to drink down your greens! The other benefit about berries is that they are low glycemic meaning that they even though they are sweet they don't contain sugars that will cause a spike in your blood sugar. This is especially important when juicing because when the fiber is removed from fruits they often become higher on the glycemic index, meaning they tend to spike blood sugar levels easily. Berries amazingly are sweet but still low in sugars!
By: Dani Rhoades NC, www.wholesomepractices.com
Sources: Bauman College Texts