Follow us on instagram to see daily farm pics.
CSA for March 26th contains:
CARROTS
RED LEAF LETTUCE
STRAWBERRIES
SUGAR SNAP PEAS
BUNCHED SPINACH
GREEN CURLY KALE
LEEKS
CAULIFLOWER
RED AND GOLD POTATOES from T&D WILLYS
CILANTRO
BIG BOX ADD: CARROTS, STRAWBERRIES, CELERY, ARTICHOKES from FRECKER FARMS, CHIVES/DILL/ROSEMARY

Everyone always put puts potatoes like they have no nutritional value. But I would certainly say they have a place in any healthy diet. Potatoes are a good source of starchy carbohydrates which our bodies use for it's quick source of energy. They are also most notably very high in potassium and important mineral that works hand in hand with sodium. Our bodies demand way more potassium than sodium so it's critical to eat vegetables high in potassium. Potatoes are fairly high glycemic meaning they can spike your blood sugar. While this is true, there are healthy ways to reduce this spike. Having potatoes with fat and/or protein slows the digestion process and therefore the absorption of sugars into your bloodstream happens gradually overtime. This ensures that you won't be putting any stress on your blood sugar regulating hormones or organs. There is a lot to the fact that our bodies need proteins and good fats and foods with color, so eat your potatoes with greens, a slab of grass-fed butter and a steak! And please eat the skin, the skin contains plentiful good fibers, folic acid and other minerals. These will also ensure these beautiful potatoes do no harm while your enjoy them!
By Dani Rhoades, NC, www.wholesomepractices.com
Sources: Bauman College Texts
African-Style Stewed Kale


(We're into this leafy green whether it's been steamed, sauteed, baked, or whether it's touched no heat at all–when it's just sliced and dressed. Yes, kale is king among dark, leafy green vegetables: Several different varieties are grown, and each one is a powerhouse of flavor and nutrition.)
Ingredients and directions: 6 servings
Heat
2 Tbsp. unsalted butter in a large sauté pan. Add
1 chopped onion and
3 minced garlic cloves and sauté until soft. Stir in
1 Tbsp. ground cumin and
1 Tbsp. ground coriander, then
1 28-oz. can of crushed tomatoes and
chopped stemmed leaves from 2 heads of kale. Cover and cook until kale is just tender, about 15 minutes. Stir in
1/2 cup peanut butter and
1/2 cup fresh cilantro leaves and simmer for 10 minutes; season with hot pepper sauce, if desired. Serve over couscous.
(Recipe from Bon Appetit)
Salmon and Leeks Baked in Parchment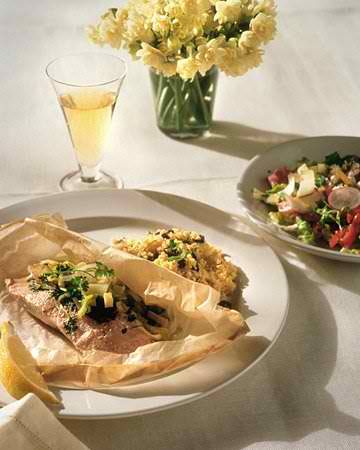 (Baking parchment, which can be purchased at kitchen-supply stores and some butcher shops, is useful to have on hand. Use any fresh herb you like with the fish.)
Ingredients:
4 salmon fillets, 6 to 8 ounces each
1 bunch leeks, sliced thin and well washed
Dry white wine
Olive oil
1 bunch chervil or other fresh herb, chopped
Unsalted butter, melted
Directions:
Heat oven to 350 degrees. Fold a 24-inch sheet of parchment paper in half, and cut out a heart shape about 3 inches larger than fish fillet. Place fillet near the fold, and place a handful of leeks next to it. Drizzle fish with wine and olive oil, and sprinkle with salt, pepper, and herbs.
Brush edges of parchment paper with melted butter, fold paper to enclose fish, and make small overlapping folds to seal the edges, starting at curve of heart. Be sure each fold overlaps the one before it so that there are no gaps. Brush the outside of the package with melted butter. Repeat with rest of fillets.
Put packages on a baking sheet, and bake until paper is puffed and brown, about 10 to 15 minutes.
(Recipe from Martha Stewart)
Creamy Cauliflower, Leek and Potato Soup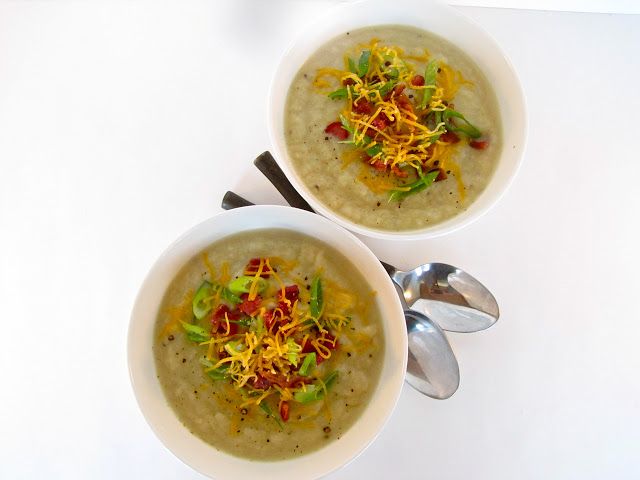 Ingredients:
2 tsp extra virgin olive oil
1 1/2 c. thinly sliced leeks, white and light green parts only
4 cloves garlic, minced
1 large Yukon Gold potato, peeled and diced
3 1/4 c. chopped cauliflower florets
2 c. low sodium chicken broth
fresh ground black pepper
olive oil cooking spray
2 (one ounce) slices turkey bacon
1/2 c. shredded cheddar cheese, divided
2 scallions, thinly sliced
Directions:
In a large saucepan, heat oil on medium-low. Add leeks and cook, stirring occasionally for 5 minutes. Add garlic and cook, stirring, for 1 minute. Add potato, cauliflower, chicken broth, 1c. water and pepper and increase heat to boil. When boiling, decrease heat to low, cover and simmer until potatoes and cauliflower are very tender, 20 minutes. Remove from heat.
Cook bacon in a skillet with cooking spray until crisp. Chop and set aside.
Puree soup with immersion blender until smooth. Stir in 1/4 c. cheese until melted. Season with pepper. Ladle soup into bowls and top with cheese, bacon and scallions.
(Recipe from ChowGals)
Lemon Orzo Salad with Asparagus, Spinach, and Feta


Ingredients:
1 cup orzo
Salt-about 1/2 tsp. for boiling water
2 cloves garlic, finely chopped
1 teaspoon olive oil
8 asparagus spears, cut into 1 inch pieces
1 cup packed fresh spinach
Juice of 1 large lemon
1/3 cup feta cheese
Salt and pepper, to taste
Directions:
In a medium sauce pan, bring 4 cups of water to boil. Add the salt. Stir in orzo. Cook until tender, about 10 minutes. Drain orzo and set aside.
In a small sauce pan, saute garlic in olive oil. Add in asparagus pieces. Saute for 3-4 minutes. Stir in spinach. Cook until asparagus is tender and the spinach shrinks down.
Put the orzo in a medium bowl and add in the vegetables. Squeeze fresh lemon juice over the orzo and vegetables. Stir. Season with salt and pepper. Taste-add more lemon juice if you wish. The lemon I used was huge, so I only needed to use one lemon. If you need more juice, go ahead.
Sprinkle feta cheese over the top of the salad. Serve warm. (I also liked the salad cold.)
(Recipe from Two Peas and their Pod)
JUICE FEAST Contains:
CARROTS
ROMAINE LETTUCE
STRAWBERRIES
BUNCHED SPINACH
GREEN CURLY KALE
CELERY
PARSLEY/CILANTRO
BEETS
DANDELION
FENNEL
FUJI APPLES from FAIRHILL FARMS
On the topic of high potassium foods, celery is another vegetables that contains plentiful potassium. In juicing celery your body can absorb the potassium very easily and readily use this important mineral. Potassium works wonders to lower blood pressure so it's great for people suffering from high blood pressure or high cholesterol levels as well. A good remedy for high blood pressure is just a few ounces of celery juice a day which you can mix with your other juicing items in your box for better flavor. Stress burns up our potassium quickly as well making celery juice the perfect replenishing drink during times of high stress. Enjoy!
By Dani Rhoades, NC, www.wholesomepractices.com
Sources: Bauman College Texts
Fennel Apple Juice
1 fennel bulb, sliced
2 apple cored
juice from 1/2 lemon
juice from 1 orange
Directions: This can be blended at high speed or juiced
Fennel Apple Juice with Greens and Fresh Lemon
1 medium, with stalks removed
2 medium organic apples
1 organic lemon, whole
8 leaves kale
1/2 romaine lettuce
Carrot and Cilantro Juice
(This juice is a sweet and bitter mix between the carrots, dandelion, and cilantro. Lemon adds a nice tartness and even more alkalizing power. For an additional immune boost (and to ward off vampires), try sneaking in a garlic clove or two!)
6-7 medium carrots
small handful cilantro
1/4 bu. dandelion greens
1 lemon, peeled
The Red Rich Cleanse
2-3 medium carrots
1 medium beet
4-5 stalks of celery
1 sweet apple
1 handful parsley
1 lemon