We enjoyed a rainy weekend here on the farm. All the water is great for the crops and helps reduce the bad bug populations here. We are all in our mud boots and happy about it. Spring crops are being planted with a few new varieties. We are looking forward to green cabbage and strawberries within weeks.
We are still seeing the after effects of the bagrada bug which has diminished our winter variety. Hopefully you enjoy the Brussels from Willey's farm. They are a really cool, old school, organic farm based in Northern California.
Cindy's healthy creations is cooking up some delicious Coconut Seed granola for us this week. Its made fresh to order so make sure to grab yours here in our CSA store and support a local Goleta business.
CSA contains:
KOHLRABI
SUGAR SNAP PEAS
CARROTS
LACINATO KALE
GREEN LEAF LETTUCE
DILL
CELERY
RED BEETS
SATSUMA MANDERINES from GLEN ANNIE ORGANICS
BRUSSEL SPROUTS from T&D WILLEYS
BIG BOX ADD: SALAD MIX, LEEKS, CARROTS, GARNET YAMS from GARCIA FAMILY FARMS, ARUGULA from FRECKER FARMS, LEMONS
FRUIT EXPANSION INCLUDES: SATSUMA MANDERINES from GLEN ANNIE ORGANICS & CHERIMOYAS from GOODLAND ORGANICS
Put your dill in a glass of water to help extend it's life. Try adding it into salads, dressings and veggie toppings this week. Sometimes if it's sitting on your windowsill in plain sight it will remind you to use it.
"The health benefits of dill include its ability to boost digestive health, as well as provide relief from insomnia, hiccups, diarrhea, dysentery, menstrual disorders, respiratory disorders, and cancer. It is also good for oral care, and can be a powerful boost for your immune system and can protect you from bone degradation. It is also an anti-inflammatory substance, which means that it can protect you against arthritis. Furthermore, it can reduce excess gas, and is considered a carminative (helps with digestion)." – OrganicFacts.net
Don't be scared of kohlrabi. It's sweet, delicious and can be eaten raw if you don't feel like cooking it. Simply peel the bulbs, cut them into matchsticks and create a slaw or dip the sticks in hummus.
Kohlrabi French Fries. Yes please. Feed my french fry addiction.


Check out this recipe.
Shredded Brussels Sprout, Kohlrabi & Apple salad


Ingredients: serves 2-3 as a side
12 oz. brussels sprouts (about 2 cups shredded)
1 apple, very thinly sliced
2 kohlrabi, stems removed, sliced into matchsticks
1/4 cup dried cranberries or currants
1/4 cup toasted pine nuts
a good drizzle of olive oil (about 2 tablespoons)
squeeze of ½ a lemon
salt & pepper
very optional: grated pecorino or crumbled feta cheese
Directions:
1.Clean brussels sprouts by wiping them with a damp towel, then removing the top leaves that are dirty. You want your brussels sprouts to be very dry so the salad doesn't become too watery.
2.Get out your mandoline if you have one. Slice the brussels sprouts into thin shreds, then slice the apples. Peel any rough parts off of the kohlrabi skin. Thinly slice the kohlrabi bulb into planks, then use a knife to slice the planks into little matchsticks.
3.Place cut veggies into a bowl and add cranberries, pine nuts, and a few pinches of salt. Toss well, then add olive oil and a good squeeze of lemon and toss again. Taste and adjust seasonings. Let the salad sit for about 10 minutes at room temp, then serve. (Add some cheese if you like)
(Recipe and photo from Love and Lemons)
Beet and Apple Salad with Yogurt-Dill Dressing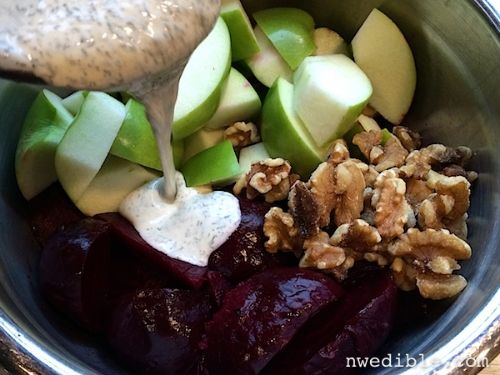 Ingredients:
For The Salad
2 pounds red or yellow beets, or a combination
2 medium-sized, tart apples, like Granny Smith
1/2 cup whole walnuts
For the Yogurt-Dill Dressing
1/2 cup strained (Greek-style) plain yogurt
1 tablespoon dried dill leaves (or two tablespoons fresh, chopped dill leaves)
2 tablespoons apple cider vinegar
1 tablespoon maple syrup
Kosher salt and freshly ground pepper to taste
Directions:
Make dressing. Combine all ingredients in a small bowl, cover and refrigerate for at least an hour (and up to two days) while you roast beets. This allows the flavors to marry and the dried dill to rehydrate.
Preheat the oven to 400*F. Scrub beets and trim away all but 1-inch of greens, but do not peel. Place beets on a baking sheet lined with a large sheet of foil. Fold foil up and over beets, and crimp foil edges together to make a packet. Roast beets for 45-90 minutes, depending on size, until fully tender all the way through. When beets are tender, a small skewer or paring knife inserted into the center of a beet should not meet resistance.
Let beets cool, then rub skins off beets with an old, lint-free rag or with very clean hands. Beets can be prepared up to this point as far as two days ahead and kept chilled. Slice cool beets into chunky wedges, and cut apple into large cubes. Add beets, apple and walnuts to a medium bowl.
Pour enough reserved yogurt dressing over the salad ingredients to lightly coat and stir all together. The salad will turn bright pink from the red beets. For a more composed look, you can scatter the salad ingredients on a plate and drizzle the dressing over.
(Recipe and photo from NW Edible)
Kale Waldorf Salad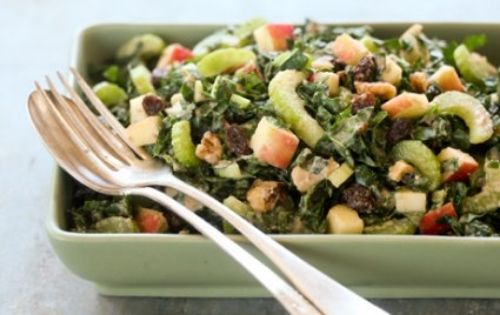 Ingredients:
4 cups packed finely chopped raw kale, preferably dinosaur kale
1 large red apple, such as Fuji or Honeycrisp, chopped, divided
1 cup thinly sliced celery
1/2 cup walnuts, toasted and chopped, divided
1/4 cup plus 2 tablespoons raisins, divided
2 tablespoons Dijon mustard
2 tablespoons water, more if needed
1 tablespoon red wine vinegar
1/8 teaspoon sea salt
Directions:
Place kale in a large bowl. Add half the apple to kale along with celery, 1/4 cup walnuts and 1/4 cup raisins. Put remaining apple in a blender along with remaining 1/4 cup walnuts, remaining 2 tablespoons raisins, mustard, water, vinegar and salt. Purée until well combined and slightly thick, adding water if needed to thin. Pour dressing over kale salad and toss to combine.
(Recipe and photo from Whole Foods Market)
JUICE FEAST Contains: *LEMONS TOO
CARROTS X2
LACINATO KALE
ROMAINE LETTUCE
ITALIAN PARSLEY
CELERY
RED BEETS
GARNET YAMS
BUNCHED SPINACH
PINK LADY APPLES from CUYAMA ORCHARD
TANGELOS and BLOOD ORANGES and CARA CARA ORANGES from SOMMERS RANCH