The farm has been dipping down into the freezing temperatures over the past week. It's amazing to see how everything that's growing sort of comes to a standstill. We are starting to see the repercussions of some earlier damage by a new bug that killed off most of our broccoli, cauliflower, cabbage a few months ago. A lot of those yummy veggies will be coming later in the winter season, even at the start of spring. We were forced to wait until it got cold enough to kill the bugs until we could plant those items. Strawberries are also on their way back. If the weather continues on like it has today, we could have them in as early as 3-4 weeks. We are also planning on so many new crops to grow next year including, scallions, red onions, artichokes, fruit trees of all sorts and many more. We also are back up to about 150 chickens and counting. By summer time we will be able to offer a lot of egg subscriptions.
By supporting our CSA during these winter months you have committed to eating local in a big way. You are planning your meals around the seasons availability instead of whatever is shipped into the grocery store. You aren't supporting plastic wrapped vegetables with stickers on it. Instead your produce has been minimally packaged (or none at all) which is the most sustainable way to go, unless you are growing it yourself. Even though we don't have a huge availability during the winter time, we still have a lot of great things to cook with. Feel free to send recipes my way. We will post them on our website to inspire others.
Our granola of the week is Cashew Cranberry. It's one my favorites and is made locally here in Goleta by Cindy Dollar. It's made fresh to order so make sure to include a bag with your share this week. Check it out here in our CSA store.

CSA for Jan 7th contains:
RED LEAF LETTUCE
CARROTS
GOLD CHARD
LEEKS
BUNCHED SPINACH
RADISHES
CILANTRO
RED BEETS
SATSUMA MANDERINES from GLEN ANNIE ORGANICS
GARNET YAMS from QUAIL H. FARMS OR RED TOMATOES
BIG BOX ADD: RED TOMATOES, ROMAINE LETTUCE, FENNEL, CARROTS, GRANNY SMITH APPLES from CUYAMA ORCHARD
FRUIT EXPANSION: GRANNY SMITH APPLES from CUYAMA ORCHARDS, SATSUMA MANDERINES from GLEN ANNIE ORGANICS

*PLEASE NOTE REGARDING THE GRANNY SMITH APPLES: We ordered our granny smith apples from Cuyama Orchard in a manner that required the least packaging (i.e. no plastic bags, styrofoam, stickers) and we received a lot of sun burnt apples. The sun burn appears to only be a cosmetic damage and does not affect the inside of the apple. Please let me know if you receive apples and find something different.

Swiss Chard Taco Wraps with Cumin-Lime Sauce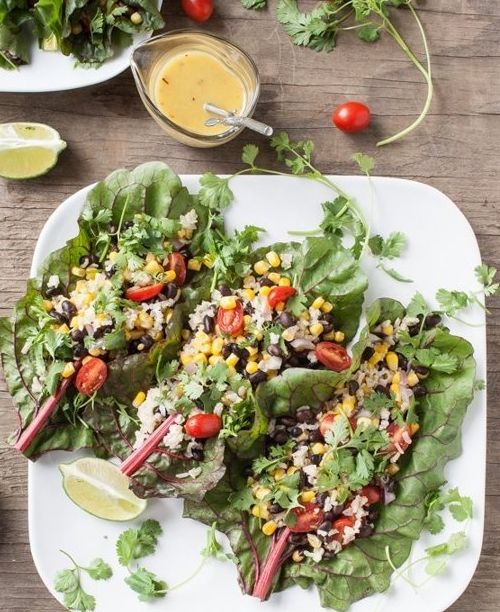 (I like the idea of this Taco wrap, but I realize a lot of the ingredients aren't in season. Try using leeks instead of scallions for a soft onion flavor. Try subbing in carrots of the bell pepper for a sweet flavor. Any tomato will do! Make this wrap your own.)
For the Cumin-Lime Sauce: Serves 6
3 tablespoons fresh lime juice (from 1 to 2 large limes)
1 teaspoon lime zest
1/4 cup extra virgin olive oil
2 scallions, minced-white and light green parts only
1 teaspoon ground cumin + more if you like the heat
1/8 teaspoon crushed red pepper flakes
1 tablespoon honey
1/2 teaspoon fine grain sea salt
For the wraps:
1 tablespoon olive oil
1 (15-ounce) can black beans, rinsed and drained
2 cups fresh or frozen corn kernels
2 cup cherry tomatoes, sliced in half
1 small red onion, diced
1 small bell pepper, diced
3 cups cooked brown rice
2 cups fresh cilantro, finely chopped
12 swiss chard leaves, tough stems removed
Optional Extras:
Favorite hot sauce
Diced avocado
Favorite shredded cheese
A few pickled jalapeño peppers
Directions:
Combine all of the ingredients for the dressing in a mason jar and secure it with a lid. Shake vigorously until the dressing is well combined. You can also do this with an immersion blender or food processor. Taste test and adjust seasonings if necessary.
Heat the olive oil in a large skillet over medium heat. Add the black beans, corn, pepper, tomatoes, red onion, and pepper. Cook until just heated through. About 5-8 minutes. Toss in cooked rice and fresh cilantro, and then toss with the dressing. Season with a little salt and stir until well combined.
To assemble the tacos, scoop a healthy portion of the veggie mixture into each chard leaf and either wrap like a burrito or hold like a corn tortilla. Add a few pickled jalapeños, avocado, shredded cheese and a small dash of hot sauce, if desired.
(Recipe and photograph from The Kitchn)
Check out these Mediterranean Millet Salad Wraps from Nutrition Stripped
Warm Sweet Potato and Beet Spinach Salad
(I made this recipe up so there are no pictures for it. It's a sweet and satisfying salad filled with super foods, fiber and good feelings for your stomach. I also added in some black beans for substance.)
Ingredients: Serves 2
2 Sweet Potatoes, chopped into bite size pieces
1 bunch red beets, destemmed and chopped into bite size pieces
1 bunch spinach, thick stem removed and chopped
Dressing:
2 tablespoons lime or lemon juice
1 tablespoon maple syrup (or agave)
1 tablespoon olive oil
3 tablespoons freshly chopped cilantro
Optional extras:
Raw Pumpkin Seeds
Hemp Crumble (see this recipe here)
High quality organic chicken, chopped
Toasted Walnuts
Directions:
Roast or pan cook sweet potatoes and beets. Put hot mixture over a bed of spinach. This will cause the spinach to wilt. Mix all dressing ingredients together and pour over top.
Slow Cooker Sweet Potato and Lentil Soup


(Come home to dinner waiting for you…ahhhh…glorious, warm and very healthy. Consider substituting fennel for celery.)
Ingredients:
1 large sweet potato, peeled and diced
3 medium carrots, cut into 1/2-inch pieces
3 stalks celery, cut into 1/2-inch pieces
2 leeks, halved lengthwise and cut into 1/2-inch pieces (white and light green parts only)
3/4 cup dried yellow or red lentils
1 4 -inch piece ginger, peeled and finely grated
1 teaspoon curry powder
Kosher salt
1 tablespoon unsalted butter
2 cloves garlic, thinly sliced
Juice of 1/2 lemon, plus lemon wedges for serving (optional)
1/2 cup chopped fresh cilantro
Directions:
Combine the sweet potato, carrots, celery, leeks, lentils, ginger, 3/4 teaspoon curry powder and 1 teaspoon salt in a 4-to-6-quart slow cooker. Add 6 cups water and stir, then cover and cook on low, undisturbed, 8 hours.
Stir the soup vigorously with a whisk to make a rough puree. Thin with hot water, if desired.
Melt the butter in a small skillet over medium-high heat. Add the garlic and the remaining 1/4 teaspoon curry powder and cook until the curry powder is slightly toasted, about 1 minute. Stir the curry mixture into the soup and add the lemon juice, cilantro, and salt to taste. Serve with lemon wedges.
(Recipe and photography from The Food Network)
Juice Feast includes:
ROMAINE LETTUCE
CARROTS x2
LACINATO KALE
BUNCHED SPINACH
CILANTRO
RED BEETS
SATSUMA MANDERINES from GLEN ANNIE ORGANICS
FENNEL
GREEN CURLY KALE
GRANNY SMITH APPLES from CUYAMA ORCHARD
*LIMES!