The chickens are enjoying this warm weather. We spent the weekend combining some of the newest chickens into the flock. We section them off in the big coop so they can get used to being around the rest of the birds. After a few more weeks, when they are big enough, they will join the group. We also got a shipment of new chickies on Friday. 25 new chickletts joined the farm, although only 20 made it through the flight. I look forward to making our own chickens in the future. I don't like the idea of the little chickens not having a mom. We are starting to get more eggs now and I will notify people on the waiting list as they become available. If you are interested in having fresh, organic eggs in the near future make sure you add yourself to our waiting list.
Cindy's healthy creations is cooking up some delicious Pumpkin Pecan granola for us this week. Its made fresh to order so make sure to grab yours here in our CSA store and support a local Goleta business. I love sprinkling it over Greek yogurt!!
CSA Contains:
BUNCHED ARUGULA (or you might have received lacinato kale)
CARROTS
ITALIAN PARSLEY
SUGAR SNAP PEAS
BUNCHED SPINACH
RADISHES
RED BEETS
ROMAINE LETTUCE
LEEKS
SATSUMA MANDERINES from GLEN ANNIE ORGANICS
BIG BOX ADD: CARROT, RED LEAF LETTUCE, FENNEL, GREEN KALE, SATSUMA MANDERINES
FRUIT EXPANSION CONTAINS: Algerian Tangerines from Vincent Farms
Warm Arugula Salad with Quinoa & Goat Cheese


(There are lots of additions you could make to this salad. It would be delicious with roasted beets, chopped nuts or cranberries, or topped with some grilled fish or chicken for added protein. Or enjoy it as is for a light, healthy lunch or dinner!)
Ingredients: Serves 2
1/2 cup quinoa
1 cup water
3 cups arugula
1 oz goat cheese, crumbled
1/2 of a lemon, juiced
Salt & pepper to taste
Directions:
Bring the quinoa and water to a boil in a small sauce pan. Cover and reduce to low. Let simmer for 10 minutes, or until all the water has been absorbed and the quinoa is fluffy. Keep covered for another 3 minutes, then fluff with a fork and transfer to a mixing bowl.
Add the arugula to the bowl with the hot quinoa and stir until the greens have wilted a bit. Squeeze the lemon juice over the salad and mix together. Season with salt and pepper to taste. Transfer the salads to two bowls and top with crumbled goat cheese bits. Serve immediately.
(Recipe and photo from Good Life Eats)
Lentils with Cannellini Beans and Garlicky Leeks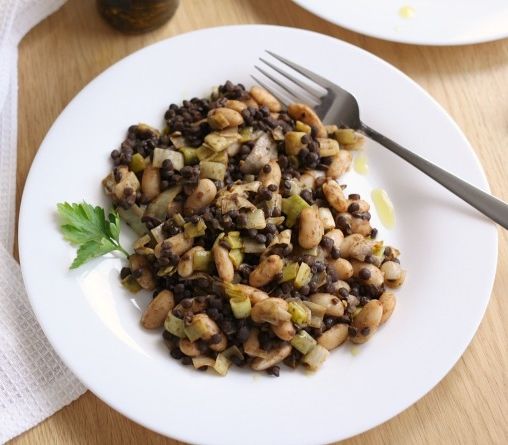 Ingredients: Serves 2
1 tbsp olive oil (or 2tbsp water)
1 large leek, halved lengthwise then sliced
4 cloves garlic, minced
1 cup (approx.) of cannellini beans, drained
1 cup cooked green or brown lentils
1/4 tsp smoked paprika
Salt
Black pepper
1 tbsp extra virgin olive oil, to serve
Fresh parsley, to serve
Directions:
1.Heat the oil in a large frying pan or wok, and add the leek and garlic. Cook over a medium heat for about 3 minutes, until fragrant.
2.Add the cannellini beans, cooked puy lentils, and smoked paprika, and continue to cook for a further 5 minutes, stirring regularly. If the mixture seems to be drying out too much, just add a dash of water.
3.When everything is hot, season to taste, and serve drizzled with extra virgin olive oil, and with fresh parsley if desired.
(Recipe and photo from Amuse Your Bouche)
Try out these Cinnamon Sugar Radish Chips mixed in with greek yogurt and a spoonful of honey! Crazy, maybe. But even the kids will dig this one!
Lemony Lentil and Chickpea Salad with Radish and Herbs


(A fresh and filling bean salad flavored with lemon and fresh mint and dill. Use steamed lentils and canned chickpeas for a meal ready in under 20 minutes. This salad keeps well for a few days in the fridge and packs great for lunch!)
Ingredients: Serves 4-6
Lentils (cook your own, using the ingredients below, or use one 17-ounce package of steamed French lentils instead)
2 cups dried black beluga lentils or French green lentils
2 large garlic cloves, halved lengthwise
2 tablespoons olive oil
Lemon dressing
1/4 cup fresh lemon juice (about 2 medium lemons' worth)
2 tablespoons olive oil
1 teaspoon Dijon mustard
1 teaspoon honey or agave nectar
1 clove garlic, pressed or minced
1/4 teaspoon fine-grain sea salt
Freshly ground black pepper, to taste
Salad
1 (14 ounce) can cooked chickpeas, rinsed and drained
1 big bunch of radishes, sliced thin and roughly chopped
1/4 cup packed fresh, leafy herbs, chopped (combination of mint and dill recommended)
Optional garnishes: sliced avocado, crumbled feta or goat cheese, handful of fresh leafy greens
Directions:
To cook the lentils: Pick over the lentils to remove any bits of debris. Rinse the lentils under running water in a mesh colander. In a medium pot, combine the lentils, halved garlic cloves, olive oil and 4 cups water. Bring the water to a boil, then reduce heat to a gentle simmer and cook until the lentils are cooked through and tender, which will take somewhere between 20 to 35 minutes. Drain the lentils and discard the garlic cloves.
To make the dressing: Whisk together the ingredients in a small bowl. If you're using pre-steamed lentils instead of cooking your own, add an extra clove of minced garlic and an extra tablespoon of olive oil.
In a large serving bowl, combine the lentils, chickpeas, chopped radishes and herbs. Drizzle in the dressing and toss to combine. Serve with avocado, crumbled cheese or fresh greens if you'd like.
(Recipe and photo from Cookie and Kate)
Raw Citrus Beet Salad


(Fresh beets have never tasted so good. This vibrant fresh beet salad will even have non-beet lovers asking for more. This is a gorgeous bright super easy to make super food side dish.)
Ingredients: Serves 4
3 medium to large beets, peeled and trimmed*
1 Valencia orange with zest
1 lime with zest
2 tablespoons olive oil
salt to taste
1/2 cup chives, minced
Directions:
Shred beets and add to bowl. Add zest and juice from entire orange. Add zest and juice from lime to taste (this amount is subjective). Add olive oil and toss to combine. Add salt to taste and toss to combine. Add chives just before serving.
(Recipe and photo from Self Proclaimed Foodie)
Juice Feast Contains: *with lemons
CARROTS x2
ITALIAN PARSLEY/MINT
BABY SPINACH
RED BEETS
ROMAINE LETTUCE
FENNEL
GREEN KALE
CELERY
DANDELION
LACINATO KALE