You might walk into the grocery store filled with tomatoes, zucchini every other vegetable stocked to the brim. But if you look a little closer those vegetables have been transported here with gallons of gasoline and A LOT of packaging, likely, from other countries. It's almost winter time here and the CSA box is showing off it's colors. Green mostly! We had some devastating bugs in the heat of the summer that withered down the variety we have now, but we are so happy and grateful to offer what is IN SEASON and picked within hours of receipt with very little transportation and even less packaging. Eating veggies in season come packed with a lot of the vitamins you need to stay healthy during the cold season.
Our CSA program is offering our yearly holiday gift certificates. 2 week or 1 month packages include bi-weekly loaves of sourdough bread from Deux bakery at no extra charge. Get it delivered straight to their doorstep or let us help coordinate a pickup location that works best. We will also include a plantable holiday card from Green Field Paper Company with a personal note if desired. Don't forget your friends up here in the Valley! We've expanded up to Buellton!
Our egg prices are going up a little bit, just $.50 starting January 1st. As feed has steadily increased over the past few years we've been struggling to keep up. It's hard to compete with the eggs in the store, but we feel our products are far superior. You will never get an egg more than a week old and they will always come from free ranging, grass eating, happy chickens.
CSA Contains:
CARROTS
RED ROMAINE LETTUCE
LACINATO KALE
ITALIAN PARSLEY
RED BEETS
RED CHARD
GARNET YAMS from QUAIL H. FARMS
BUTTERNUT SQUASH
SATSUMA TANGERINES from GLEN ANNIE ORGANICS
FENNEL from SUNRISE ORGANIC FARMS
BIG BOX ADD: CARROTS, BABY SPINACH, RED LEAF LETTUCE, RASPBERRIES or BLACKBERRIES or extra tangerines, RED TOMATOES
FRUIT EXPANSION INCLUDES: SATSUMA TANGERINES from GLEN ANNIE ORGANICS and RASPBERRIES or BLACKBERRIES

If you are struggling to get through your veggies at the end of the week, consider a warm, easily digestable, highly nutritious soup! Carmalize 2 onions (maybe 20 mins, this gives the soup depth in flavor), add in hardy vegetables to soften just a bit, add in stock (cook for another 20 mins) and lastly add in greens just enough to wilt down. Blend it all up and serve with lemon juices and Parmesan cheese sprinkled over top. I'm doing this tonight! Tag #somethinggoodorganics with any recipes you may come up with from our CSA boxes. WE LOVE to see what you are doing.
Chili Chicken Kale Salad with Cinnamon Dijon Vinaigrette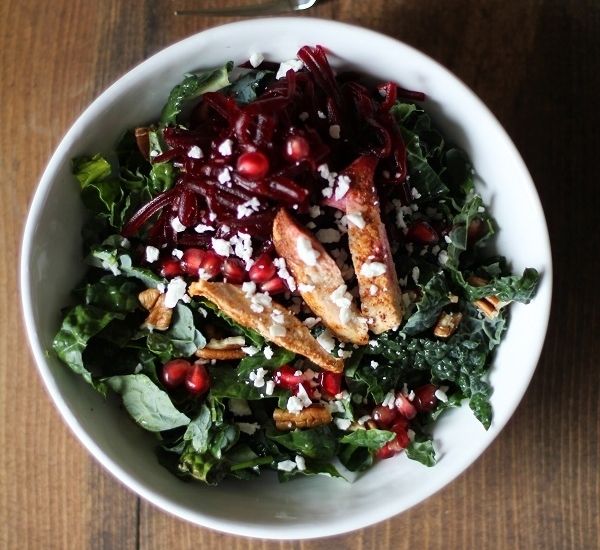 Ingredients: Serves 2
For the Chili Chicken:
2 tablespoons grapeseed or olive oil
1 large boneless, skinless chicken breast
2 teaspoons chili powder
Salt and pepper
For the salad:
1 head lacinato (dino) kale, leaves chopped
1 cup raw or cooked shredded beets
1/4 cup pomegranate seeds
1/4 cup raw pecans, chopped
1/3 cup goat chevre
Cinnamon Dijon Balsamic Vinaigrette:
1/4 cup olive oil
1/4 cup balsamic
1/4 teaspoon cinnamon
1 teaspoon pure maple syrup
1 tablespoon Dijon mustard
Pinch salt
(Find the full recipe and directions here at The Roasted Root)
Butternut Squash and Sweet Potato Soup


Ingredients: Yields 8 cups
1 medium butternut squash, peeled and diced (about 5 cups)
1 large sweet potato, peeled and diced (about 3 cups)
2 carrots, peeled and chopped, (about 3/4 cup)
1 small yellow onion
2 tablespoons olive oil
4 cups vegetable broth
1/4 cup full fat coconut milk
1/4 teaspoon ground nutmeg
1/4 teaspoon ground ginger
1/4 teaspoon curry powder
1/2 teaspoon garlic powder
1/4 teaspoon salt
(Full recipe and directions here at Making Thyme for Health)
Apple-Walnut Rainbow Chard Salad


Ingredients:
Dressing:
1/2 tablespoon honey
2 tablespoons apple cider vinegar
3 tablespoons olive oil
1/4 teaspoon salt
1/8 teaspoon black pepper
Salad:
4 cups shredded Swiss chard
2 medium apples, washed, cored, and thinly sliced
1 large stalk celery, thinly sliced (fennel would work GREAT here!)
1/2 small onion, thinly sliced (or 4 scallions, thinly sliced)
1/2 cup toasted walnuts, coarsely chopped
(Find the full recipe and directions here at Blog Lovin'- An Edible Mosaic)
Seared Salmon with Oranges and Fennel


Ingredients:
2 navel oranges, peeled, and segmented, plus 2 tablespoons fresh orange juice
1 small fennel bulb (stalks removed), halved lengthwise, cored, and thinly sliced crosswise, fronds reserved for garnish (optional)
1/4 cup pitted green olives, halved
2 tablespoons fresh lemon juice
2 teaspoons olive oil
Coarse salt and ground pepper
4 skinless salmon fillets (6 ounces each)
(Full recipe and details here at Martha Stewart)
JUICE FEAST INCLUDES:
CARROTS
RED ROMAINE LETTUCE
LACINATO KALE
ITALIAN PARSLEY
RED BEETS
RED CHARD
GARNET YAMS from QUAIL H. FARMS
BABY SPINACH
SATSUMA TANGERINES from GLEN ANNIE ORGANICS
FENNEL from SUNRISE ORGANIC FARMS