If there is anything you need in addition to your CSA box that you do not see in the store please let me know. We'd be happy to accommodate where possible to make your holiday shopping a little easier. Don't forget to order all your dinner rolls and delicious breads from Deux Bakery. We will include them with your share on Wednesday.
We are going to donate a bunch of produce to the Organic Soup Kitchen. They serve plant-based foods for the Santa Barbara community in need, including low-income seniors, cancer patients, veterans, & more. Help us give more by making a $25 donation. We will match that to bring them everything they need to feed our community for the holidays and beyond.
Happiest Thanksgiving from our farm to your table!!! We are super thankful for our community and the support that we receive from you year round.
CSA Contains:
BUTTERNUT SQUASH
CARROTS
CELERY
GREEN BEANS
RED BEETS
LACINATO KALE
ROMAINE LETTUCE
YELLOW ONIONS
RED BELL PEPPERS
PERSIMMONS
BIG BOX ADD: CARROTS, RED LEAF LETTUCE, CUCUMBERS, GARNET YAMS from QUAIL H. FARMS, GREEN ZUCCHINI
FRUIT EXPANSION: FUJI APPLES from CUYAMA ORCHARDS
We've raised turkeys all year and slaughtered a few this weekend. We will certainly enjoy them, but most turkeys aren't raised with such care. On that note, here are a few Thanksgiving recipes that are meatless.
Stuffed Butternut Squash with Tempeh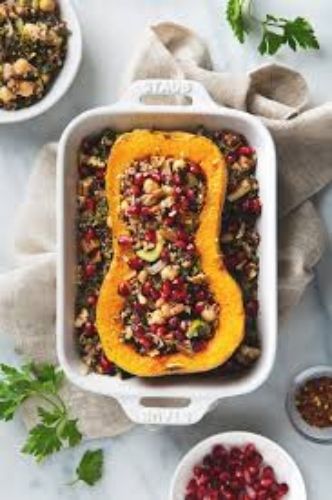 Ingredients:
¼ cup uncooked wild rice
¼ cup uncooked brown basmati rice
11/2 cups water or vegetable stock
Pinch of sea salt
1 large butternut squash
2 tablespoons plus ½ teaspoon extra virgin olive oil
2 shallots, chopped
3 garlic cloves, minced
1 celery stalk, finely chopped
8 ounces tempeh
2 tablespoons lemon juice
2 tablespoons maple syrup
Pinch of red pepper flakes
2 tablespoons chopped fresh flat-leaf parsley
Seeds from ½ pomegranate
(Find the full recipe and directions here at Pickles n Honey
Roasted Beet and Kale Salad with Maple Candied Walnuts


Ingredients:
1.5 lb. beets, peeled and quartered (or cut into bite sized pieces if you're using large beets)
1 teaspoon extra virgin olive oil
1 cup walnut halves
3 tablespoons pure maple syrup
¼ teaspoon sea salt
⅛ teaspoon fresh cracked pepper
4 packed cups of curly kale, washed and torn into bite sized pieces
Optional: ¼ cup goat or Boursin cheese (a diced avocado makes a great vegan alternative to creamy cheeses in salads!)
FOR THE DRESSING:
3 tablespoons apple cider vinegar
2 tablespoons honey
1 teaspoons balsamic vinegar
½ teaspoon dijon mustard
1 garlic clove grated on a Microplane or very finely minced
A pinch of sea salt
¼ cup extra virgin olive oil
(Find the full recipe and directions here at The Endless Meal)
Green Beans Gremolata


Ingredients:
2 lb. French green beans (haricots verts) or regular green beans
⅓ c. finely chopped fresh flat-leaf parsley leaves
⅓ c. freshly grated Parmesan cheese
¼ c. toasted pine nuts
2 tbsp. grated lemon peel
4 tsp. finely chopped garlic
¼ c. olive oil
Kosher salt
black pepper
(Find the full recipe, substitutions, tips and directions here at Good Housekeeping)
Vegan Persimmon Butternut Squash Soup


Ingredients:
3 medium Fuyu persimmons
2 cups chopped Butternut Squash
8 oz of vegetable broth
1 cup coconut milk
1 tbsp maple syrup
1 tbsp roasted nut butter
1 tbsp olive oil or coconut oil
1/4 tsp ground cloves or 3 whole cloves
1/2 tsp sea salt
1/2 tsp smoked paprika
1/8 tsp ground ginger or cinnamon if you prefer more sweet than spice
dash of pepper
Optional – toasted nuts and chili sauce for topping
(Find the full recipe and directions here at Cotter Crunch)
Juice Box Includes:
CUCUMBERS
CARROTS
CELERY
GREEN CABBAGE
RED BEETS
LACINATO KALE
ROMAINE LETTUCE
RED BELL PEPPERS
CILANTRO
GREEN KALE