I just wanted to remind everyone how important it is that we get our CSA boxes back to the farm. Please remember to either bring your box back to it's original pickup point, or leave it outside for us to collect if you have home delivery. These boxes can not be recycled and their home is back here on the farm!
UPDATE 8/13 – MIXED CHERRIES IN ALL BOXES AND STRAWBERRIES JUST IN THE LARGE BOXES. Strawberries are almost done folks.
August 14th CSA contains:
HEIRLOOM TOMATOES
RED BUTTER LETTUCE
ONION/GARLIC/SERRANO PEPPER*
CARROTS
ORANGE KABOCHA SQUASH
CANARY MELON
GREEN KALE
CUCUMBERS
BARTLETT PEARS from VINCENT FARMS
MIXED CHERRY TOMATOES
+EXTRA: LEMONS from GIVENS ORCHARD AND BASIL
BIG BOX ADD: STRAWBERRIES, CANARY MELON, ZUCCHINI, SALAD MIX, BLUE LAKE GREEN BEANS
* These peppers are spicy! Please enjoy the Serrano peppers responsibly.

Here's a cool before and after picture from the farm. Butternut all over the place!!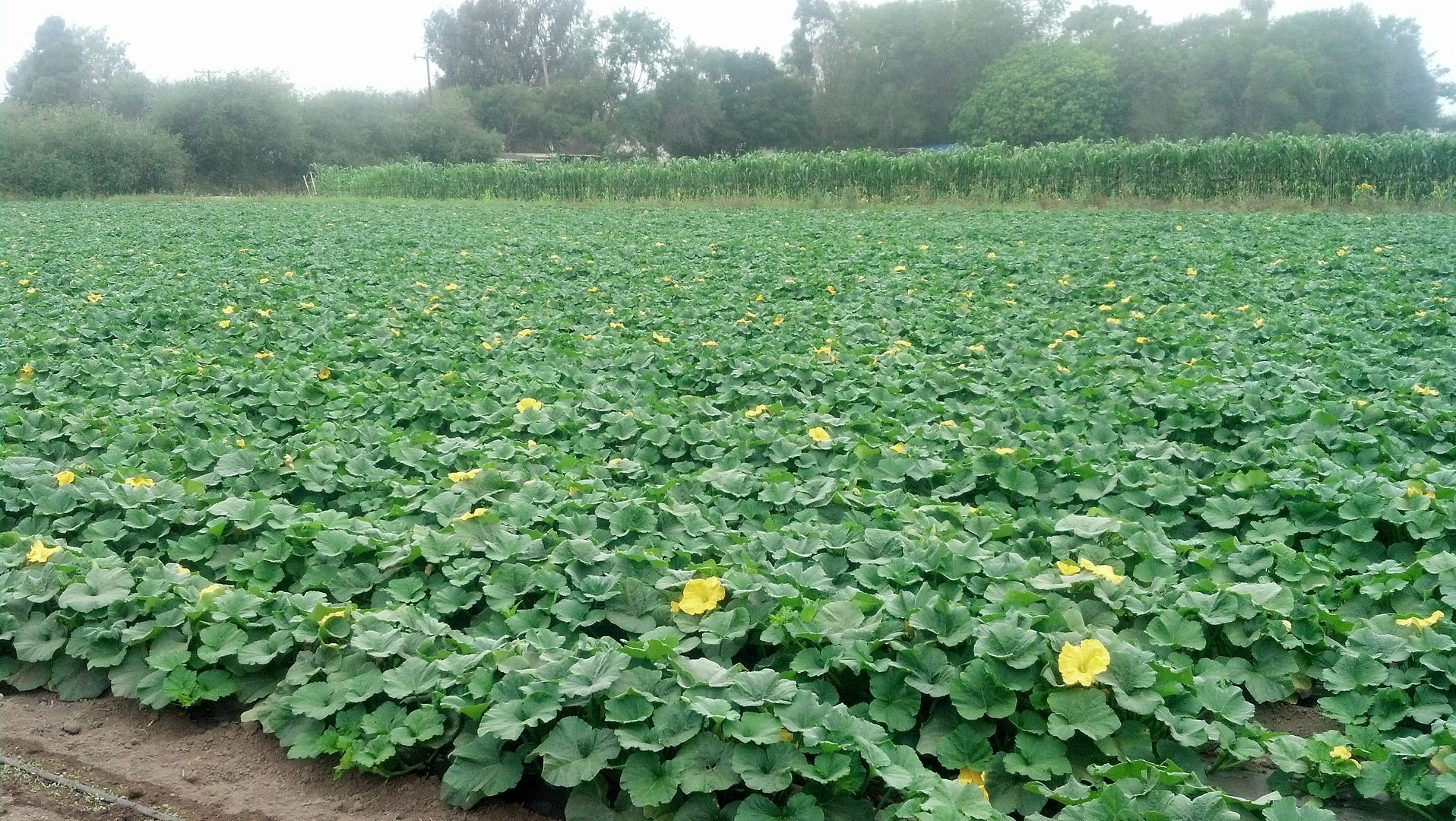 A few months later butternut lay in the sun to cure.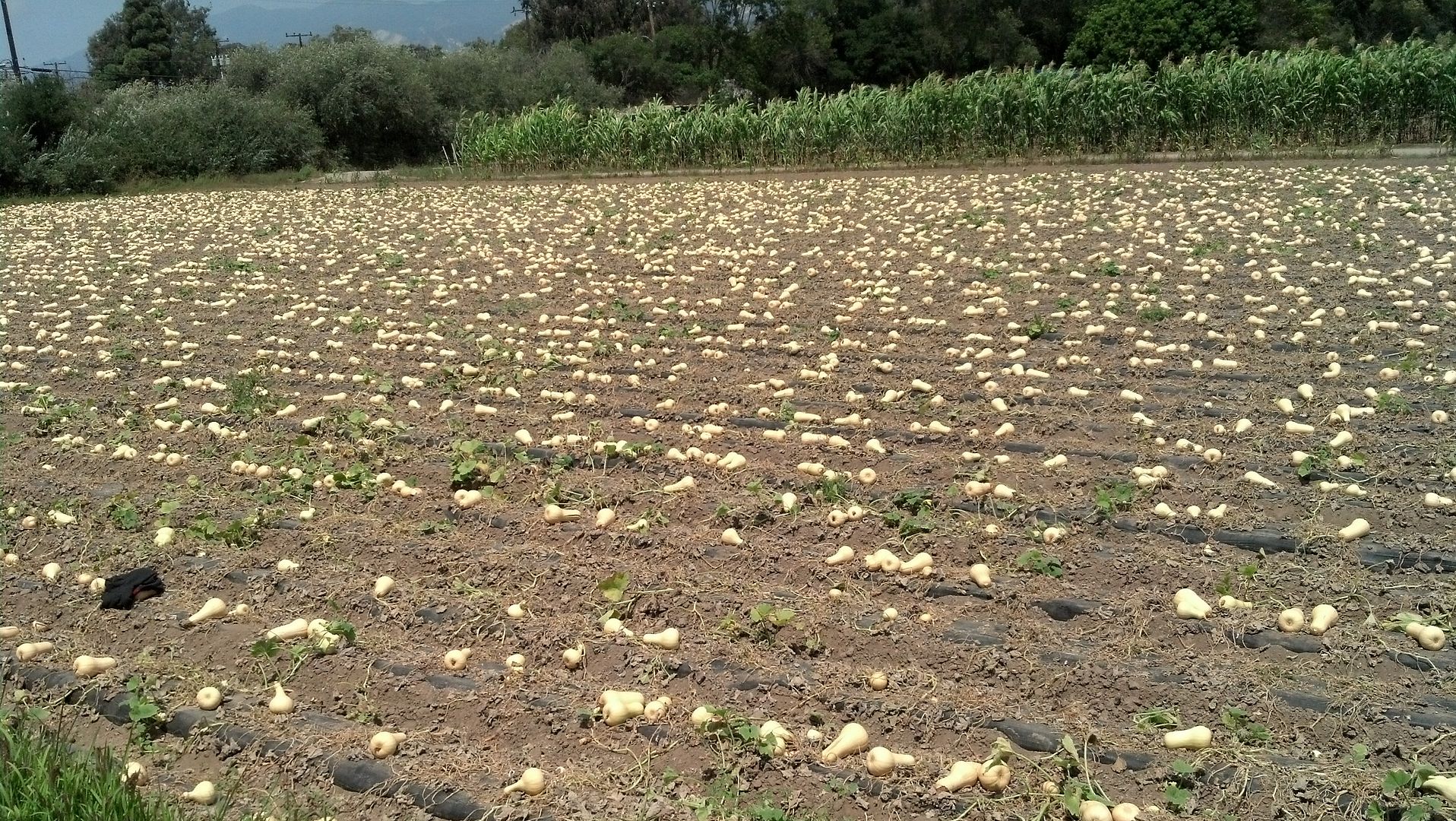 The lemons in your box this week come from Givens Orchard. Their lemons are dry farmed for the most part and rely heavily on rain. Because we've had so little rain this year, they are on the smaller side, but are great for so many things. I just wanted to remind you that if you put slices of lemon in your water in the morning, this acidic fruit actually turns your body alkaline helping to restore balance to the body's pH. Your liver loves lemons and it will also help cleanse your bowels. If you already have a lemon tree in your back yard, lucky you, but for the rest of us make sure to enjoy lemons regularly.
Your pears come from Vincent Farms, a local Goleta Farm. They only have a handful of trees so we were lucky to score these for the CSA box. They come at different stages of ripeness so keep an eye on them and eat them soon. I found that they ripen pretty quickly. Check out what Dani Rhoades, our local nutritionist has to say about them:
Pears are delicious fruits with a small season like melons, so we must enjoy them while we can! They are similar to apples nutritionally. As some fruits are high in sugars, pears are not, they are considered low-glycemic, meaning they do not cause dramatic spikes in blood sugar. They are high in water soluble nutrients since they are quite juicy! Pectin is a water-soluble type of fiber that is found in apples, praised for it's ability to help the gut and prevent constipation. But pears are actually higher in pectin even than apples! Their high levels of pectin also make them great for lowering cholesterol levels in the blood. Pears are great too because they are considered 'hypoallergenic' meaning unlikely to cause any adverse reactions. Since allergies are so high these days, especially amongst children pears are great fruit to enjoy freely 🙂 They are also wonderful for a first fruit for babies! Pears are generally high in pesticides so be sure you always get organic!
By Dani Rhoades, N.C. www.wholesomepractices.com
Sources: Bauman College Lectures by Ed Bauman, Encyclopedia of Healing Foods by Micheal Murray
Hearty Kale Salad with Kabocha Squash, Pomegranate Seeds, and Toasted Hazelnuts


(I hope you don't mind heating up your oven for this one! Kabocha squash is on of my all time favorite hard squashes and it's paired with some power packed foods in this salad.)
Ingredients:
1 Large bunch curly kale, stems removed and discarded, torn into bite sized pieces, washed, and spun dry
1 Small kabocha squash, halved and seeded and cut into 1.5 inch pieces (You don't need to peel this one!)
4tablespoons Olive oil, divided into 1 tbsp and 3 tbsp
3/4 cup Pomegranate seeds
1/2 cup Skinned hazelnuts
1 teaspoon Dijon mustard
2 tablespoons Lemon juice
1 teaspoon Maple syrup
1/4 teaspoon Sea salt
Black pepper to taste
Directions:
1. Preheat the oven to 375 degrees. Toss the squash in 1 tbsp olive oil and season with salt and pepper on a baking sheet. Roast for 30-35 minutes, or until golden, stopping halfway through to stir.
2. While squash is roasting, place the hazelnuts in a shallow baking dish (or a pie pan) and toast in the oven for 4-6 minutes, or until they are golden. Check them frequently and remove them the moment they start to get brown. Once they've cooled a little, chop them roughly and set aside.
3. Whisk together the remaining olive oil, mustard, lemon, maple syrup, sea salt, and pepper. Pour 3 tbsp over the kale to begin with, and "massage" the kale well with your hands, till it's coated in the dressing and taking on a soft, almost wilted texture. Add the remaining dressing as needed and according to tastes. Add pomegranate seeds and hazelnuts.
4. Once the squash has finished cooking and has cooled for 10-15 minutes, add it to the salad and serve.
Recipe from food52.com
Heirloom Tomato Salad


(This recipe highlights that a recipe can be super simple if you have the best ingredients. Our heirloom tomatoes are special in that they are grown solely for the farmers markets and CSA and picked at their peak. They are a softer variety of tomato, low in acid and super sweet. Enjoy this simple salad with avocado, cucumbers and red onion too!)
Ingredients:
2 pounds heirloom tomatoes, cored—large ones sliced 1/4 inch thick, small ones halved
Salt
Extra-virgin olive oil, for drizzling
2 tablespoons minced chives
2 tablespoons chopped basil
1 tablespoon freshly grated Parmigiano-Reggiano cheese
Directions:
1. Arrange the tomatoes on a platter. Sprinkle with salt and drizzle with oil. Scatter the chives, basil and cheese on top.
Recipe from foodandwine.com
August 14th JUICE FEAST contains:
BEETS (no tops)
LEMONS from GIVENS ORCHARD
CARROTS
KALE
SPINACH
CUCUMBERS
APPLES from FAIRHILL FARMS
ROMAINE LETTUCE
PARSLEY
BARTLETT PEARS from VINCENT FARMS
Pure Vitality
Beet
Cucumber
Carrot
Lemon
Pear (pears will be more successfully juiced before they are too ripe!)
The pears are considered an immune booster & and great source of cool energy. Most of the sugars from pear are from levulose, a fruit sugar that is more tolerated by diabetics. Paired with Beet and Cucumber, your heart and skin will be reaping the benefits the most. The Carrot will give your peepers their fix as well. You'll find plenty of Beta-Carotene, Vitamin A, B, C, K, Potassium, Folate, Iron, and enough antioxidants for a week. Bye-bye free radicals.
Recipe from The Raw Juicery
Greens n' Ginger
Kale
Spinach
Celery
Cucumber
Lemon
Romaine
Parsley
Apple
Ginger
I borrowed this recipe from the Juice Ranch. There's no better way to get a bunch of kale down in the morning than with this delicious juice. It will get you started quicker than a regular ol' cup of joe! When I'm not juicing it up at home I stop by the Juice Ranch for a treat. Ever try the Island Bunny? Carrots and coconut = heaven!