Hi Veggie Lovers. We had a little mishap with our spinach last week which resulted in some mushy leaves. In order to compensate our bi-weekly members, we will be adding an extra item in the box next week, September 4th.
School is starting this week for a lot of youngsters. We are beginning to drop off at Mountain View (Aug 28) and Cold Springs Elementary School (Sept 13). If you have kids attending one of these schools and would like to pick up your CSA box there please let me know. Let your friends know too. We want to reach out to our whole community and make sure our kids are getting the best nutrition possible and setting the bar for good food.
If you want any extra carrots, heirlooms, arugula or romaine lettuce added to your box please visit our store here.
AUGUST 28th CSA contains:
DELICATA SQUASH
HEIRLOOM TOMATOES
BUNCHED ARUGULA
CARROTS
WATERMELON
CUCUMBERS
ROMAINE LETTUCE
BROCCOLI
PARSLEY
CIPPOLINI ONIONS (incredible for roasting or caramelizing)
BIG BOX ADD: SALADETTE TOMATOES, GREEN, RED and YELLOW BELL PEPPERS, CARROTS, STRAWBERRIES
**We ran out of watermelons that were small enough to fit in the box so some people got an ambrosia melon instead.
I bet you didn't know we house San Marcos Bees on our farm. Our farm reaps the benefits of their hard work, and I use their honey whenever I can. It has huge medicinal benefits, it is insanely delicious and they can be found at all your local farmers markets. Check out this picture of their hives I took over the weekend.

August is almost over, but summertime produce on the farm still continues. Enjoy this watermelon with a loved one. It's one of my all time favorite melons. Whether you eat it whole or run it through your juicer – you are in for a real treat. Check out what Dani Rhoades, our local nutritionist has to say about them:
Watermelons are one of summer's greatest joys, are they not?! Very high in water content, almost 95% they supply hydration during these warm, heating days. These fruits are actually native to dessert places where the food supply must be cleansing. Naturally with all the water they contain they are low in calories. Only 48 calories in 1 cup! But be careful, this fruit has a high GI, glycemic index which is an indicator of how quickly it will raise blood sugar. Luckily though, it has a low GL, glycemic load which is a newer and more thorough way at looking into how carbohydrates affect blood sugar. The GL takes into account the GI of a food but also how much sugar is in each serving for that particular food. So because each serving of watermelon contains so much water it has a low GL. Watermelon's GI is 72, with 100 being the highest while it's GL is only 8, with 50 being the highest. All in all, don't sit down and eat your whole watermelon in one sitting or you'll surely send your blood sugar for a whirl! But enjoy this deliciously sweet fruit in moderation. Who recalls what antioxidant red coloring demonstrates??? Lycopene! Yes, same as tomatoes! Your body will also reap the benefits of another antioxidant found in watermelon, beta-carotene! Remember that beta-carotene is responsible for the orange coloring so these two together give watermelon it's reddish-pink hue. Antioxidants help protect against skin damage making watermelon, yet again a perfect summer food! Watermelon's also supply an excellent boost of Vitamin C, containing almost 20% of the Vitamin C that you need for a day! This makes them a wonderful addition for juicing. The high content of water will add a dramatic increase of water soluble nutrients. Vitamin C being one of them but also Vitamin B5, known as pantothenic acid which is great for boosting energy! It's also an important nutrient for your adrenals. Slice up and enjoy while these warm, sunny days are still here!
By Dani Rhoades, N.C., Nutrition Consultant, www.wholesomepractices.com
Sources: Foundations of Nutrition by Ed Bauman, Encyclopedia of Healing Foods by Michael Murray
Chipotle Glazed Squash with Cilantro Lime Rice and Refried Black Beans


(You will notice my suggested recipes are all about eating more plants and fewer animal products and processed foods. This ultimately creates a positive impact on our health and the environment.)
Instructions for Squash: Serves 4
•3 delicata squash, sliced in half lengthwise, seeds scooped out, then sliced into 1/2 inch arcs.
•Additional ingredients: olive oil, canned chipotle chiles in adobo sauce, honey and garlic.
Directions:
Heat the oven to 300 degrees F. Grease a large rimmed baking sheet or roasting pan with oil. Lay the squash out evenly so none overlap. Combine the ¼ cup oil, 1 chipotle chile, the adobo sauce, garlic, honey, and some salt and pepper in a small bowl. (A mortar and pestle is ideal here.) Taste and add another chile if you like. Brush the glaze evenly over the squash and roast for 45 to 60 minutes, turning once or twice and basting with any pan juices. When the squash is tender and deeply colored, remove from oven.
Cilantro Lime Rice: Just mix together the following ingredients.
•1 1/2 cups brown basmati rice, cooked (you'll need 3 cups of water)
•1 small lime, zest removed and juiced
•1 small lemon, juiced
•loose 1/2 cup fresh cilantro, chopped
•1 tablespoon butter (optional but highly recommended)
•salt, to taste
Refried Black Beans:
•drizzle of olive oil
•2 cloves garlic, minced
•1/2 white onion, chopped
•1/2 teaspoon cumin
•2 cans cooked black beans, with juices
•1/3 cup roasted red pepper, chopped (I used jarred)
•salt and pepper, to taste
Instructions for black beans:
1.In a 10″ skillet over medium heat, sauté the onion and garlic in olive oil until fragrant. Add the cumin and stir for a minute.
2.Pour in one can of black beans with all of its juices, then drain the other can, reserving the juices for later if necessary. Pour the remaining beans into the pan.
3.Turn up the heat to medium-high and simmer the beans for 7 to 10 minutes. Use a fork or the back of a wooden spoon to mash up about 1/3 of the beans. Add more of the juice if the mixture seems too dry. Add the roasted red peppers, stir, and season with salt and pepper to taste.
4.Serve the beans on a bed of cilantro lime rice. Top with chipotle-glazed squash. Garnish with a couple of lime wedges.
(Recipe from: cookieandkate.com)
Sure the delicata squash is good, but you can use those seeds too!


Preheat the oven to 275 degrees (F). Oil a cookie sheet or baking dish with a thin layer of oil or line with parchment paper. Rinse seeds with water to remove the pulp. Pat dry with a paper towel before spreading out on the pan. Drizzle with a small amount of oil and stir to coat evenly. Bake for 15 minutes or so until golden brown. Remove from oven and cool. Generously sprinkle with Himalayan salt.
Heirloom Tomato & Basil Mascarpone Tart


(I attended and spoke at a cooking class at Whole Foods over the weekend. This was my favorite recipe. It really accents the tomatoes and you can make personal sized tarts using gluten-free muffins or toast.)
Ingredients:
3 medium-small heirlooms sliced very thin
2 oz mascarpone chees
1 Tbsp thinly slivered basil (any herb will do as a substitution of flavor)
pinch of fresh ground salt & black pepper
1 tart shell or sub English muffins or any kind of cracker
Directions:
Stir basil into mascarpone & spread at room temperature onto tart shell. Arrange tomatoes on top of cheese (can overlap if very thin); sprinkle with salt and pepper. Cut into wedges and serve.
(Recipe adapted from www.food52.com)
Broccoli and Fregola Salad with Cippolini Onions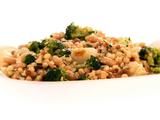 Ingredients for Salad:
1 pound fregola or orzo pasta, or Israeli couscous
1/4 cup extra-virgin olive oil
2 cups (about 10 ounces) cipollini onions, peeled and halved, or quartered if large
Kosher salt and freshly ground black pepper
3 cloves garlic, minced
1 pound broccoli, cut into small florets
1/3 cup water
1 (15-ounce) can cannellini beans, rinsed and drained
1/2 cup grated Parmesan
Dressing
2 large lemons, zested and juiced
1/2 cup extra-virgin olive oil
2 tablespoons honey
3 1/2 teaspoons kosher salt, divided
1 1/4 teaspoons freshly ground black pepper, divided
1 cup (about 1 ounce) chopped fresh chives
Directions:
For the salad: Bring a large pot of salted water to a boil over high heat. Add the pasta and cook until tender but still firm to the bite, stirring occasionally, about 8 to 10 minutes. Drain and place in a large serving bowl. In a medium saucepan, heat the oil over medium-high heat. Add the onions and season with a pinch of salt and pepper. Cook, stirring occasionally until golden and tender, about 10 minutes. Add the garlic and cook for 30 seconds until aromatic. Add the broccoli and saute for 1 minute. Add the water and scrape up the brown bits that cling to the bottom of the pan with a wooden spoon. Cover the pan and cook until the broccoli is tender, about 4 minutes. Add the beans and cook for 1 minute until warmed through. Transfer the onion mixture to the serving bowl. Add the Parmesan cheese and toss with the fregola.
For the dressing: In a small bowl, combine the lemon zest, lemon juice, olive oil, honey, 1/2 teaspoon salt, and 1/4 teaspoon pepper. Whisk until smooth. Stir in the chives.
Pour the dressing over the fregola and toss well until coated. Season with the remaining 3 teaspoons of salt and 1 teaspoon pepper and serve.
AUGUST 28th JUICE FEAST contains:
CELERY
PARSLEY/MINT
BEETS
ROMAINE
CUCUMBER
WATERMELON
KALE
APPLE
CARROTS
LIMES
Try juicing watermelon, lemon and mint together. It's a great and healthy alternative from the regular dessert routine.
Today I'm juicing 2 flavors:
1) Parsley, Beet, Carrot, Kale, Romaine, Apple, Turmeric and Ginger root
2) Cucumber, Kale, Cilantro, Apple, Ginger, Lime, Celery, Spinach