Veggie Lovers – We are a few weeks into our new software management. It's really easy to manage your own CSA account, so make sure you have logged into your account here. If you have any questions please let me know. It's really important (especially for bi-weekly members) to log in and verify that you are on the schedule for a desired week. You can also update your payment, put your box on hold and change your subscription. We have a great Juice Feast box that you can try out if you want to up your veggie intake and try out some new awesome recipes (see down below).
August 7th CSA contains:
STRAWBERRIES from GOLETA GROWN
CARROTS
ROMAINE LETTUCE
HEIRLOOM TOMATOES + a little basil as extra
GALIA MELON
BLUE LAKE GREEN BEANS
CUCUMBERS
LEEKS
CROOKNECK SQUASH
HASS AVOCADOS from VINCENT FARMS
BIG BOX ADD: WATERMELON, CARROTS, YELLOW?RED GRAPE TOMATO, CILANTRO, RED CHARD

I wanted to give you a foreshadow of potatoes to come. Mathew Givens and I were walking through the farm and ran across this beautiful field of red potatoes. Generally you wait until the plant dies before you dig them up, but we had to try a few for dinner. They are creamy and delicious and will be in the CSA box soon.

The sun was just going down and the fog was creeping back in.
Just in case you haven't ever had a Galia melon I wanted to tell you a little bit about this superstar. The Galia melon looks like a cantaloupe on the outside and a honeydew on the inside. Its light green, smooth-textured flesh, has a unique sweet flavor. Delicious eaten by itself, or for added flavor, try it with a sprinkle of ginger, salt, or a squeeze of lemon or lime juice. Check out what Dani, our local nutritionist has to say about it!
Finally, melons are in season! These sweet, round fruits are abundant in nutrients and are excellent for digestion! They are one of the most easily digested foods and with all the great fibers they contain, they are wonderful for keeping the bowels moving. Most people don't get nearly enough fiber. Our ancestors used to eat up to 90 grams a day and the average person now only eats between 8-20 grams! Ideal ranges for today are 40-50 grams which should keep you consistently having 1-2 bowel movements a day. Your body will reabsorb toxins the longer they remain in your body so it's optimal that you keep things moving out! Each slice of melon is about a gram of fiber, but don't go too crazy because there is a lot of sugar as well. You want to be careful as you increase your fibers that you do so gradually and slowly. Make sure you increase your water as well! Melons are actually about 90% water! They contain very few calories because of this as well. Melons don't have a very long season so enjoy them while they're here!
By Dani Rhoades, N.C., Nutrition Consultant, www.wholesomepractices.com
Sources: The Encyclopedia of Healing Foods by Michael Murray
Summer Squash and Leek Puree


(This soup is a great way to use those summer squash up. The sweet onion flavor of the leeks paired with the creamy crookneck squash will light up in your mouth with the basil. This is what summer is all about.)
Ingredients: Serves 6
3 Tbs. olive oil
2 leeks, white and light green parts only, cleaned and finely chopped
6 yellow crookneck squash, about 1 1/2 lb. total, thinly sliced
2 garlic cloves, minced
4 cups chicken stock
3 Tbs. finely chopped fresh basil
2 Tbs. finely chopped fresh chives, plus more for garnish
1 cup milk
2 tsp. fresh lemon juice
Salt and freshly ground pepper, to taste
Directions:
In a soup pot over medium heat, warm the olive oil. Add the leeks and sauté until softened, about 5 minutes. Add the squash and sauté until lightly browned, about 5 minutes more. Add the garlic and cook for 1 minute more.
Add the stock and cook, partially covered, until the squash is very tender, about 15 minutes. Remove from the heat. Using an immersion blender or a standing blender, puree the soup until smooth. Stir in the basil, the 2 Tbs. chives, the milk and lemon juice. Season with salt and pepper. Gently reheat the soup over medium-low heat.
Ladle the soup into warmed bowls and garnish with chives. Serve immediately.
(Recipe from: www.williams-sonoma.com)
Heirloom Tomato, Corn and Avocado Salad with Chipotle Dressing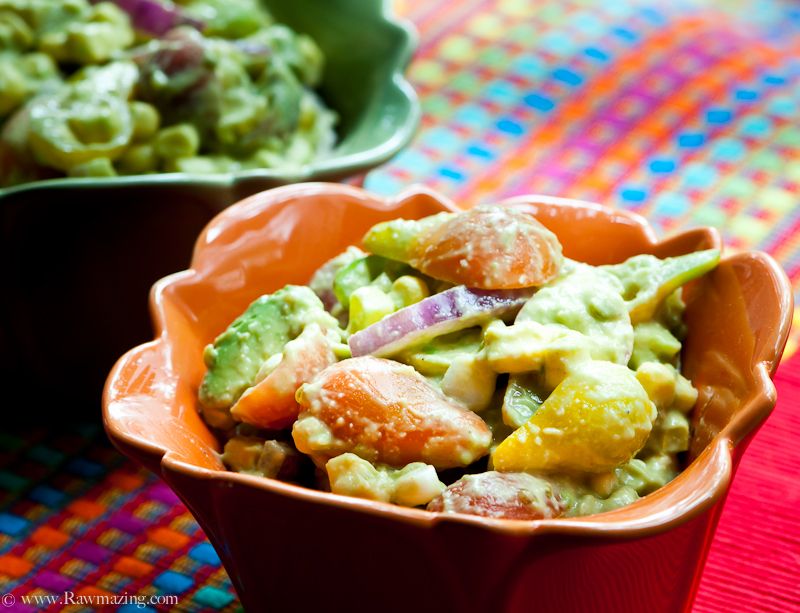 (The really dreamy, creamy part of this salad is the dressing. Nope, you don't need sour cream or mayo to make a delicious creamy dressing. It's made with a few heart healthy cashews. The dressing is jazzed up with some smoked paprika and ground chipotle. A little lime gives it just the right brightness.)
Ingredients: Serves 4-6
3 cups heirloom tomatoes, halved if small, cubed if larger
2 avocados, cubed
4 ears fresh corn, off cob
1/2 purple onion, sliced thin
1 cucumber, sliced into half moons
Directions:
Mix all ingredients together. Pour dressing (recipe follows) over veggies and gently toss to coat. (Use dressing sparingly, to taste)
Dressing:
1/2 cup cashews, soaked at least 6 hours
1/2 cup water
1 tablespoon olive oil
2 tablespoons fresh lime juice
1 clove garlic
3 tablespoons nutritional yeast
1/4 teaspoon ground chipotle
1/4 teaspoon smoked paprika
Himalayan salt and pepper to taste
Combine all ingredients in blender. Blend until smooth.
Recipe adapted from http://www.rawmazing.com/
August 7th JUICE FEAST contains:
CARROTS
CUCUMBERS
CILANTRO
GALA APPLES from FAIRHILL FARMS
GREEN CURLY KALE
ROMAINE LETTUCE
DANDELION GREENS
LEMONS from GOODLAND ORGANICS
PARSLEY
GREEN BELL PEPPERS
Dandelion greens have a laundry list of health benefits. YES! They are quite bitter and I realize that isn't a taste we are all accustomed to. I can't tell you how many people come and purchase these for their turtles and rabbits. It's time to start including them in your diet and juicing is the easiest way to do it. Start with a few leaves and work your way up. Make sure to balance it out with some sweetness and you won't even know they are there. Check out what Dani, our local nutritionist has to say about these glorious greens!
Dandelion greens are one of the best greens for juicing! They are considered a 'bitter' green which means they stimulate bile and get your digestive juices stirring! They increase digestive enzymes in the stomach and help maintain proper acidity for the breakdown of food. They are full of Vitamin A and chlorophyll, two powerful nutrients for our health. They also contain phytoestrogens which are natural sources of estrogen. And because they are such potent liver detoxers they help your body detox extra, bad estrogens as well! Clearly, they are great for hormonal balancing, especially amongst women. And don't worry, start with just a small bit and use apple or lemon to counter the bitter taste and you'll love your juice just as always!
By: Dani Rhoades, NC, Certified Nutrition Consultant, www.wholesomepractices.com
Sources: Foundations of Nutrition by Ed Bauman, Encyclopedia of Healing Foods by Michael Murray
Earth Nectar
Carrot
Apple
Lemon
Ginger
(It's hard to believe something so delightful could be so good for you. The perfect Apple Carrot blend with just a twang of Ginger and Lemon to round it off. A Beta-carotene and Vitamin C goldmine, your skin and eyes will thank you the most. The Ginger makes a great pain and inflammation reliever and the Lemon a great blood purifier and alkalizer.)
Believe
Carrot
Apple
Cilantro
Ginger
Lemon
(This is a seriously easy and quick way to get a quick filling snack in your day and detoxify your body at the same time. Cilantro is a powerful natural cleanser while lemon helps alkalize your body!)
Carrot and Cilantro Juice
5 medium carrots
small handful cilantro
½ green bell pepper
1 lemon
(for an additional immune boosting power try throwing in a garlic clove and drink up!)
Dandelion Cleanse
2 cucumbers
2 sweet apples, chopped
1 lemon
1/2 bunch of dandelion greens
2 romaine hearts
1 large handful of parsley
1/2 bunch of carrots or 1 pear
(The dandelions are loaded with calcium, iron, tons of minerals, and a surprising amount of protein. They are great detoxing greens! I have found them to be really helpful in fighting against sickness. The sweetness of the apple and the tartness of the lemon help to balance out the biterness of the greens. The handful of fresh parsley is another amazing detoxifying ingredient.)