Happiest holidays from all of here at the farm (including the chickens). Please note we are shutting everything down next week. There will be no boxes prepared on December 25th. We will also be suspending deliveries to all schools December 25th & January 1st. Because of the shorter days and colder nights things have really slowed down here on the farm and things are growing a lot slower. It will be nice to give the farm a week off to regenerate.
We are selling gift certificates in 2-12 week increments. The gift card includes a plantable card from Green Field Paper and a $5 gift certificate to our CSA store. Please contact me or check out our website for more details.
Your CSA box this week will include a small homemade gift from us girls here at the farm. It only seemed appropriate to bake some cookies!
CSA for December 18th
SATSUMA TANGERINES from GLEN ANNIE ORGANICS
YELLOW ONIONS
RED TOMATOES & A SPRIG OF BASIL
GREEN CURLY KALE
ITALIAN PARSLEY
CARROTS
BABY SPINACH
RADISH
CELERY
GREEN LEAF LETTUCE
BIG BOX ADD: SALAD MIX, CARROTS, RED BELL PEPPERS, TBD

As the weather turns colder the Satsuma tangerines here in Goleta are getting sweet. Your fruit this week comes from Glen Annie Organics. Check out what Dani, our local nutritionist has to say about these sweet things and all their benefits.
Satsuma Tangerines are part of the family of citrus fruits along with oranges and tangelos. These fruits are all high in flavonoids and Vitamin C. These two nutrients are both classified as anti-oxidants that work synergistically to boost immunity and help against viral infections. They are also critical for adrenal function, your reproductive organs, and the connective tissues of your body! They protect your cells against damage and the juice of the orange specifically has been shown to be quite cancer protective. One specific flavonoid hesperidin is great for lowering cholesterol as well as blood pressure. This flavonoid also reduces inflammation. Who can't benefit from eating these juicy fruits?!
By Dani Rhoades NC, www.wholesomepractices.com
Sources: Encyclopedia of Healing Foods by Michael Murray
Celery Succotash Salad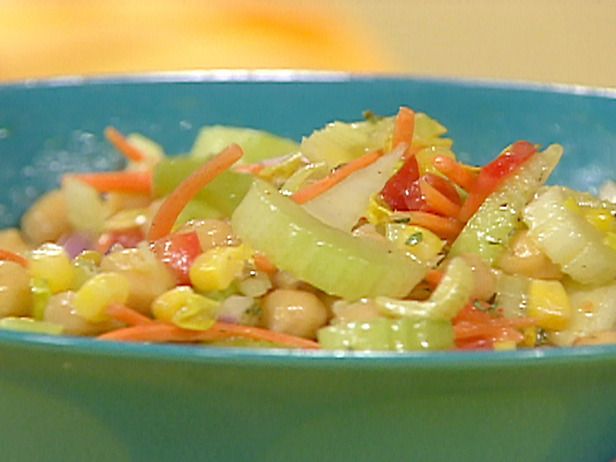 Ingredients
2 tablespoons Dijon mustard
2 tablespoons honey, a healthy drizzle
1/2 lemon, juiced
2 tablespoons red wine vinegar
1/3 cup extra-virgin olive oil
Salt and pepper
1 whole celery heart, thinly sliced
1/2 cup shredded carrots
1 (10-ounce box) frozen corn kernels
1 (15-ounce) can chick peas, drained
1/2 red bell pepper, chopped
1/2 small to medium red onion, chopped
2 tablespoons chopped fresh thyme leaves
Directions:
In a medium bowl, combine the mustard, honey, lemon juice, and vinegar then whisk in extra-virgin olive oil and season the dressing with salt and pepper. Add the celery, carrots, corn, chick peas, peppers, onions, and thyme. Toss to combine the salad and adjust salt and pepper, to taste.
(Recipe from the Food Network)
Roasted Butternut Squash Salad With Tangerine-Rosemary Vinaigrette


Ingredients:
1 1/2 pounds butternut squash, peeled, seeded and cut into 1-inch cubes (about 4 cups)
4 tablespoons extra-virgin olive oil
3 teaspoons roughly chopped fresh rosemary
Salt and freshly ground pepper
4 tangerines
6 cups fresh spinach, loosely packed
1/4 cup dried cranberries
Directions:
Preheat the oven to 400 degrees F.
Toss the squash with 2 tablespoons olive oil on a baking sheet and spread in an even layer. Season with 2 teaspoons rosemary, and salt and pepper. Roast, stirring once halfway through, until the squash is just tender and golden, about 20 minutes. Remove from the oven and cool until just warm, about 15 minutes.
While the squash is roasting, peel 3 tangerines and slice them crosswise into 1/2-inch-thick rounds, removing any seeds. Juice the remaining tangerine and whisk the juice together with the remaining 2 tablespoons olive oil and remaining 1 teaspoon rosemary. Season the dressing with salt and pepper.
Combine the warm squash, the spinach, tangerine slices and cranberries with the dressing and toss gently to coat. Divide among salad plates.
(Recipe from The Food Network)
Roast Beef with Spicy Parsley Tomato Sauce


(If you aren't into beef, try the spicy parsley tomato sauce over roasted veggies or pasta. If you like beef make sure to check out San Julian farm here at our local farmers market on Tuesday or Saturday.)
Ingredients:
Roast Beef:
1 (2 to 2 1/2-pound) sirloin tip or chuck beef roast
3 tablespoons olive oil
4 red tomatoes, cut in 1/2
2 teaspoons herbs de Provence
Kosher salt and freshly ground black pepper
Spicy Parsley Tomato Sauce:
1 1/2 cups fresh flat-leaf parsley
2 garlic cloves
1/2 teaspoons red pepper flakes
3/4 teaspoon kosher salt
3/4 teaspoon freshly ground black pepper
2 tablespoons red wine vinegar
1/2 cup extra-virgin olive oil
Directions:
To make the beef roast, preheat the oven to 375 degrees F.
Season the beef with salt and pepper. Season the tomatoes with salt, pepper, and herbs de Provence.
Place a medium, heavy roasting pan or Dutch oven over high heat. Heat the olive oil. Sear the beef over high heat on all sides. Turn off heat. Place the seasoned tomatoes around the seared beef and place the pan in the oven. Roast until a meat thermometer reads 130 degrees F. for medium rare, 135 for medium, about 30 to 40 minutes. Take the roast out of the oven, tent loosely with foil, and let rest for 10 to 15 minutes. The internal temperature of the meat should rise 5 degrees F more and the juices will redistribute into the roast.
To make the sauce, place the parsley and garlic in a food processor and pulse until the parsley is finely chopped. Add the red pepper flakes, salt, red wine vinegar and the roasted tomatoes from the beef pan and process until pureed. Add the olive oil in a steady stream with the machine running.
To serve, slice the roast and place on a serving platter. Drizzle a little sauce over the meat. Serve the remaining sauce in a small bowl alongside.
JUICE FEAST for December 18th
SATSUMA TANGERINES from GLEN ANNIE ORGANICS
GREEN CURLY KALE
ITALIAN PARSLEY and CILANTRO
CARROTS
BABY SPINACH
CELERY
BEETS
DANDELION GREENS
LEMONS GOODLAND ORGANICS
GREEN LEAF LETTUCE
Let's raise a glass – of juice that is – to the fantastic year we've had and to the year to come. As we partake in all the goodness the holidays have to offer don't forget to plug in your juicer. It's a great way to make a special cocktail to heal your body (from any turbulence!) and help it perform correctly.
Juicing becomes especially important through the holidays as even the healthiest of people will be enjoying holidays treat, and rightfully so! Healthy eating is part of a lifetsyle, it's not a set of rules of do's and don'ts. If you are 'eating for health' as I call it 85% of the time then 15% of the time when you are not then your body can handle that. We have detox systems built in to help our bodies get rid of not-so-healthy foods and that is where juicing comes in. We need a little more support sometimes and juicing is the best for that! Fueling our detox pathways and cleansing our system, even though you are busy this is the season you need it most! Don't neglect to juice!
By Dani Rhaodes NC, www.wholesomepractices.com
Sources: Encyclopedia of Healing Foods by Michael Murray
Don't have a ton of time during the holiday? Try this quick and sweet juice packed with Vitamin A, C and plenty of antioxidants. It's a healthy sugar rush to divert your attention from the Christmas fudge 😉


The Tangerine Tonic
6 tangerines, peeled
a thumb-size piece of ginger
2 carrots
Handful of spinach
Dandelion Delight
1/4 bunch dandelion greens
1 lemon
1 apple
1/2 bunch kale
4 celery stalks
2″ ginger
4 carrots