For the month of December we will be offering gift certificates anywhere from 2-12 week periods. If you are interested please contact me or visit our website. All gift certificates come with a Season's greetings, handmade, plantable card from Green Field Paper Company. Each gift will also come with a $5 extra credit to our CSA store.
Did you know our Juice Feast blog is below? Follow along and add major health and wellness benefits to your life. Have extra vegetables at the end of the week? Juice em!
CSA for December 4th contains:
RED TOMATOES
SALAD MIX
BUNCHED ARUGULA
EASTER EGG RADISHES
RED BELL PEPPERS
GREEN ZUCCHINI
LEEKS
CARROTS
LACINATO KALE
GREEN KOHLRABI
BIG BOX ADD: RED CHERRY TOMATOES, RED CHIDORI KALE*, CELERY, CARROTS, RED POTATOES
*The red chidori kale comes from Frecker Farms. A new, up and coming organic farm down in Carpinteria.
Our tip this week is on apple cider vinegar. It's a staple in our household! Check out what Dani, our local nutritionist has to say about it:
Apple cider vinegar has long been used as a medicinal food being used even by Hippocrates back in 400BC! Apple cider vinegar is a cleansing and healing agent, providing HCI to restore acidity to the stomach. HCI is critical for digestion as it unfolds proteins so they can be broken down in to amino acids, kills harmful micro-organisms, stimulates the flow of hormones, pancreatic enzymes and bile, separates minerals from foods, allows for absorption of vitamin B12, amongst other functions! When I work on digestive health, 'replacing what's missing' becomes a important component and many people are deficient in HCI. Above any other supplement, food or herb apple cider vinegar is the best way to restore proper HCO to the stomach and improve digestion! It's also great for your skin, regulating blood sugar and even weight loss! Easiest way to add apple cider vinegar to your diet: mix it with balsamic and olive oil for an easy dressing and toss with those organic greens straight off the farm!
By Dani Rhoades, NC, www.wholesomepractices.com
Sources: Foundations of Nutrition by Ed Bauman
Vegetable Spotlight: Aside from the flavor, some of the best reasons for eating kohlrabi are its nutritional benefits. Low in carbs and calories, but high in dietary fiber and antioxidants, this veg is a dieter's dream.
Eaten raw, kohlrabi does indeed have a faint bite like a radish. To us, it tastes like the happy marriage of a radish and a potato, with a hint of artichoke. But you may find its flavor more similar to a turnip or cabbage. In fact, in German, "kohl" means cabbage and "rabi" means turnip. The edible leaves are a milder version of collards.


Peel it, slice it thin and eat it raw. When raw, kohlrabi is slightly crunchy and mildly spicy, like radishes. You can toss them in a salad or eat them on their own with a drizzle of good olive oil and a sprinkling of sea salt. Or try this recipe below:
Roasted Kohlrabi with Garlic and Parmesan
Instructions:
3-4 medium kohlrabi bulbs
1 clove garlic, sliced lengthwise into quarters
2 tablespoons extra-virgin olive oil
1/4 teaspoon salt
Freshly ground black pepper
1/4 cup shaved Parmesan cheese
Directions:
1. Preheat oven to 450 degrees.
2. Remove stalks and leaves if still attached to the kohlrabi bulbs. Peel bulbs with a sharp paring knife, removing the green skin and outer 1/8-inch of the flesh. Cut into about ¾-inch dice. Put into a 2 1/2-quart casserole dish and toss with garlic, olive oil and salt.
3. Reduce oven temperature to 375 degrees. Roast kohlrabi, turning occasionally, about 30 to 35 minutes or until well browned. Remove from oven. Toss with pepper, divide among plates and top with Parmesan. Serve immediately.
(Recipe adapted from the Seattle Times Food and Wine Section)
Roasted Red Peppers Stuffed with Kale and Rice


(Add left over turkey if desired!)
Ingredients:
Peppers
3 medium red bell peppers
1 tablespoon extra-virgin olive oil
1/4 teaspoon salt
Freshly ground pepper, to taste
Filling
8 ounces kale, (6 cups lightly packed), trimmed
1 tablespoon extra-virgin olive oil
1 leek, white part only, chopped
1/2 cup chopped red bell pepper
2 cloves garlic, minced
3/4 cup cooked short-grain brown rice, (see Tip)
1/2 cup freshly grated Parmesan cheese
1/4 cup toasted pine nuts, divided (see Tip)
1 tablespoon lemon juice
1/4 teaspoon salt
Freshly ground pepper, to taste
Directions:
To prepare peppers: Preheat oven to 400°F. Halve peppers lengthwise through the stems, leaving them attached. Remove the seeds. Lightly brush the peppers outside and inside with oil; sprinkle the insides with salt and pepper. Place, cut-side down, in a 9-by-13-inch baking dish. Bake until peppers are just tender, 10 to 15 minutes. Let cool slightly. Turn cut-side up.
To prepare filling: Bring 2 cups salted water to a boil in a large wide pan. Stir in kale, cover and cook until tender, 10 to 12 minutes. Drain, rinse under cold water; squeeze dry. Finely chop.
Heat oil in a large nonstick skillet over medium heat. Add onion and chopped bell pepper; cook, stirring often, until onion is golden, 6 to 8 minutes. Add garlic and cook, stirring, for 30 seconds. Stir in the kale. Remove from the heat and let cool slightly. Stir in rice, Parmesan, 2 tablespoons pine nuts and lemon juice. Season with salt and pepper. Divide the filling among the pepper halves. Sprinkle with the remaining 2 tablespoons pine nuts. Add 2 tablespoons water to the baking dish. Cover the peppers with foil and bake until heated through, 15 to 20 minutes. Uncover and bake for 5 minutes more. Serve hot.
Tips & Notes
Make Ahead Tip: Prepare through step 3, cover and refrigerate for up to 2 days.
Tips: To cook brown rice: Place 1 cup brown rice, 2 & 1/2 cups water and a pinch of salt, if desired, in a medium saucepan; bring to a simmer. Cover; cook over low heat until rice is tender and most of the liquid has been absorbed, 45 to 50 minutes. Makes 3 cups.
To toast pine nuts: Heat a small dry skillet over medium-low heat. Add pine nuts and cook, stirring constantly, until golden and fragrant, 2 to 3 minutes. (Or spread in a small baking pan and bake at 400°F for about 5 minutes.) Walnuts work great here too.
(Recipe from Eating Well)
Rainbow Chopped Salad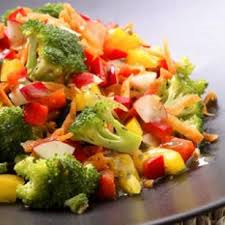 Ingredients:
Orange-Oregano Dressing:
1/2 teaspoon orange zest
1/2 cup orange juice, preferably freshly squeezed
1/4 cup apple cider vinegar
1 tablespoon extra-virgin olive oil
2 teaspoons fresh oregano, chopped, or 3/4 teaspoon dried
1 teaspoon Dijon mustard
1/2 teaspoon salt
1/2 teaspoon freshly ground pepper
Salad
1 1/2 cups bell peppers, chopped
1 1/2 cups broccoli florets, chopped (sub kohlrabi, peeled and chopped)
1 cup shredded carrots
1/2 cup radishes, diced
1 tablespoon red onion, minced
1/2 cup Orange-Oregano Dressing
Directions:
To prepare dressing: Place orange zest and juice, vinegar, oil, oregano, mustard, salt and pepper in a jar. Cover and shake to combine. (Makes about 1 cup.)
To prepare salad: Combine bell peppers, broccoli, carrots, radishes and onion in a medium bowl. Add dressing and toss to coat. Refrigerate until ready to serve. (Refrigerate extra dressing for up to 1 week.)
(Recipe from Eating Well)
JUICE FEAST for Decemeber 4th contains:
LACINATO KALE
BAGGED CARROTS
CELERY
FENNEL
CUCUMBERS
CILANTRO
LEMONS from GOODLAND ORGANICS
RAINBOW CHARD
BABY SPINACH
ROMAINE LETTUCE
SERRANO PEPPERS
Try seeding the peppers when you juice them, but eventually build up to juicing the whole thing. These little peppers pack a huge punch and can benefit your body in many ways. I've read that the magic chemical in peppers is Capsaicin. Capsaicin triggers the brain to kick out a flood of endorphins, those natural pain killers that promote a sense of well being and stimulation. Capsaicin also survives freezing and cooking! This chemical is as powerful as it is hot! Just check out what Dani Rhoades, our local nutritionist has to say about them:
Juicing spicy peppers adds an incredible amount of Vitamin C to your juice! A crucial part of building and maintaining a healthy, thriving immune system which is your bodies main defense against flus, viruses and bugs! Vitamin C is water soluble so it is easily excreted in your urine, sweat and tears. Vitamin C needs to be replenished regularly, which is easily done with juicing, especially juicing peppers! Spicy peppers have nutritional compounds which are highly cleansing and great for digestion. They also speed up the metabolism and aid in weight loss!
By Dani Rhoades, NC, www.wholesomepractices.com