Growth is starting to slow down on the farm. I see fields of sugar snap peas, broccoli and cauliflower growing, but it's taking twice as long as in the spring. We have also released a ton of beneficial insects to help battle some of the worst bugs that totally destroy crops. We released hundreds of dollars worth of nematodes just the other day. These are single celled organisms that eat the larva left in the soil by other bugs. It's a constant battle to try and get these crops to grow. When our first beets come up in January they will probably be a bit eaten by what's left in the ground. It's just the way things work around here. Not always the prettiest, but always the tastiest.
November 13th CSA contains:
BLUE LAKE GREEN BEANS
CARROTS
ROMAINE LETTUCE
RED TOMATOES
YELLOW BELL PEPPERS
ACORN SQUASH
RED CHARD
RADISHES
CILANTRO
CELERY
BIG BOX ADD: ARUGULA, CARROTS, HASS AVOCADOS, FUYU PERSIMMONS, CIPPOLINI ONIONS

We are starting to sell cheese in our store and we are just waiting to see if we can get enough orders to make this work. If you are interested please log in here and try it out. And check out what Dani, our local nutritionist has to say about adding a little, good quality cheese to your diet:
Cheese can be a wonderful source of nutrition for growing children and adults. But with all animal products and most foods these days, it's all about the quality. Where does the milk come from? What conditions do the cows live in? Organic is high quality standard ensuring that our animal products do not contain steroids, antibiotics and hormones. It's also incredibly important that cows eat grass. When cows are fed grass they are healthy and thriving. The milk from organic cows is far superior to conventional milk, it has 68% more omega 3's and a better omega6:omega 3 ratio. And omega 3's are anti-inflammatory! The milk also has greater percentages of unsaturated fatty acids most notably CLA, a potent anti-cancer nutrient. And organic cheese can have twice as many nutrients! It's also a good source of protein and keeps blood sugar regulated. Enjoy your cheese from happy cows 🙂
By Dani Rhoades, NC, www.wholesomepractices.com
Sources: Bauman College Texts
Black Bean Quesadillas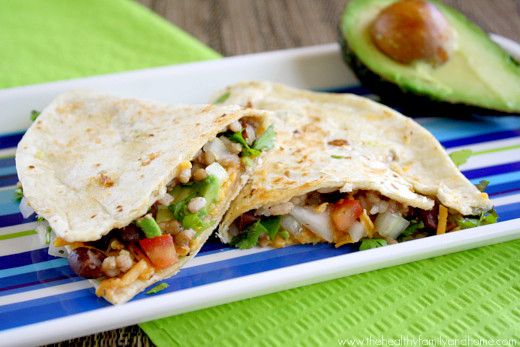 Ingredients:
•1 can Eden Organics Black Beans & Rice (or homemade)
•1 packet organic tortillas (or homemade or gluten-free, if needed)
•1 bag vegan shredded cheddar (Daiya) (or organic cheddar cheese)
•1 organic avocado (diced)
•1 organic tomato (diced)
•1/2 yellow bell pepper (diced)
•1/2 organic onion (diced)
•1/2 cup organic cilantro (diced)
Directions:
Dice fresh veggies up in to small pieces. Place a tortilla in your skillet (with a touch of coconut oil). Add a layer of beans/rice, sprinkle with veggies of your choice, then sprinkle with shredded cheese of your choice.
Top with another tortilla and heat only long enough to melt the cheese and for the outside of the tortilla to get lightly brown, carefully flipping if necessary. Remove from skillet and cut into half or quarter pieces and serve with fresh guacamole or salsa. Repeat for as many as you'd like to make, usually 2 – 3 whole quesadillas. Enjoy
(Recipe adapted from www.recipejournal.com
Stuffed Acorn Squash
(Stuffing a squash is all about finding the ingredients you like and mixing them together, while the squash is roasting, only to add them in and combine the flavors. It's such a quick and healthy meal while keeping you warm on these chilly days. Try this recipe below or make up your own.)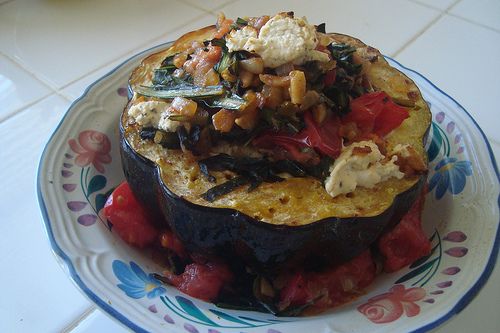 Ingredients:
1 Acorn squash
1/2 onion
2 cloves of garlic
1 tablespoon of oil (I prefer coconut)
1 Tomato
1/2 bu. dark leafy greens (Like chard!)
Goat cheese
Dash of salt and pepper
Directions:
Cut acorn squash into halves and scoop out the seeds. Rub the inside and outside of the squash down with oil and sprinkle with salt and pepper. Put in oven at 375 for about 25-45 minutes until it can be easily pierced with a fork.
Meanwhile, mince up the garlic and onions. Sautee in a heated pan for about 3-5 minutes until translucent.While the garlic and onions are cooking, finely slice up your greens. Add them to the pan with the garlic and onions. If the pan is dry add a tablespoon or water or vegetable broth. Stir it up and cover it to let the greens wilt down for about 3-5 minutes. Cut up the tomatoes into chunks. After 3-5 minutes of the green cooking, adding the tomatoes and stir.
Season with salt, pepper and whatever other seasonings you'd like. Turn off heat and let pan sit covered. When squash is ready, put some goat cheese in the bottom. Then add your greens and tomatoes. Top with more goat cheese and put back into the oven. After 5-10 when the cheese has melted, remove from oven and serve. Enjoy!
(Recipe from www.urbanorganicfarmer.com)
Parmesan Celery Salad
(Set aside any celery leaves you might come across while prepping this salad. And for a salad hinged on so few ingredients, my recommendation would be to cook your own beans. Not essential, but well worth the effort.)


Ingredients:
8 large celery stalks, stripped of strings
3 tablespoons extra-virgin olive oil
2 tablespoons freshly squeezed lemon juice
4 tablespoons freshly grated Parmesan, plus more for topping
1 1/2 cups cooked cannellini or garbanzo beans, heated
3 tablespoons currants (or golden raisins)
1/2 cup sliced almonds, toasted
sea salt or homemade celery salt
freshly chopped herbs (or herb flowers), or reserved celery leaves
Directions:
Slice the celery stalks quite thinly – 1/8-inch or so. Then, in a small bowl, make a paste with the olive oil, lemon juice, and Parmesan. Set aside. In a large bowl toss the heated beans with the olive-Parmesan mixture. When well combined, add the celery, currants, and most of the almonds. Toss once more. Taste and add a bit of salt if needed. Serve in a bowl or platter topped with herb flowers and/or celery leaves.
(Recipe from www.101cookbooks.com)
November 6th JUICE FEAST contains:
ROMAINE LETTUCE
CILANTRO
FENNEL
BAGGED CARROTS
CELERY
CUCUMBERS
LEMONS from GOODLAND ORGANICS
FUJI APPLES from FAIRHILL FARMS
SPINACH
DANDELION
RED CHARD
When we think of milk you may think of bone health. But did you know that the pasteurization process of milk makes it super acidic and your body actually has to leech calcium to maintain the balance?! Consider switching to raw milk which is thankfully sold in a few stores locally, like Lassens and the IV Co-op. And make sure to drink your veggie juice. With the highly alkalized state and the fantastic amount of vitamins and minerals you can't go wrong. Check out what Dani, our local nutritionist has to say!
10 million Americans have osteoporosis and another 18 million have low bone mass! This terrible disease causes 1.5 million fractures annually including hip, spine, wrist and others! So how does juicing help? Well, much research has gone into finding that acidity is largely responsible for stealing mineral from our bones. Fresh vegetable juice is highly alkaline and getting in your greens, spinach, celery, cucumber really increases alkalinity. We need to restore alkalinity by flooding the body with minerals! Often times people do not have enough HCI in their stomach to break down minerals from food into their absorbable form. Beet juice is one of the best ways to restore HCI to the stomach. So juice your greens and beets and other vegetables and know your bones are loving it!
By: Dani Rhoades, NC, www.wholesomepractices.com
Sources: Bauman College Texts
Morning Special
Spinach, Parsley, Dandelion, Cucumber, Celery, Lemon
Recovery
Spinach, Romaine, Parsley, Cucumber, Celery, Fennel, Apple, Lemon, Ginger, Cilantro