"Natural does not refer to things that come in boxes, cans, bags and wrappers. Natural refers to foods whose specially designed wrappers change with their age and tell you exactly what their status is." -Grace Purusha, PhD
October 16th CSA contains:
CARROTS
YELLOW ZUCCHINI
CELERY
RED TOMATOES
RED PIMIENTO PEPPERS
ROMAINE LETTUCE
RED CHERRY TOMATOES
CIPPOLINI ONIONS
LACINATO KALE
GARNET YAMS from QUAIL H. FARMS
BIG BOX ADD: MINI SWEET PEPPERS, ORANGE KABOCHA, CARROTS, AMBROSIA MELON, PERSIMONS
We are very excited, mostly because I love good, organic cheese, to introduce a local creamery to the CSA. This is an add on and can only be purchased if you have a pickup at the farm or home delivery. As part of Regenerative Earth Farm, Casitas Valley Creamery has grown out of a family held endeavor that seeks to promote and sustain food resiliency and ecological vibrancy in our beloved tri-county area. The creamery is here to bring our community artisan crafted cheeses with a unique flare. I personally tried most of the cheeses and was extremely happy with the turnout. You will need to have your order in before Sunday and we will continue indefinitely. I hope you guys enjoy it.
Yams are one of my all time favorite foods. Try steaming a yam and adding a little butter for a healthy version. And check out what Dani says about these glorious yams in case you needed another reason to eat them:
Yams are rich in beta-carotene, which we all should be able to identify now because of their bright, orange-ish pink flesh. And the richer the color, the richer the nutrients! This makes sweet potatoes contain much more nutrition than white potatoes. They exert powerful antioxidant activity from certain unique root vegetable proteins. The combination of these proteins, carotenes and the presence of Vitamin C in the yams makes them an excellent food for boosting your body's antioxidant stores. They are rich in fibers and low glycemic starchy carbohydrates making them a safe source of carbs for diabetics and people with blood sugar issues. They are actually considered 'anti-diabetic' and in animal studies they help the body respond more efficiently to insulin. The skin contains much of the fiber and many nutrients as well so please don't toss it! Yams are also great for the eyes, improving mood, strengthening the bones, softening the skin and fighting cancer!
By: Dani Rhoades, NC, www.wholesomepractices.com
Sources: Foundations of Nutrition by Ed Bauman, Encyclopedia of Healing Foods by Michael Murray
Yam, Kale and Quinoa Baked Burritos
(I love the way yams and kale are cleverly combined with quinoa in this yummy burrito. Add some shredded organic chicken if you need some meat.)


On the inside:
•1 onion (cippolini would work great here)
•4 cloves (or eight) of garlic
•1 large yam/sweet potato (the orange one)
•1 pimento pepper (or any sweet pepper really)
•1 cup of kale
•3 tomatoes (today we used one red, one orange and one yellow)
•1c of cooked quinoa
•1tbsp of coconut oil
•1tbsp of cumin seeds
•1tsp of smoked paprika
Chop all of the veggies… similar in size. Place the oil, onion, garlic, yam, pepper, smoked paprika and cumin seeds into a pan and let them sizzle for about ten minutes. Add in the kale, tomatoes and quinoa and let those dance for another ten minutes. You could add in shredded chicken at the end too too!
Remove from the heat and set aside until coolish.
Once it has cooled, place about half a cup in the center of a brown rice tortilla shell… or an organic whole wheat shell.
Fold the edge closest to you over the filling and tuck it in nice and tight. Tuck in the ends and finish the roll up.
Place into a baking dish with this following in the bottom…
•1c of tomato sauce
•1tsp of ground cumin
•1tsp of smoked paprika
•1/2tsp paprika
•1/2tsp of turmeric
Mix the above together for a great, tasty sauce that your burritos will bathe in. Top these with some cheese…choose your flavor… and bake in a moderate (350) oven for about twenty to thirty minutes. Serve with some homemade salsa and a few avocado slices………………
(Recipe adapted from Simply Dish)
Zucchini "Noodles" with Sesame-Peanut Sauce
(Spiralized zucchini stands in for pasta in this lite dish, while peanut butter, garlic, ginger, and a touch of sesame oil create a burst of flavor. Make it more filling by adding a legume such as edamame or chickpeas or cubes of baked tofu.)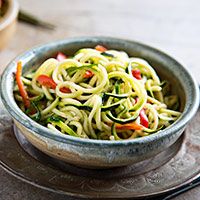 Ingredients:
3 small zucchini (about 16 ounces)
1/2 sweet red pepper, shredded or julienned
1 tablespoon organic peanut butter
1/2 to 1 tablespoon water
1/2 tablespoon cider vinegar
1/2 tablespoon soy sauce, gluten-free tamari, or coconut aminos
1 to 2 cloves garlic, pressed or minced
1/2 to 1 teaspoon sriracha or other chile sauce or red pepper to taste
1/2 teaspoon toasted sesame oil
1/2 teaspoon grated fresh ginger
Directions:
1.Wash the zucchini well and trim off their ends. Use a spiralizer or a mandolin to turn the zucchini into "noodles." (If you don't have either you can use a vegetable peeler to get the same effect) Line a large serving bowl with paper towels or a clean tea towel. Place the zucchini noodles in the bowl along with the red bell pepper.
2.In a small bowl, whisk the peanut butter with 1/2 tablespoon of water and all remaining ingredients. If the mixture is hard to combine, add up to another 1/2 tablespoon of water, but be careful not to make the sauce too runny.
3.Remove the towels from under the zucchini noodles. Add the sauce and stir well to coat the noodles completely. Serve right away. (Leftovers can be refrigerated, but water from the zucchini may seep into the sauce, making it pool in the bottom of the bowl; stir well before serving.)
(Recipe from here)
Balsalmic Glazed Cippolini Onions
(The balsamic vinegar, when roasted at high heat, turns into a beautiful and delicious glaze. The onions are caramelized and soft– and they're perfect with grilled meats, on salads and sandwiches. Oh so perfect! Delicious, yet simple to make.)


Ingredients:
1-1/2 lb of cippolini onions, remove skins, trim ends
1/3 cup of balsamic vinegar
3 tbsp of olive oil
1 tbsp of dried thyme (fresh is even better)
1 tbsp of salt
1 tsp of freshly ground pepper
Directions:
Preheat the oven to 400 degrees Fahrenheit. You can either remove the skins of onions each individually, or you can drop them in boiling water for a minute, and then transfer them to cold water quickly. At that point, the skins will come off easily.
Lay them in oven-safe baking dish. Drizzle with olive oil. Sprinkle with thyme, salt, and pepper. Pour the balsamic vinegar over the onions.
Roast them for approximately 15 minutes, then reduce the temperature for 350, and bake for another 15 minutes. You have to watch the onions and if they get browned too quickly, feel free to reduce the temperature even sooner.
(Recipe from www.blissfullydelicious.com)
October 16th JUICE FEAST contains:
GARNET YAMS from QUAIL H. FARMS
ORANGES and LIMES from SOMMERS RANCH
PARSLEY
CARROTS
CELERY
ROMAINE
LACINATO KALE
FENNEL
FUJI APPLES from GIVENS…so delicious. Picked on Tuesday.
SPINACH
A lot of people ask Dani and I about the lack of fiber in the juices. You still have to eat your veggies!!! The juice is just a powerhouse of nutrition delivered directly to your cells. I am not a doctor, nor do I claim to diagnose or treat anything. But in my opinion, regular juicing is far superior to any flu shot! Check out what Dani has to say about it:
I find that even amongst people who juice there is still confusion about fiber. 'Don't we need fiber?' Yes, fiber is crucial to a healthy gut and moves food through the intestines. 'But juicing removes the fiber, how can it be good?' Juicing does remove the fiber from the vegetables, but this serves a critical purpose. In removing the fiber the nutrients become free and unbound so that you're body absorbs them effortlessly! Normally, your body works to break down the fiber and separate out the nutrients until they actually get to sent to your blood stream. Juicing is like a shot of nutrients straight into your cells! It's nearly medicinal in value! It's more potent than any multi-vitamin! It's nourishing, cleansing and healing! Fiber is critical and so is juicing they simply serve different functions for your health.
Morning Cocktail
If you never thought of juicing a yam (commonly called a sweet potato although a sweet potato is white inside) you are in for a sweet treat! Check out this recipe below. An awesome twist on a morning juice.


Ingredients (makes 2 servings)
3 Oranges
1 medium sweet potato
5 carrots
1″ cube ginger
Afternoon Booster
Kale, Romaine, Parsley, Cucumber, Celery, Fennel, Apple, Lime, Ginger, Cilantro