Thanks to a CSA member for sharing this entertaining and educational video about GMO labeling. Check it out here. It's only 4 minutes long. Did you know that Washington is voting for their right to label GMO infested food in November? I imagine that the time when our country will have the right to know what's in our food – is right around the corner.
October 9th CSA contains:
MINI SWEET PEPPERS
CARROTS
CUCUMBERS
YELLOW CHERRY TOMATOES
RED LEAF LETTUCE
CILANTRO
RAINBOW CHARD
BUTTERNUT SQUASH
GRANNY SMITH APPLES from REGENERATIVE EARTH FARMS
CANARY MELON
BIG BOX ADD: CARROTS, CIPPOLINI ONIONS, ROMAINE LETTUCE, RED PEPPERS, PERSIMMONS from GOODLAND ORGANICS
*If you've never checked out or coffee – it's a good time to do it. We will be offering -buy 3 get 1 free- through the end of the year. Local roaster, Caribbean Coffee Co. freshly roasts up a special "Something Good Blend" in medium and dark varieties.
*Our chickens are growing fast. They are about 10 weeks old now and I swear I can see their cells dividing. They are getting big quick. Check out the new coop we built for them over the weekend. Next is the fencing and the chickens will be in their new home.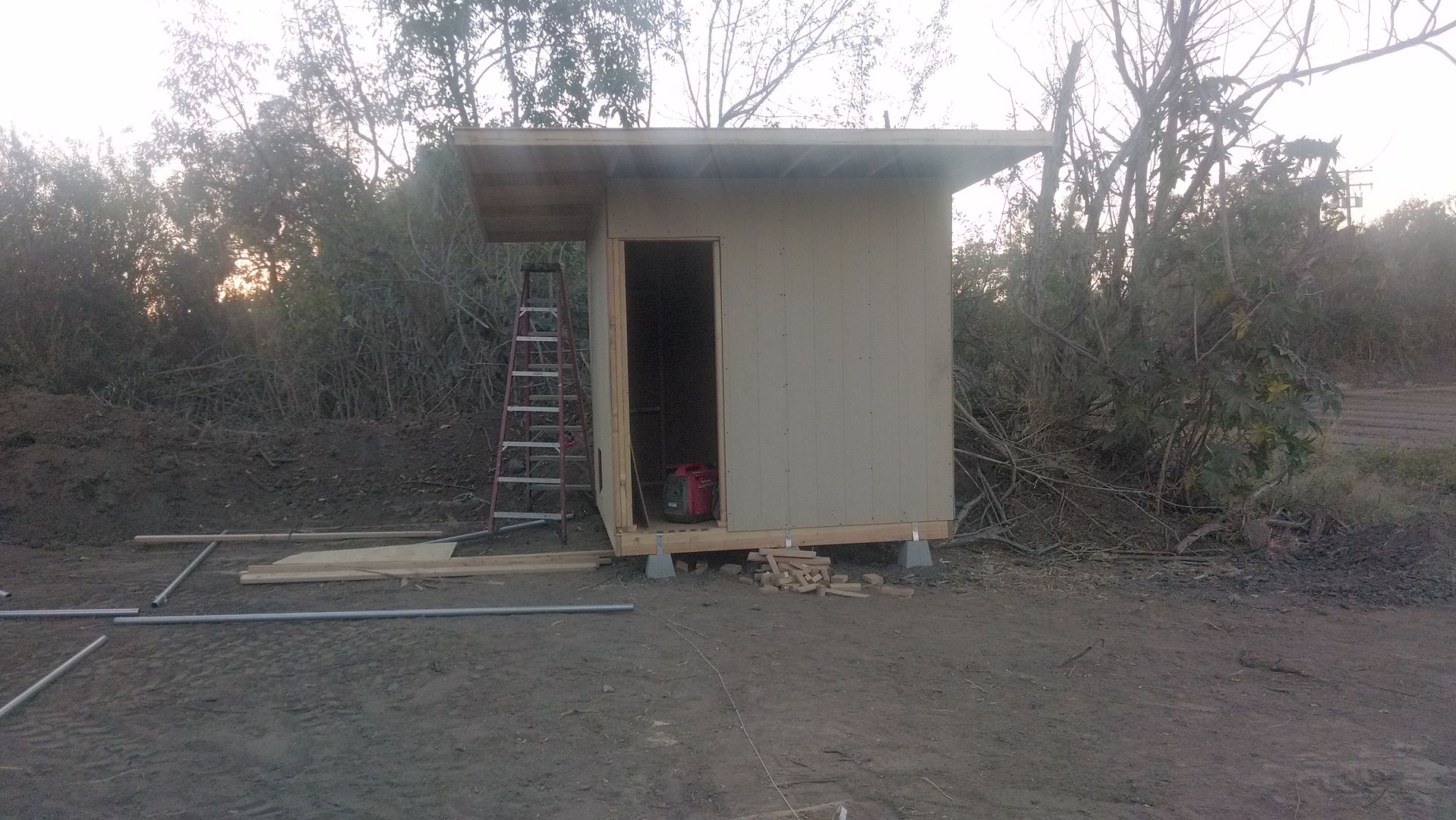 *We are excited to be in contact with a new organic farm named Regenerative Earth Farms in Carpinteria. They are a family owned and held business that strives to build natural capital, soil, and local food stability. They have a great variety of fruit, including the apples this week, and will be offering an artisan cheese add on for the CSA in the near future.
Check out what Dani, our local nutritionist has to say about Granny Smith Apples:
Research has shown that apples really do keep the doctors away! In a study of 5,000 men and women that were followed for more than twenty years researchers found that those who ate the most apples had a 20% lower risk of heart disease. Another study linked a lower risk of asthma with consumption of the most apples. In a review where nearly 100 studies were analyzed people who ate more apples had lower risk of numerous disease including heart disease, type 2 diabetes, asthma and cancer. Researchers feel that apples have such incredible health benefits because of their high levels of flavonoids, specifically quercetin. Granny Smith apples have additional benefits as the tart, sour skin contains malic acid which is important for keeping your liver healthy. The peel is also where you'll find loads of pectin and good insoluble fibers. Apples will contain the most benefits raw and with the peel on! Next time someone jokes about 'an apple a day' you'll know it's true!
By: Dani Rhoades, NC, www.wholesomepractices.comSources: Encyclopedia of Healing Foods by Michael Murray
Butternut Squash & Swiss Chard Lasagna
(There are so many different recipes for lasagna out there it's overwhelming. I dug this one out because it looked pretty dang delicious. Our family is pretty small still so this works great as leftovers too!)



Ingredients:
1 medium to large butternut squash, sliced lengthwise and seeds removed
1/4 cup Parmesan
1 lb lasagna noodles
olive oil
for the filling:
1 large bunch Swiss chard, chopped
1 medium onion, diced
15 oz ricotta cheese
1 tablespoon olive oil
1 teaspoon chopped fresh sage
1 teaspoon smoked paprika
1/4 teaspoon salt
1/4 teaspoon white pepper
1/8 teaspoon nutmeg
for the sauce:
3 cups milk
3 tablespoons grated Parmesan
3 tablespoons butter
3 tablespoons flour
2 cloves garlic, minced
salt
white pepper
Directions:
Preheat oven to 400. Brush the butternut squash with the additional olive oil. Place cut side down on a parchment lined baking sheet. Bake for 30-40 minutes or until fork tender. Allow to cool slightly. Scoop out the insides. Mash. It should yield about 3 1/2 to 4 cups of squash. Set aside.
Meanwhile, cook the noodles according to package instructions. Drain and arrange in a single layer on baking sheets until ready for use.
For the filling: Heat the oil in a large skillet. Saute the onion until fragrant, then add the chard and sage. Saute until the chard is soft. Allow to cool slightly then combine with the ricotta, nutmeg, salt, pepper and paprika.
For the sauce: In a medium pan, melt the butter. Add the flour along with a sprinkle of salt and pepper, garlic and whisk until smooth. Add the milk and whisk together until slightly thickened. Stir in Parmesan.
To assemble: Preheat oven to 375. Spread some sauce on the bottom of a 9×13 inch pan. Top with noodles then layer with a layer of squash then the chard-ricotta mixture and drizzle with sauce.
Repeat until the pan is full, then top with a final layer of noodle, the remaining sauce and Parmesan. Bake covered for 30-40 minutes or until bubbly. Allow to sit about 5 minutes before slicing and serving. YUM!
Dr. Weil's Roasted Winter Squash and Apple Soup
(Dr. Andrew Weil is among the best-known doctors in America, an alternative health guru who espouses the power of healthful eating and stress reduction as the best way to improve health. The soup below is one of his stress free soups which is simply, easy and delicious.)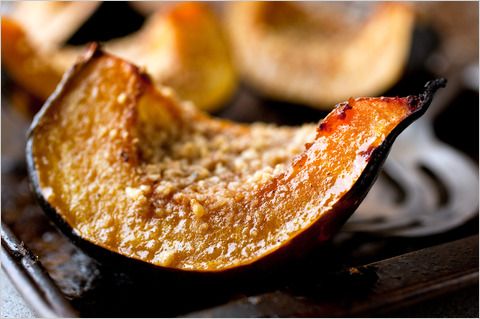 Instructions:
1 butternut squash (about 2 1/2 pounds)
2 medium onions, peeled and quartered
3 garlic cloves, peeled
2 tart, firm apples, peeled, cored and quartered
2 tablespoons extra-virgin olive oil
Salt and red chile powder to taste
4 to 5 cups vegetable broth
Directions:
1. Preheat oven to 400 degrees. In a large roasting pan, toss the squash, onions, garlic and apples with the oil to coat. Season well with the salt and chile. Roast, stirring every 10 minutes, until the vegetables are fork tender and lightly browned, about 40 minutes.
2. Put half of the vegetables and 2 cups of the broth in a food processor and purée until smooth. Repeat with the remaining vegetables and broth. Return puréed mixture to the pot. If the soup is too thick, add more broth. Correct the seasoning and heat to a simmer.
3. Serve in warm bowls with dollops of cilantro-walnut pesto.
Cilantro-Walnut Pesto1 cup walnut pieces
2 cups cilantro leaves, washed, drained and stemmed
1 green jalapeño pepper, seeded and chopped
1 teaspoon salt, or to taste
2 tablespoons cider vinegar
1. Put the walnuts in a food processor and grind them fine.
2. Add the cilantro, jalapeño pepper, salt, vinegar and 2 to 3 tablespoons of water and blend. Blend in a little more water if necessary to make a thick sauce. Taste and correct the seasoning, adding more salt if necessary.
Mexican Quinoa Salad
(This is a simply, fresh flavored quinoa salad, served warm or cold.)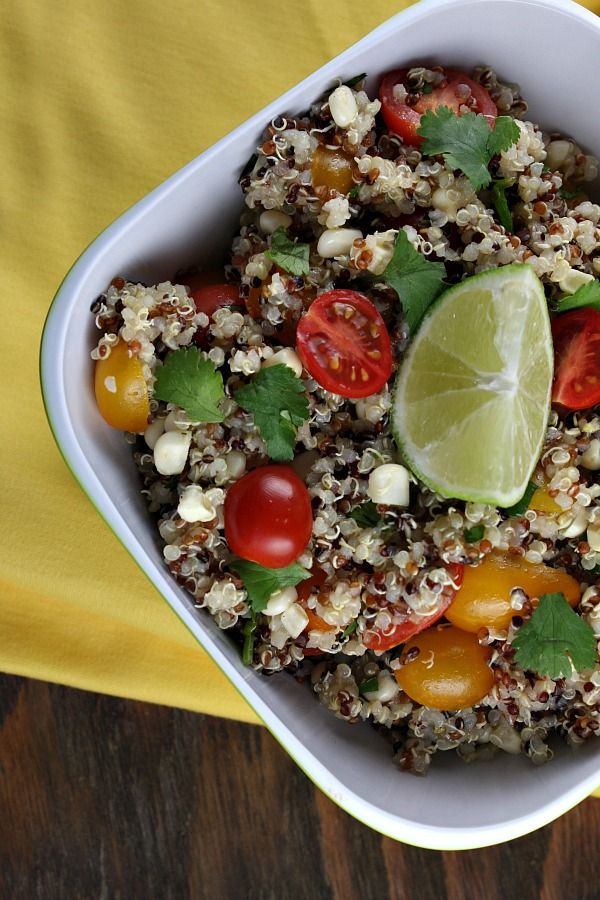 Ingredients:
Dressing:
1 1/2 tablespoons extra-virgin olive oil
2 tablespoons white wine vinegar
2 cloves garlic, minced
salt and freshly ground black pepper, to taste
Salad:
1 cup dry quinoa, rinsed well through a fine strainer/sieve
1 cup halved cherry tomatoes
3/4 to 1 cup fresh corn (sliced off the cob, raw)
1/4 cup finely chopped cilantro
lime wedges
salt and freshly ground black pepper, to taste
Directions:
1. Whisk the dressing ingredients together in a small bowl. Set aside.
2. Prepare the quinoa according to package directions. Cool slightly.
3. In a medium bowl, toss the quinoa with the tomatoes, corn and cilantro. Add the dressing and toss to coat everything. Squeeze lime on top, and season with salt and freshly ground pepper, to taste. Serve with lime wedges, for individual squeezing.
(Recipe from www.recipegirl.com)
October 9th JUICE FEAST contains:
LEMONS from GOODLAND ORGANICS
CARROTS
CUCUMBERS
CILANTRO & MINT from our newly established herb garden
APPLES from GIVENS ORCHARD
ROMAINE LETTUCE
FENNEL
CELERY
RED PEPPERS
GREEN CURLY KALE
Ever considered a juice cleanse? It may seem a little scary, but your gut can benefit in as little as a day of fasting. Give your body a break and take a de-stress day filled with nutrient rich juice made at home. Check out what Dani, our local nutritionist has to say about it:
Fasting is a great way to allow the body to rest and cleanse. While water fasting can be draining and exhausting to the body juice fasting is actually quite nourishing. When you take a break from consuming solid foods the digestive tract and other systems of the body can be at ease. They can rejuvenate and restore themselves when you provide them with easily absorbed nutrients from juicing. The liver especially enjoys a nice rest and loads of nutrients! Juice fasting and other forms of cleansing are recommended to be done 1-2 times a year considering all the toxins and stresses we take in on a daily basis. Spring and fall are great seasons for juice fasting!
By Dani Rhoades, NC, www.wholesomepractices.com
Mid Day Perk
Carrots, Red Pepper, Fennel, Ginger, Apple, Parsley
◦Very high in Vitamin A, C, and Minerals
◦Popular with spice lovers, savory juice lovers
◦Good for respiratory health and excellent as a cold and flu aid
Green flu shot
Kale, Romaine, Parsley, Cucumber, Celery, Fennel, Apple, Lemon, Ginger, Cilantro