July 31st CSA contains:
EARLY GIRL TOMATOES
STRAWBERRIES from GOODLAND ORGANICS
CARROTS
RED LEAF LETTUCE
CUCUMBERS
AMBROSIA MELON
BASIL
GREEN BELL PEPPERS
BROCCOLIBROCCOLI
GARLIC from GOLETA GROWN and YELLOW ONIONS
BIG BOX ADD: RED GRAPE TOMATOES, SALAD MIX, CILANTRO, STRAWBERRIES, WATERMELON from GOLETA GROWN

Bell peppers are surprisingly nutrient dense! Even with all the water they contain they are still one of the most nutrient dense foods available! Green bell peppers which are in your box this week are harvested first, before they turn red. Bell peppers are low in calories because they contain so much water so munch on these endlessly! The nutrients they contain are vitamin C, vitamin K, thiamine, folic acid, and vitamin B6. Because of their high levels of vitamin C bell peppers have been shown to have a positive effects on the health of our eyes, particularly with cataracts. One study showed that the consumption of bell peppers reduced the risk for cataract surgery! They are also great for preventing blood clots and are excellent for heart health! Bell peppers contain healthy fibers keeping your gut clean and functioning optimally. Green bell peppers can sometimes have a bitter taste so saute them down a bit to reduce the bitterness and bring out their great flavor!
By Dani Rhoades, N.C., Nutrition Consultant, www.wholesomepractices.com
Sources: The Encyclopedia of Healing Foods by Michael Murray
Sweet Potato, Black Bean, Spinach, and Pepper Vegan Enchiladas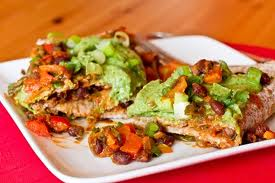 (A fiesta celebration indeed! Add chicken if you like to swing that way. Zucchini or yellow squash would work great as well)
Ingredients: Yields 4 enchiladas
1 tbsp extra virgin olive oil
1 onion, chopped (~2 cups)
2 garlic cloves, minced
1 cup sweet potato, chopped (or zucchini)
1 green bell pepper, chopped
2 handfuls spinach, chopped
1 can black beans (~2 cups), drained and rinsed
Enchilada sauce or Pasta sauce (about 2.5 cups)* see note
1 tbsp nutritional yeast (optional)
1.5 tsp ground cumin
1-2 tbsp fresh lime juice, to taste
1/2 tsp kosher salt, or to taste
1/2 tsp garlic powder
1 tsp chili powder, or to taste
4 whole grain tortilla wraps
Cilantro Avocado Cream Sauce, to pour on top (find recipe here)
Chopped cilantro & basil, to garnish
Directions:
1. Preheat oven to 350F and grab a baking dish large enough for 4 enchiladas. Pre-cook the chopped sweet potato, by simmering it in a small pot of water for about 5-10 minutes until just tender. Do not overcook. Drain and set aside.
2. In a large skillet or pot, add 1 tbsp oil and bring to medium to low heat. Add in the chopped onion and cook for about 5 minutes, stirring often, until translucent. Add in garlic and reduce heat to low and cook for a couple more minutes. Now add the chopped pepper, pre-cooked sweet potato, drained black beans, and chopped spinach. Cook for about 5-7 more minutes on medium-low heat.
3. Now add in your enchilada or pasta sauce. Stir well, and add in your seasonings: nutritional yeast (optional), cumin, fresh lime juice, salt, garlic powder, chili powder- all to taste. Adjust seasonings if necessary. Stir well.
4. Scoop about 3/4-1 cup of the mixture onto the bottom of your casserole dish and spread out in a thin layer. Scoop about 1/2-3/4 cup of the mixture onto each tortilla and wrap, placing the fold down on the casserole dish. Repeat for the remaining 3 tortillas and leave a bit of filling left to spread over the top. Sprinkle with vegan cheese if preferred.
5. Bake tortillas at 350F for 18-20 minutes. Meanwhile, make your Cilantro cream sauce (see below). When enchiladas are cooked, remove from oven and pour the sauce over top. Garnish with chopped cilantro and green onion. Serve immediately. Makes 4 enchiladas.
Note: Depending on what kind of sauce you use, you will have to adjust the seasonings to taste. I used a pasta sauce so I likely needed more seasonings to achieve the taste I desired
(Recipe from www.ohsheglows.com)
Cucumber Tomato Basil Salad


(Serve this simple, easy salad over fresh lettuce leaves. You can also add kalamata olives, chopped red onions, and feta cheese for a Greek-type salad. Enjoy!)
Ingredients:
2 medium cucumbers, sliced
3 to 4 firm tomatoes, quartered, then sliced
1/2 cup thinly sliced fresh basil
1 to 2 cloves fresh garlic, finely chopped (I usually use 4)
2 tablespoons extra virgin olive oil
2 tablespoons red wine vinegar
sea salt and freshly ground black pepper to taste
Optional Additions:
kalamata olives
chopped or thinly sliced red onion
feta cheese
Directions:
Place all ingredients into a large bowl and gently toss together. Add salt and pepper to taste, toss again. Salad is best served about 1 hour after it has been made.
(Recipe from www.nourishingmeals.com)
Grilled Zucchini and Summer Squash Salad with Basil-Parmesan Dressing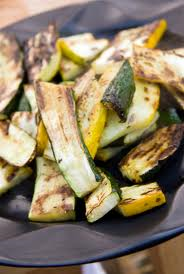 Ingredients: Serves 4
4 medium-large zucchini, trimmed, halved lengthwise
4 medium-large yellow crookneck squash, trimmed, halved lengthwise
5 tablespoons olive oil
1/2 cup chopped fresh basil
1/3 cup freshly grated Parmesan cheese (about 1 ounce)
2 tablespoons balsamic vinegar
Directions:
Prepare barbecue (medium heat). (Alternatively you can bake these or grill them on your stovetop.) Place zucchini and crookneck squash on large baking sheet; brush all over with 3 tablespoons oil. Sprinkle with salt and pepper. Grill vegetables until tender and brown, turning occasionally, about 10 minutes. Transfer to plate and cool.
Cut vegetables diagonally into 1-inch-wide pieces. Place in large bowl. Add basil, Parmesan cheese, balsamic vinegar and remaining 2 tablespoons oil and toss to blend. Season to taste with salt and pepper and serve.
July 31st JUICE FEAST contains:
CUCUMBERS
CARROTS
ROMAINE LETTUCE
KALE
SPINACH
APPLES from FAIRHILL FARMS
LEMONS from GOODLAND ORGANICS
MINT from EARTHTRINE FARMS
PARSLEY
GRAPEFRUIT/VALENCIA ORANGE MIX from SOMERS RANCH
Spinach is actually at the top of the list of foods most eaten by people who don't get cancer! This is probably because spinach leaves are an excellent source of two antioxidants: beta carotene and lutein which are powerful cancer antagonists and protect our cellular health. They actually contain four times more beta carotene and three times more lutein than broccoli! Spinach is also great for digestion because of a nutrient known as betaine which helps maintain proper HCI in the acid the stomach. They are also rich in fiber aiding in digestion keeping cholesterol levels healthy. The also contain health minerals like magnesium which is used in nearly 300 different bodily functions! Spinach leaves are an excellent addition to your juice because anything green is loaded with chlorophyll, a powerful cleansing nutrient! Juice this green for a boost of nutrients anytime!
By: Dani Rhoades, NC, Certified Nutrition Consultant, www.wholesomepractices.com
Sources: Foundations of Nutrition by Ed Bauman, Encyclopedia of Healing Foods by Michael Murray
Bottled Sunshine


(Tumeric and ginger provide anti-inflammatory and anti-oxidant properties to say the very least. Mint can help eliminate toxins in the body and purify the blood. And you will get a huge dose of vitamin C and A with the carrots and citrus.)
1 bunch carrots
1 grapefruit (without skin)
2 oranges (without skin)
1/2 bunch mint
1 piece ginger
1 piece turmeric
Zesty Green Juice


(Apples paired with a mighty blend of Kale, Parsley, Spinach, and Romaine, will more than deliver a potent mixture of the essential free radical destroying, life-giving nutrients and anti-oxidants your body needs for it to be in an ultra-healthy state.)
1/2 bunch Kale
1/2 head Romaine
Handful of Parsley
Handful of Spinach
1/2 Lemon (skin and all)
1 Apple