I ran across a really cool, local business last week that I felt a need to share. I'm big into refilling my old bottles as it obviously uses a ton less energy than recycling. I recently bumped into Refill to You's owner and learned more about what they do like offering 15 different products for replenishing.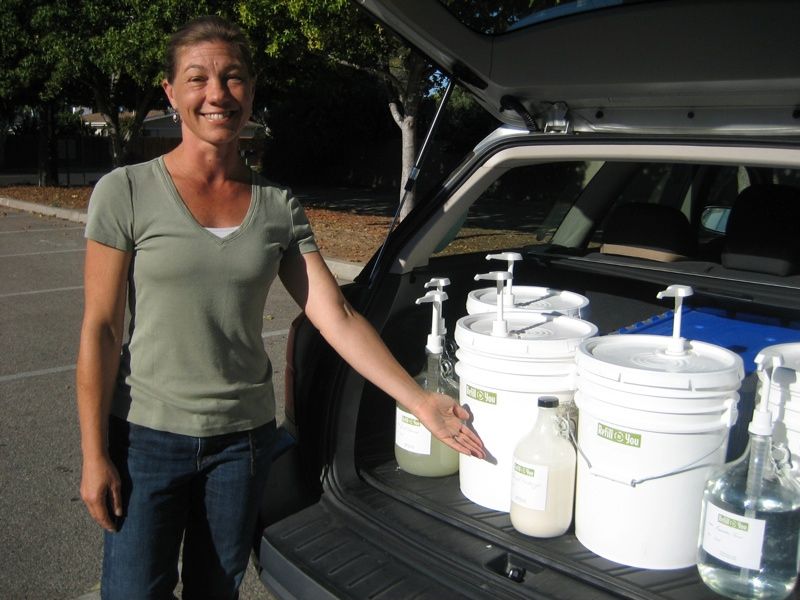 You don't have to use your bottles just once…
That's the mantra behind Refill to You, a service that helps reduce waste by replenishing empty containers with organic, cruelty & paraben-free detergents, soaps, lotions, and sprays for the kitchen, bath, and laundry. And, like Something Good Organics, they do the lugging for you!
Products are delivered to your home or office in a choice of environmentally responsible containers including repurposed jars and bottles. Check them out on their Facebook or find out more by visiting their web site — I think you'll be glad you did!
September 16th CSA contains:
RED PEPPERS
CROOKNECK SQUASH
CANARY MELON
CONCORD GRAPES from VINCENT FARMS
GREEN LEAF LETTUCE
HEIRLOOM TOMATOES
CARROTS
FRENCH GREEN BEANS
ARUGULA
SWEET BI-COLOR CORN
BIG BOX ADD: CARROTS, BROCCOLI, CELERY, AMBROSIA MELON, RED TOMATOES
*I went out to Vincent Farms to taste these grapes. I've had a lot of similar flavors that have claimed to be Concord, but these are the real thing!! Check out our limited edition of Concord grapes (and their seeds) this week and all the amazing health benefits below in Dani's tip of the week.
Grapes offer wonderful benefits while being very sweet, crunchy and delicious because of their naturally high levels of fruit sugars. A great alternative to satisfy cravings! They are abundant in flavonoids, a group of powerful antioxidants that decrease inflammation and reduce allergies. They are also an excellent source of iron, making them great for building strong and healthy blood cells. Generally speaking the darker the color, the more iron rich and flavonoid containing are the grapes! Luckily, concord grapes are the darkest as they come! AND let me tell you the seeds have incredible health promoting properties, even though our tendency is to spit them out. Hence, the trendy 'grape fruit seed extracts' you see in supplements these days. They contain flavonoids known as procyanolic oligomers which help reduce varicose veins and have actually been shown to reverse atherosclerosis, the most common reason for a heart attack. Grapes also contain resveratrol, another trendy, expensive supplement that reduces inflammation and is great for anti-aging. So crunch on those grapes and chew down those seeds, enjoying every bit!
By Dani Rhoades, N.C., Nutrition Consultant, www.wholesomepractices.com
Sources: Foundations of Nutrition by Ed Bauman, The Encyclopedia of Healing Foods by Michael Murray
Melon Sorbet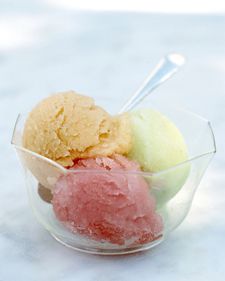 (This is a great, refreshing twist on a melon and a tasty, healthy dessert.)
Enjoy this frozen fruit dessert without a lot of bother or even an ice-cream maker. All you need are a few fresh melons and a food processor. First, cube a melon and freeze it in a food-storage bag. When you're ready to make sorbet, place frozen melon in the food processor, and puree. You may need to add water to smooth. Add sugar to taste, and puree again. Serve immediately, or store in the freezer in an airtight container up to 2 weeks.
Soft Shell Squash Tacos

(This recipe made squash exciting for me this week. My crookneck has been sitting in the fridge for a while, but it's coming out to party tonight!)
Ingredients:
4-6 yellow crookneck squash
1/2 cup sweet corn
1 cup of fresh dill, minced
1 red onion, minced
1 yellow onion of any sort, minced
1/2 cup crumbled feta
1 tsp olive oil
1 tsp red wine vinegar
1 tsp dijon mustard
salt/pepper
(optional:) chopped arugula
6 small corn tortillas
Directions:
Cut squash into small diced bits. Combine with minced red onion and shallot over medium heat with the olive oil and vinegar. Coat and stir until you get a bit of steam going, about 3-4 minutes, tops. Remove from heat, mix in dill, mustard, and salt and pepper.
Before you're ready to eat, mix feta into the squash mixture and toss with a bit more salt and pepper. I like these with 40 percent greens, 60 percent squash, but feel free to experiment.
(Recipe adapted from www.happyyolks.com)
Roasted Green Beans and Red Bell Pepper with Garlic and Ginger


Ingredients:
4-5 large garlic cloves, finely minced
1 heaping tablespoon minced ginger root
2 T olive oil
1 red bell pepper, cut into thin strips
1 lb. thin French-style green beans, ends trimmed and cut in half
salt and fresh-ground black pepper to taste
Directions:
Preheat oven to 450F. Mince 4-5 large garlic cloves, enough to make a heaping tablespoon of minced garlic. Peel ginger root and finely mince enough ginger to make a heaping tablespoon of minced ginger. Put olive oil, garlic, and ginger in a glass bowl or measuring cup and let it marinate while you prep vegetables. (This will slightly season the oil.)
Cut red bell pepper into fourths lengthwise, then remove seeds and trim any white pithy parts. Cut off rounded top and bottom parts to make it easier to cut even strips, then cut each piece of pepper into thin crosswise strips. Trim ends of green beans and cut them in half.
Put the green beans and red pepper strips into a medium-sized bowl and then toss with the olive oil, minced garlic, and minced ginger. Season to taste with salt and fresh ground black pepper. Spread the vegetables out on a large baking sheet, arranging it so vegetables aren't crowded (as much as you can.) Roast 15 minutes, or until a few beans are starting to look browned and the veggies are tender-crisp. Remove, cool and enjoy.
(Recipe from www.kalynskitchen.com)
September 16th JUICE FEAST contains:
CARROTS
CUCUMBERS
LACINATO KALE
DANDELION GREENS
PARSLEY & MINT
CELERY
ROMAINE LETTUCE
LEMONS/LIMES
BEETS (no tops)
APPLES from FAIRHILL FARMS
Juicing is a wonderful way to cleanse, internally. The nutrients are easily absorbed in the gut lining and surprisingly your gut health is directly related to your skin health! Juicing works wonders with clearing up acne, blemishes, excema, dry skin and many other skin ailments. Carrot juice in particular contains plentiful amounts of carotenes, which are pro-formed vitamin A, then your body converts those carotenes into Retinol, or pre-formed vitamin A. Does retinol sound similar to the name of the commonly prescribed acne drug??? That's because it's critical for skin health and explains why people notice there skin clears up wonderfully when they regularly drink carrot juice, and generally clean up the diet as well. So toast to healthy, clear skin with your juice this week!
By: Dani Rhoades, NC, Nutrition Consultant, www.wholesomepractices.com
The following juice blends are concocted by me 🙂
Pineapple Cooler
(I typically like to make 2x16oz at a time – which ends up saving time later.)
1/2″ slice of pineapple
1 apple
1/2 bu kale
1 head romaine (1/2 if it's really big)
1/4-1/2 bu. dandelion (start small)
3 big pieces of turmeric root
The Vegetable Farmacy
1 cucumber
1/2 bu. kale
5-10 stalks celery
1/2 head romaine
1/2 lemon and 1/2 lime
1/4 bu. cilantro
1/2″ ginger and 2 big pieces of turmeric
1 apple
1/4 bu. dandelion