Heads UP! CSA September 25th
Check out some new additions to the farm. 26 chickens and 5 turkeys!!! All chickens will be dedicated to laying eggs for our CSA and we plan to expand our population as soon as we figure it all out!! Check out some pictures of the happy birds in their temporary housing! (Sorry! I'm still working on my photo skills.)


The heritage turkeys will be kept for breeding for now, but we will eventually be able to introduce 100% organic free range turkeys onto the menu. The turkeys are kept under a red heat lamp to keep them warm until they come of age.


September 25th CSA contains:
SPAGHETTI SQUASH
CARROTS
YELLOW ONIONS
SHARLYN OR AMBROSIA MELON
CELERY
RED CHERRY TOMATOES
PIMENTO PEPPERS
CUCUMBERS
GREEN KALE
RED LEAF LETTUCE
BIG BOX ADD: FENNEL, RED TOMATOES, CARROTS, YELLOW BELL PEPPERS, STRAWBERRIES

Think outside the regular ol' use-my-spaghetti-squash-with-tomato-sauce box. Your spaghetti squash can be used in a variety of tasty recipes and I know you won't miss the pasta. Check out what Dani, our local nutritionist has to say about this classy lil squash.
Spaghetti squash is amazingly like spaghetti but with the nutrition of squash! Regular spaghetti can be high in carbs and starches, lacking in nutrient co-factors and a load to the glycemic index, but spaghetti squash is high in nutrients, rich in fibers and gentle to your blood sugar. 1 Cup of regular pasta can weigh in at nearly 250 calories and 43 grams of carbohydrates. If you choose spaghetti squash however, you'll save yourself nearly 180 calories and about 30 grams of carbohydrates! Your blood sugar will thank you for it, trust me 🙂 So will your pancreas, adrenals and other blood sugar regulating hormones as a load of carbohydrates makes them all work harder to restore proper blood sugar levels. Spaghetti squash is high in water content and therefore water soluble nutrients as well like vitamin C. The bright yellow coloring emphasizes the nutrients, like beta-carotene, which help prevent cancer and type II diabetes. Plus, it's organic and grown locally, what more could you ask for?!
By Dani Rhoades, N.C., Nutrition Consultant, www.wholesomepractices.com
Sources: Foundations of Nutrition by Ed Bauman, The Encyclopedia of Healing Foods by Michael Murray
Cheesy Spaghetti Squash Casserole


(Cooked spaghetti squash has a great texture and blends seamlessly into this simple hash-brown-like casserole. Combined with sauteed onions, creamy yogurt, and a bit of raw goat cheddar, this delicious dish is classic comfort food, without leaving you uncomfortable later. If you aren't a fan of goat cheese, sub in your favorite cheese.)
Ingredients: Serves 4
•1 medium spaghetti squash
•1 tablespoon butter
•½ yellow onion, chopped
•1 red pimento pepper, de-seeded and chopped
•1 garlic clove, minced
•1 cup plain goat's milk yogurt, or greek yogurt
•3 oz. raw goat cheddar, shredded and divided
•1 teaspoon sea salt, or to taste
•black pepper, to taste
Directions:
1.Preheat the oven to 400F and line a baking sheet with parchment paper. Cut the spaghetti squash in half, and remove the seeds. Place the squash halves cut-side-down on the baking sheet, and cook for 35-45 minutes, or until a fork can easily pierce the outer shell.
2.Once you have removed the cooked squash from the oven, melt the butter in a skillet over medium-high heat and saute the chopped onion and garlic until tender and slightly golden, adding in the pepper about half way through, totaling about 5 minutes.
3.Transfer the cooked onion, pepper and garlic to a large mixing bowl, and combine with the yogurt and 2 oz. of shredded goat cheddar, and season with salt and pepper. When the spaghetti squash is cool enough to handle, use a fork to scrape the noodle-like strands into the bowl, and mix well.
4.Transfer the mixture to a 2.5-quart casserole dish, and smooth the top with a spatula. Sprinkle the remaining ounce of goat cheddar over the top, and return to the oven to bake for 30 minutes at 400F.
5.The casserole is ready when the top is a light golden brown, which makes for a crunchy crust! Serve immediately.
(Recipe from www.detoxinista.com)
Kale Slaw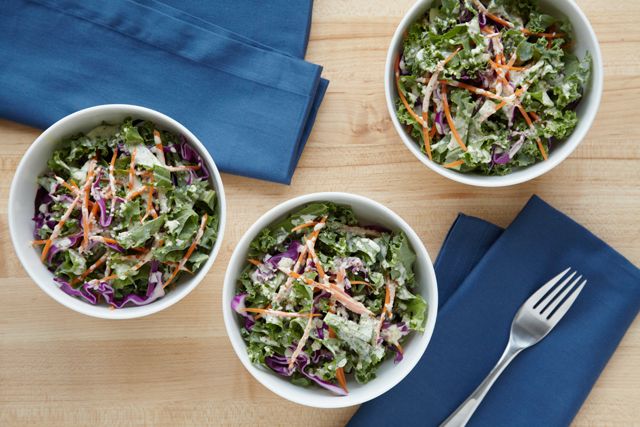 (A lighter spin on the summer classic, this kale slaw is possibly my new favorite summer salad/side dish. It's more crisp and crunchy than the white gloppy stuff that usually comes on the side of your burger. This recipe serves a whole table, or you can keep a batch in the fridge for days without the leaves wilting. Such is the power of kale.)
Ingredients:
1 head kale
1/2 head purple cabbage
4 large carrots
2 tbsp sesame seeds
Juice of one lemon
2 tbsp dijon mustard
2 tbsp mayonnaise
1 tbsp olive oil
Directions:
Wash, dry, and tear kale into large but bite-able pieces. Throw into a large salad bowl.
Slice cabbage into thin strips (about 1/4-inch). Slice carrots on an angle into thin pieces — or use a mandolin to make it super easy. Toss with kale.
In a small bowl or cup, whisk together lemon juice, mustard, mayo, and olive oil. Drizzle lightly over the slaw mixture and toss. Sprinkle with sesame seeds, toss once more to combine, and serve!
(Recipe from www.refinery29.com)
Celery Risotto


(Celery is both vegetable and aromatic in this risotto. It retains some texture as it cooks, contrasting nicely with the rice.)
7 cups well seasoned chicken or vegetable stock
2 tablespoons extra virgin olive oil
1/2 cup minced onion
6 celery branches, preferably from the heart, diced (2 cups diced celery)
1 1/2 cups Arborio rice
1 to 2 garlic cloves (to taste), minced
Salt and freshly ground pepper to taste
1/2 cup dry white wine, such as Pinot Grigio or Sauvignon Blanc
1 cup chopped dandelion greens or kale
2 tablespoons chopped flat leaf parsley
1 tablespoon chopped chives
1/3 cup (1 1/2 ounces) freshly grated Parmesan cheese
Directions:
1. Put your stock or broth into a saucepan and bring it to a simmer over low heat, with a ladle nearby. Make sure that it is well seasoned.
2. Heat the olive oil over medium heat in a wide, heavy skillet or saucepan. Add the onion, celery and a pinch of salt, and cook gently until just about tender, 3 to 5 minutes. Do not brown.
3. Stir in the rice and the garlic and stir for a few minutes, just until the grains separate and begin to crackle. Add the wine and stir until it has been absorbed. Begin adding the simmering stock, a couple of ladlefuls at a time. The stock should just cover the rice and should be bubbling, not too slowly but not too quickly. Cook, stirring often, until it is just about absorbed. Add another ladleful or two of the stock and continue to cook in this fashion, adding more stock and stirring when the rice is almost dry. You do not have to stir constantly, but stir often. After 10 to 15 minutes stir in the dandelion greens and kale with the next addition of stock. When the rice is just tender all the way through but still chewy, usually about 25 minutes after you begin cooking, it is done. Taste now and adjust seasoning.
4. Add the parsley and chives, and another ladleful of stock to the rice. Stir in the Parmesan and remove from the heat. The mixture should be creamy. Serve right away in wide soup bowls or on plates, spreading the risotto in a thin layer rather than a mound.
(Recipe from www.nytimes.com)
September 25th JUICE FEAST contains:
CELERY
CARROTS
CUCUMBERS
PIMENTO PEPPERS
GREEN KALE
FENNEL
APPLES from FAIRHILL FARMS
LEMONS
PARSLEY & CILANTRO
ROMAINE LETTUCE
Here's some powerful information regarding juicing and including vegetables into your daily life in general. The days pass by so quickly that I feel it's good to have a constant reminder to make sure juicing is part of my daily life. Dani is not only a part of our CSA, but also in a real life nutritionist and nutritional coach full of information. Make sure to reach out to her and utilize it if you feel the need of some inspiration.
In today's society we are battling disease on a daily basis, whether it's you yourself or a family member or a friend, a neighbor, it's someone you know. Three quarters of the population in America is now overweight, obese, or extremely obese. 55% of US Residents are insulin resistance, a condition that presupposes diabetes. Nearly one out of every 4 death is caused by cancer. And unfortunately even with those statistics heart disease is still the number one cause of death. We are actively fighting to keep our health or maybe to restore it. Nutrition has so much to offer this battle as the World Health Organization stated 80% of heart disease could be prevented through a healthful diet. Another study showed that 35% of cancers could be reduced by adopting a healthful diet. Juicing is without a doubt part of healthful diet! Don't forget the value of pure, simple, organic vegetables and never underestimate the power of even one glass of juice! If you need additional help transitioning to a healthful diet, contact Dani Rhoades for a Personal Health Consultation!
By: Dani Rhoades, NC, Certified Nutrition Consultant, dani@wholesomepractices.com
Sources: Therapeutic Nutrition and Foundations of Nutrition by Ed Bauman
Stomach Soother
(This one has cured my husbands sour stomach in the morning. It feels so good! Try it out)
Celery
Cilantro
Pineapple
Apple
Ginger
Lemon
Aloe
All the Greens from the Farm!
Kale, Romaine, Parsley, Cucumber, Celery, Fennel, Pear or Apple, Lemon, Ginger, Cilantro