This blog is updated up until the box is created. Keep checking back if you care to see revisions. Enjoy the extra bunch of chard in your box this week. Its great when you stir fry a bunch of onions and garlic and wilt the chard in after and throw it over pasta!
September 4th CSA contains:
BLUE LAKE GREEN BEANS
RED BELL PEPPERS
CARROTS
CUCUMBERS
RED LEAF LETTUCE
AMBROSIA MELONS
SALADETTE TOMATOES
GREEN ZUCCHINI
RADISHES
ONION/TOMATILLO/JALEPEÑO/LIMES
BIG BOX ADD: ROMAINE LETTUCE, CARROTS, RED & YELLOW CHERRY TOMATOES**, STRAWERRIES**, SWEET BI-COLOR CORN
* We have been harvesting a local lime tree over that past few weeks grown organically by a dear friend. Enjoy! *See nutritional tip about limes from Dani Rhoades under Juice Feast.
**Cherry tomatoes and strawberries are coming from Ellwood Canyon Farms this week. **,
* We are adding one extra item into the box this week for some squishy spinach that went out on 8/21. That means you should hang at home one extra night this week, and cook at home with loved ones and/or animals 🙂
Here's some very useful cooking tips from our local heath nutritionist, Dani Rhoades. I took one of her nutrition classes in the past and found this topic interesting:
By nature, all fats are sensitive to heat, air and light. Think about it, nuts are protected by a huge outer shell, same with seeds and olives, coconut too! Some fats are more sensitive than others so when it comes to cooking you want to be sure to use a very stable oil. Saturated fats from healthy sources of course, are the best when it comes to cooking because they can withstand high heats. Coconut oil, ghee or butter fall into this category, while olive oil and other nut/seed oils are actually much safer if used as salad dressings. This often comes as a shock to people as everyone cooks with olive oil these days. Don't get me wrong, extra virgin olive is one of the healthiest fats, it's just a more sensitive oil. When overly heated the fatty acids become denatured creating free radicals. Considering we encounter free radicals all day long, we should avoid creating more in our own kitchen and choose oils that are stable at even the highest heats. So choose coconut oil and ghee for cooking all your fabulous veggies! Another tip: preserve the antioxidant value of your olive oil by storing it in a cool, dry place away from the stove top, oven or microwave!
By: Dani Rhoades, NC, Certified Nutrition Consultant, www.wholesomepractices.com
Sources: Therapeutic Nutrition and Foundations of Nutrition by Ed Bauman
Charred Corn Tacos with Zucchini-Radish Slaw


(To bulk these up further, you might stir in some cooked and drained black beans. But we found them pretty shockingly filling without the beans.)
Ingredients:
1/2 pound red radishes (from about 2/3 of a bundle with stems and leaves), trimmed
1 small (4 to 5 ounces) zucchini, long and narrow if you can find it
2 limes
Salt
4 ears corn, husks removed
2 tablespoons unsalted butter
1 tablespoon olive oil, plus additional if blistering tacos in skillet
1 medium white onion, finely chopped
2 cloves garlic, minced
3 tablespoons chopped epazote (if you can find it), cilantro or pasley (for the cilantro-averse) leaves (optional)
1/2 cup (2 1/2 ounces or 70 grams) crumbled cotija cheese (or another salty, crumbly cheese such as ricotta salata or feta)
1/4 teaspoon chili powder
10 to 12 small (6-inch) soft corn tortillas
Directions:
Cut radishes and zucchini into tiny matchsticks with a mandoline. If you don't have a mandoline, you can use a peeler to peel thick ribbons down the long side of the zucchini. Stack the ribbons and cut them crosswise into thin matchsticks. Cut the radishes into a similar shape by hand. Toss radishes and zucchini together. Squeeze the juice of half a lime over the radish and season with salt to taste. Add more lime juice if desired. Set aside.
Remove toddlers from the kitchen. Over a hot grill or an open gas-stove flame char two of the ears of corn until well-blackened but not completely burnt. If you're using the burner method, you'll probably, quickly, notice that corn likes to pop and snap, occasionally spraying you with splats of corn. It's a little scary, which is I why I suggest you remove anyone small and easily harmed before you begin. However, I found the charred corn flavor to be completely worth the scare and hope you do too.
Remove cobs from heat, and when cool enough to handle, shave off kernels using a large knife and reserve. Remove kernels from remaining two ears of corn.
Heat a large sauté pan over medium heat. Melt the butter and oil together and once hot, add the onion. Cook the onion for about 5 minutes, until softened. Add the garlic and cook another minute. Add the raw corn kernels and sauté until corn is just cooked through, about three to five minutes. Turn heat to high, add the charred kernels of corn to the mixture, and toss to combine until heated through. Squeeze the juice of one lime over the corn mixture, and use the juice to scrape up any stuck bits. Season the corn mixture with salt and chili powder. Stir in chopped herbs, if using.
You can heat your tortillas one of two ways. You can wrap the whole stack in foil and place it in a warm (250 degrees) oven for 15 minutes while you prepare the other ingredients. However, I prefer to get a nice blister on them before filling them. Coat the bottom of a cast-iron skillet with olive oil and wipe it out so on the thinnest slick remains. Heat the skillet on high. Once hot, cook a tortilla for about 30 seconds to 1 minute on each side, until lightly blistered. Repeat with remaining tortillas but if your skillet is well-seasoned, no need to repeat the oiling process. Fill each taco with a few small spoonfuls of the corn mixture. Top with a spoonful of crumbled cheese and a bit of the radish-zucchini slaw. Serve with an extra lime wedge on the side (you'll have half a lime left to slice up), and whatever fixings you like (sour cream, avocado wedges, etc.).
(Recipe from www.smittenkitchen.com)
Tomatillo Salsa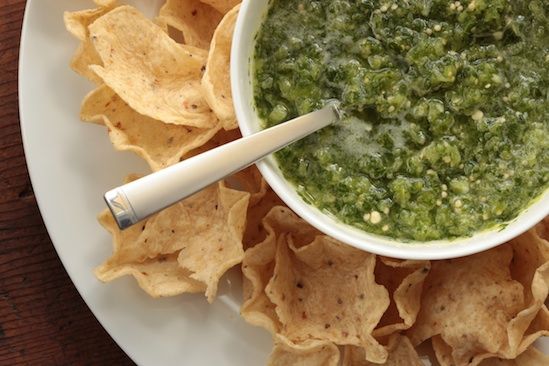 (This is probably one of my all time favorite salsas. It's super easy to make and the flavor combo and texture are fresh and delicious. Spread it all over some charred corn tacos or enjoy it with organic blue corn chips!)
Salsa Ingredients: Serves four
1/2 pound tomatillos, husked, rinsed, and quartered
1 jalapeño pepper, chopped*
1 clove garlic, peeled and chopped
1/2 cup packed cilantro leaves
heaping 1/2 teaspoon salt
squeeze of fresh lime juice**
Directions:
Place all ingredients in a blender or food processor and pulse to combine and get juices flowing. Blend on low speed until a coarse puree is formed. Pour into a dish, taste and add more salt or lime if desired. Salsa can be thinned with a bit of water if desired.
Recipe Notes: *This amount of chiles produces a medium-spicy salsa; if you'd like it milder, use only one serrano or half a jalapeño. If you want an extremely mild salsa (no heat), remove seeds from peppers.
(Recipe from www.pinchmysalt.com)
Orange Infused Roasted Green Beans and Bell Peppers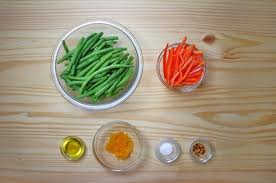 (Roasting these really brings out the sweetness in the green beans and the peppers. I like the orange twist on this recipe. Great flavor combo)
Ingredients:
1 pound green beans, trimmed
1 red bell pepper, thinly sliced
1 tablespoon extra-virgin olive oil (this would be a great place to substitute a high heat cooking oil)
Zest of 1 orange
1/2 teaspoon salt
1 teaspoon crushed red pepper
Directions
1.Preheat oven to 450 degrees F. Toss green beans, bell pepper and oil in a large bowl. Add orange zest, salt and crushed red pepper to taste; toss to combine. Spread on a large baking sheet. Roast the vegetables, turning once halfway through cooking, until tender and slightly wilted, about 15 minutes
(Recipe from www.delish.com)
JUICE FEAST Contains:
CARROTS
CUCUMBERS
CELERY
ROMAINE
LIME/LEMON MIX
MINT/PARSLEY
APPLES from FAIRHILL FARMS
KALE
DANDELION GREENS
*We've recently planted a lot of organic ginger, turmeric and a few different varieties of mint to include in future boxes. Keep an eye out for that but in the mean time make sure to stock up on the roots!
I've discovered the delicious juice that a lime can create. I've been doing 1/2 lemon and 1/2 lime and the flavor combo makes me want to drink more juice! You're limes come from a local tree growing in Goleta! And if you didn't know – limes are actually yellow when they are ripe! Check out what Dani Rhoades, our local nutritionist has to say about them:
Limes, like other forms of citrus are excellent cleansers making them perfect to add to your fresh juice! They are great source of vitamins like Vitamin C, beta-carotene and even the harder to get B-vitamin, folate. They contain plenty of minerals like calcium, phosphorus and potassium. While being considered acidic they actually have been said to leave an 'alkaline ash' as they move through the digestive system because of the alkalizing minerals they contain. Limes are excellent for preventing infection because their high level of antioxidants. They will help your body increase its own immunity and ward off viruses, infections and colds. Juice in general is cleansing and with a boost of lime you'll know your treating your well with a deeply cleansing tonic!
By: Dani Rhoades, NC, Certified Nutrition Consultant, www.wholesomepractices.com
Sources: Therapeutic Nutrition and Foundations of Nutrition by Ed Bauman
Juices I made this week are below. Quantities are relevant to your personal taste.
Green Machine
Pineapple
Kale
Romaine
Lemon
Mint
Turmeric
Dandelion
Lemon/Lime Twist
Kale
Parsley
Celery
Ginger
1/2 lemon & 1/2 lime
Apple
Dandelion
Turmeric