I spent all weekend up in Buellton building the new chicken coops. We are also adding in Guinea fowl, turkeys and bantam chickens. We are hoping the guinea fowl will help eat some of the bugs that to this point, we have had no luck with. I'm getting really excited to move the chickens out to Buellton where they will be moved from pasture to pasture leaving their valuable poop for us to compost, while feeding off the bugs, grasses and other greens on the land.
I wanted to talk quickly about the difference between BIG and small organics. I've seen a lot of organic eggs on the shelf at the store asking for the same price, if not more for eggs compared to our operation (which is quite small). Sadly, organic standards in egg production do little to produce a nutrient-dense egg from an authentically happy hen.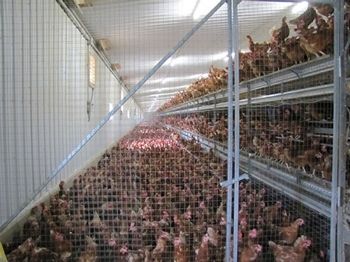 Industrial organic egg producers take advantage of the letter of the law to violate its spirit and the consumers spending their hard earned money. The chickens are eating organically grown grain, but with up to 85,000 hens in a factory "farm" and no access to greens, sunlight, exercise or bugs, these ladies are hardly happy or healthy. Chickens are one of those animals that are mistreated heavily because of the huge demand. The best way to make sure you aren't supporting this type of business is to buy local, do your research and/or raise your own. Same pertains to big agriculture. Just a thought for today. Hope it's a good one!
Granola of the week is Raisin Pecan. Local, delicious granola made right here in Goleta. Get yourself a bag of Organic or Gluten Free!!!
CSA Contains:
CARROTS
STRAWBERRIES
BUTTERNUT SQUASH
BASIL
PIXIE TANGERINES from SOMMERS RANCH
GREEN ZUCCHINI
CUCUMBERS
SUGAR SNAP PEAS
ROMAINE LETTUCE
GREEN KALE
BIG BOX ADD: CARROTS, STRAWBERRIES, SALAD MIX, BABY SPINACH, RED BEETS
Fruit Expansion: Strawberries and Pixie Tangerines

Sugar Snap Pea and Carrot Soba Noodles


Ingredients: Serves 6
6 ounces soba noodles
2 cups frozen organic edamame
10 ounces (about 3 cups) sugar snap peas or snow peas
6 medium-sized carrots, peeled
½ cup chopped fresh cilantro (about 2 handfuls)
¼ cup sesame seeds
Ginger-sesame sauce
¼ cup reduced-sodium tamari or soy sauce
2 tablespoons quality peanut oil or extra-virgin olive oil
1 small lime, juiced
1 tablespoon toasted sesame oil
1 tablespoon honey or agave nectar
1 tablespoon white miso*
2 teaspoons freshly grated ginger
1 teaspoon chili garlic sauce or sriracha
Directions:
To prepare the vegetables: Use a chef's knife to slice the peas in half lengthwise (or just roughly chop them). Slice the carrots into long, thin strips with a julienne peeler, or slice them into ribbons with a vegetable peeler.
To make the sauce: whisk together the ingredients in a small bowl until emulsified. Set aside.
Bring two big pots of water to a boil. In the meantime, toast the sesame seeds: Pour the sesame seeds into a small pan. Toast for about 4 to 5 minutes over medium-low heat, shaking the pan frequently to prevent burning, until the seeds are turning golden and starting to make popping noises.
Once the pots of water are boiling: In one pot, cook the soba noodles just until al dente, according to package directions (probably about 5 minutes), then drain and briefly rinse under cool water. Cook the frozen edamame in the other pot until warmed through (about 4 to 6 minutes) but before draining, toss the halved peas into the boiling edamame water and cook for an additional 20 seconds. Drain.
Combine the soba noodles, edamame, snap peas and carrots in a large serving bowl. Pour in the dressing and toss with salad servers. Toss in the chopped cilantro and toasted sesame seeds. Serve.
(Recipe and photo from Cookie and Kate)
Roasted Butternut Squash Enchilada Casserole


Ingredients:
1 medium sized butternut squash, peeled and diced
1 yellow onion, sliced
1 poblano pepper, cored and sliced
2 jalapenos, cored and sliced
2 tablespoons olive oil
1 teaspoon cumin powder
salt & pepper
1 (15 ounce) can black beans, drained and rinsed
1/2 cup cilantro, chopped
1 cup fresh baby spinach leaves (optional)
2 cups salsa
6 large tortillas; quartered
1 and 1/2 cups shredded cheddar or monterey jack cheese*
Directions:
Preheat the oven to 400°F. Place the diced butternut squash, sliced onion, jalapeno and poblano pepper in a 9 x 13" baking dish and toss with the olive oil. Sprinkle with cumin and salt & pepper (to taste) then mix until evenly distributed. Roast vegetables in the oven for about 40 to 45 minutes, until the squash is tender. Remove from oven then lower temperature to 350°F.
Transfer vegetables to a large bowl along with 1 cup salsa, drained and rinsed black beans and chopped cilantro. Using the same baking dish that you roasted the veggies in, prepare the casserole by spreading 1/3 cup of the salsa along the bottom, then cover with a layer of two tortillas. Top the tortillas with 1/3 of the roasted vegetable mixture then 1/2 cup cheese.
Layer two more tortillas on top of the vegetables followed by the 1 cup of baby spinach leaves. Top with 1/3 cup of the salsa and another 1/3 of the roasted vegetables then 1/2 cup shredded cheese. Lastly, layer two more tortillas, the last 1/3 cup salsa and the last 1/3 vegetables on top. Sprinkle with remaining cheese and place in the oven for 20 minutes. Allow to cool for five minutes then cut into squares and serve. Garnish with avocado or plain Greek yogurt.
(Recipe and photo from Making Thyme for Health)
Cucumber Avocado Rolls


Ingredients: makes 20 rolls
1 Avocado
1/2 Cup of Basil Leaves (a small bunch)
1 Clove Garlic
2 teaspoons Lime Juice
¼ teaspoon Salt
1 Tablespoon Nutritional Yeast
Several Grinds of Pepper
1 Cucumber
Smoked or Sweet Paprika for Garnish
Directions:
Toss all the ingredients (except the cucumber and paprika) into a food processor or blender. Or if you would like to do it by hand, finely mince the garlic and basil, and mash all the ingredients together with a fork until smooth and creamy.
Use a mandoline or potato peeler to cut long thin strips from the cucumber.
Take a cucumber strip and spread a thin coat of the avocado mixture along the length of the cucumber. A little goes a long way! Make sure to get some avocado all the way to the end, so it will stick the roll together.
Roll it up! No toothpicks needed. Do the same with the rest of your cucumber strips. Sprinkle with a little paprika and serve right away.
Cucumber is watery and softens quickly, so if you plan on bringing these to a party, prepare the avocado spread that morning, and store in an air tight container. Bring a whole cucumber and potato peeler and assemble at the party.
(Recipe and photo from It Doesn't Taste Like Chicken)
Deconstructed Manicotti Skillet with Zucchini Noodles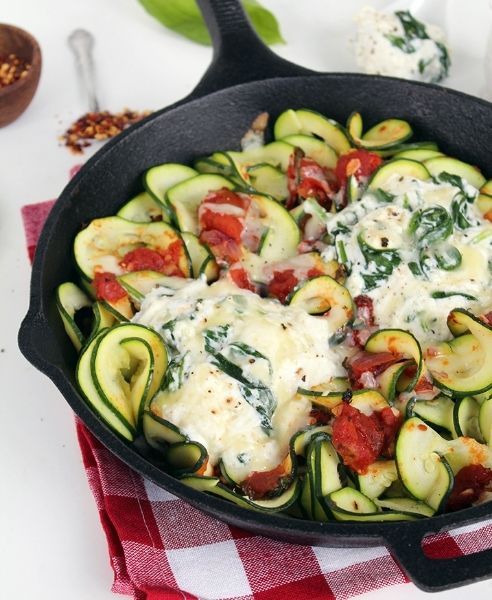 Ingredient: Serves 2
1/2 tbsp olive oil
1 large garlic clove, minced
pinch of red pepper flakes
1/2 cup diced red onion
1 14oz can diced tomatoes, no salt added
salt and pepper, to taste
5 basil leaves, chopped
3 cups baby spinach
2 zucchinis, spiralized or sliced into thin strips
2 tbsp shredded mozzarella cheese
For the filling:
1/4 cup parmesan cheese
7.5oz of ricotta cheese
1/4 cup shredded mozzarella cheese
1 small egg
Directions:
Preheat the oven to 375 degrees.
Place a large castiron or nonstick skillet over medium heat and add in the olive oil. Add in the garlic, red pepper flakes and onions and cook for 2-3 minutes or until onions are translucent. Add in the canned tomatoes and season with salt and pepper. Stir and let cook for 10 minutes or until your sauce is reduced fully. Five minutes in, add the basil. While the sauce is cooking, mix together all of the ingredients for the "filling." Season with salt and pepper. Set aside. Then, place a large skillet over medium heat and coat with cooking spray. Once the skillet heats, add in your baby spinach and toss until wilted. Fold the spinach into the cheese mixture and set aside.
When the sauce is done cooking, remove half of the sauce and set aside. Make sure that the sauce is spread evenly on the bottom of the skillet and then top with the zucchini noodles. Top with the remaining sauce. Next, make two pockets in the zucchini noodles on either side of the skillet and fill each with a dollop of the cheese "filling." Sprinkle over the skillet with the 2 tbsp of mozzarella. Season the top of the skillet with pepper. Cover the skillet with tin foil and bake for 20-25 minutes or until the noodles soften and the cheese is completely melted.
(Recipe and photo from Inspiralized)
JUICE FEAST CONTAINS:
CARROTS
STRAWBERRIES
LACINATO KALE
CILANTRO
PIXIE TANGERINGS from SOMMERS RANCH
RED BEETS
CUCUMBERS
DANDELION GREENS
BABY SPINACH
FENNEL