CSA Contains:
BLACKBERRIES/RASPBERRIES
CARROTS
GREEN KALE
BROCCOLI
RED TOMATOES
ROMAINE LETTUCE
PINK CHERRY TOMATOES
CUCUMBER
PIEL DE SAPO (frog skin melon)
HASS AVOCADOS from VINCENT FARMS
BIG BOX ADD: RED LEAF LETTUCE, ZUCCHINI, YELLOW ONIONS, CARROTS, STRAWBERRIES
A note about our fruit expansion: There's very little local, organic fruit to be sourced around here. We've planted about 30 fruit trees, but we still have a year+ before we see any fruit. We will keep including more berries in our fruit expansion until we can get some more variety.
Fruit Expansion: 1 basket BLACKBERRIES/RASPBERRIES and 1 STRAWBERRIES from SUNRISE ORGANIC FARMS
Roasted Veggie Buddha Bowl with Quinoa and Avocado
(A complete meal packed with protein and fiber—Vegan, gluten free, and clean eating!)
Ingredients: Serves 4
For the Buddha Bowl and Quinoa:
3/4 cup uncooked quinoa
3/4 pound cut broccoli florets
3/4 pound cut cauliflower florets (about 1/2 medium-sized head), cut into slightly smaller pieces than the broccoli
1 medium red onion, cut into 1/2-inch rings, rings mostly separated but still left "chunky" (no need to split every layer)
2 tablespoons extra virgin olive oil
1/2 teaspoon kosher salt, plus additional for cooking the quinoa
1/4 teaspoon black pepper
1 (12 to 14-ounce) block extra firm tofu (do not use firm or silken), removed from packaged and pressed dry
2 small, ripe Hass avocados
Optional for serving: Sliced cucumbers, toasted almonds or pistachios, additional fresh mint and parsley
For the Tahini dressing:
1/2 cup tahini*, well stirred
1/4 cup freshly squeezed lemon juice (about 2 large lemons)
1 1/2 cups lightly packed fresh mint leaves (about 1 of the herb packs)
1/2 cup lightly packed fresh parsley leaves
3/4 teaspoon kosher salt
1/4 teaspoon black pepper
(Find the full recipe and directions here at Well Plated)
THE BEST Vegan 'Pulled Pork' Sandwich!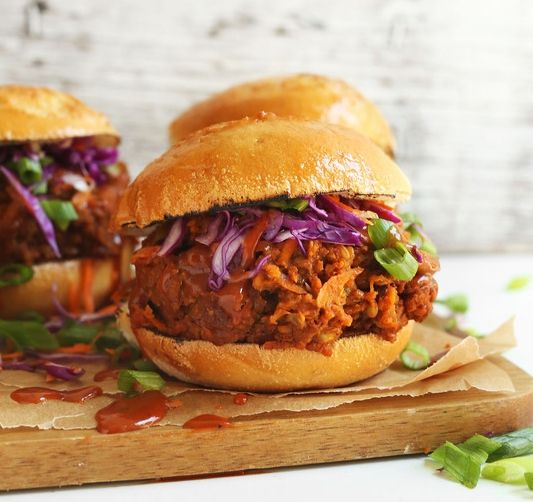 Ingredients: 4 sandwiches
LENTILS
2 cups (480 ml) water
1 cup (192 g) green lentils, well rinsed
SEASONINGS / CARROTS
2 Tbsp (30 ml) olive or grape seed oil
1/2 white or yellow onion (55 g), minced (plus more for serving)
1 1/2 cups packed (200 g) finely shredded/grated carrots (I used my food processor attachment)
2 Tbsp (24 g) coconut sugar or organic brown sugar, plus more to taste
1 1/2 tsp ground paprika
1 tsp garlic powder
Healthy pinch each sea salt + black pepper, plus more to taste
3/4 cup (200 g) vegan BBQ sauce, plus more for serving (I used Annie's original BBQ sauce)
2 Tbsp (30 ml) water
FOR SERVING
4 gluten free or whole wheat hamburger buns*
optional: Finely chopped purple cabbage, carrot and green onion
(Find the full recipe and directions here at The Minimalist Baker)
Mediterranean Chickpea Salad
Ingredients:
For the dressing:
1/2 cup olive oil
1/4 cup lemon juice
1/3 cup chopped fresh parsley
1 teaspoon dried oregano
½ teaspoon salt
¼ teaspoon pepper
For the salad:
3 cups chickpeas, drained and rinsed
2 cups halved cherry tomatoes
1 English cucumber, seeded and chopped
1 red bell pepper, chopped
1 small red onion, finely chopped
½ cup sliced black olives
1 cup crumbled feta
(Find the full recipe here at Simply Whisked)
Kale Superfood Salad with Quinoa and Blueberries


Ingredients: Serves 4
For the Salad:
1 cup quinoa
1 large bunch (about 6 cups) kale, tough stems removed and chopped (see my easy method for prepping kale!)
15 ounce can chickpeas, rinsed and drained (optional)
1 cup blueberries
4 ounces goat cheese, crumbled
½ cup sliced almonds
1 avocado, peeled, pitted, and chopped
For the Dressing:
¼ cup extra virgin olive oil
¼ cup lemon juice
2 tablespoons honey
1 ½ teaspoons Dijon mustard
¼ teaspoon Kosher salt
a bit of black pepper
(Find the full recipe and directions here at Kristine's Kitchen Blog)
JUICE FEAST:
BLACKBERRIES/RASPBERRIES
CARROTS
GREEN KALE
CELERY
RED TOMATOES
ROMAINE LETTUCE
LACINATO KALE
CUCUMBER
PIEL DE SAPO (frog skin melon)
HASS AVOCADOS from VINCENT FARMS (for smoothies)